If you live an hour or more away from a person who needs care, you can think of yourself as a long-distance caregiver. This kind of care can take many forms -- from helping with finances or money management to arranging for in-home care; from providing respite care for a primary caregiver to creating a plan in case of emergencies.  Many long-distance caregivers act as information coordinators, helping aging parents understand the confusing maze of new needs, including home health aides, insurance benefits and claims, housing requirements, medications, and durable medical equipment.
   The National Institute on Aging estimates that approximately 7 million Americans are long-distance caregivers.  And while economic factors are forcing people to move away from their families and hometowns, lifespans are lengthening leaving many of the elderly without family caregivers nearby.  Shifting demographics exacerbate the problem.  Over the next four decades, the number of people 65 and older is expected to grow, while the number of people aged 20 to 64, those most responsible for care giving duties, will hold steady.  
   I recently read an article by Matt Sedensky entitled
Elderly Parents: Caring for Aging Parents Long Distance
in which he interviews Lynn Feinberg, a care giving expert at AARP.  Though care giving is a major stress on anyone, distance can often magnify it, Feinberg said, and presents particular difficulty when it must be balanced with an inflexible job.  "It's a huge stress," she said.  "It can have enormous implications not only for someone's quality of life, but also for someone's job."
   Without question long distance care giving is a difficult task.  It can certainly be a burden financially.  As last surveyed, annual expenses incurred by long-distance caregivers averaged about $9,000, far more than caregivers who lived close to their loved one.  Some caregivers had to cut back on work hours, take on debt of their own, and slash their personal spending in order to help another.  Emotionally, people are left feeling as if they are split in two trying to maintain their family and work routines as they dash across country to deal with real and imagined emergencies. To say the least, it's exhausting.
   So what do people do when faced with the situation?    Most long-distance caregivers create a patchwork of resources they rely on to manage the situation.  They make sure to keep in touch on a daily basis via phones and video calls.  Relatives or close friends living nearby are enlisted to check on the elderly family member to make sure all is ok.  Local service providers and agencies are brought into the picture when any of the benefits they offer match the individual's needs. And for those who can afford it, professionals are hired to handle many necessary tasks like grocery shopping, driving, cooking and bill paying.  
   There is no simple solution when trying to care for someone at a distance, but being proactive and investigating local resources to plan for those inevitable emergencies will certainly help reduce stress.  Successful long distance caregivers set in place a network and establish routines that minimize the need for those rushed trips across country.  
  Susan Luxenberg
  President

 HomeSmart LLC
 It's holiday time which means that you may be either visiting or being visited by your parents.  This is a perfect time to assess your parents' safety and comfort whether in your home or theirs. 
I recently gave a presentation at a senior complex and spoke about safety concerns that could be found in almost every home.  That triggered a lively conversation about the problems these seniors encountered when visiting their kids:  no grab bars in the bathroom, slippery shower and tub floors, no place to sit down when showering, steps that were not clearly delineate, stairs without handrails, or poorly lit hallways or staircases.  Most of those I spoke with said that they were reluctant to ask their adult kids to make any permanent changes to their own homes or install any special equipment, etc.  I've no doubt that if their kids thought about it, they would be happy to provide their aging parents with safer, more comfortable surroundings.  And truthfully these modifications would benefit everyone in the home. 
So here's a simple list.  None of these items are costly and all can be done quickly:
 1.    Reduce tripping hazards by removing books, shoes, laundry, and toys from stairs; ensure there are clear pathways through all rooms 
 2.    Install handrails on stairs and steps; bright colored tape can be applied at the edge of steps and stairs to delineate floor level changes.
 3.    Increase the lighting at the top and bottom of the stairs; put bright lights over all porches and walkways
 4.   Store frequently used items in easy-to-reach places so that using a step stool or chair is not necessary.
 5.    Small throw rugs are a hazard.  Either remove them completely or tape them to the floor with double stick tape.
 6.    Have night lights in the bedroom, hallways and bathrooms.
 7.    Apply non-slip strips or non-slip coatings in bathtubs and showers 
 8.    Install grab bars in showers and tubs 
 9.    Purchase an inexpensive shower bench or chair which can be taken in and out of the tub or shower as required.   
 After all, an injury from a fall is one the biggest dangers the over-65 population faces and one that often results in a loss of independence.  Implementing the safety measures mentioned above can substantially reduce the chance of injury to your parents and allow for a safer holiday season for all.
Happy Holidays!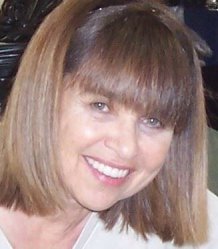 Susan Luxenberg
President
HomeSmart LLC
While the goal for many of us is to age gracefully in our own homes, there is far more to staying in your home than physically adapting the home itself.  We know the importance of socialization to remaining emotionally healthy as we age. We know that continuing to challenge ourselves mentally helps to forestall senility and other forms of mental illness. And we all want to remain independent, vibrant, relevant individuals for as long as we can. 
 I recently read an article entitled, Elders a (Labor) Force for Social Change, written by Marc Freedman in which he explores meaningful ways to turn retirees into what he calls "a new workforce for social change."  I think it's quite appropriate to the topic of successfully aging in place.  
Elders a (Labor) Force for Social Change
By Marc Freedman  
We're a nation that will soon have more older people than young ones, and much of the popular media portrays this as a disaster story that goes something like this: Tens of millions of people, the single biggest group in society and a mighty political force, are about to dominate the scene. Overnight at age 60, they will become the elderly, pass out of the "working-age population," become incompetent and incontinent, bankrupt the health care system, and vote for hefty increases in public spending on their retirement at the expense of everyone else.
We've stretched the average life span from 47 years in 1900 to nearly 80 today. But our imagination about the shape of those longer lives has lagged behind. Until not long ago, the 50s and 60s meant retirement, grandparenthood, senior discounts, and early-bird specials. Today there is a growing group of what I call "neither-nors." Neither young nor old, neither ready to be retired nor able to afford it.
With big thinking, there is a chance to tap the talents and experience of the "baby boom" generation to solve longstanding social problems, from health care to homelessness, education to the environment. There is a chance to turn an older population into a new workforce for social change. 
Some people, like Gary Maxworthy, are leading the way. As an idealistic young man, Maxworthy wanted to heed JFK's call to service, but he already had a family to support. Instead of joining the Peace Corps, he launched a career in the food-distribution business, where he worked for more than 30 years. 
As Maxworthy approached 60, his wife's passing sent him into a period of soul-searching. He thought a lot about his old Peace Corps dream and the prospect of returning to it. In the end, he chose a more manageable domestic option, VISTA, part of the AmeriCorps national service program. 
VISTA placed Maxworthy at the San Francisco Food Bank, where he discovered that—like food banks throughout the state of California—it was primarily giving out canned and processed food. It was all they could reliably deliver without food spoiling. 
Maxworthy knew that California farmers were discarding tons of blemished but wholesome fruits and vegetables that were not up to supermarket standards. He launched Farm to Family, a program that in 2010 distributed more than 100 million pounds of fresh food to needy families in California. 
Without question Maxworthy would have done a lot of good as a 22-year-old Peace Corps volunteer. But would he have been able to do something comparable to developing a system to distribute 100 million pounds of food to hungry people every year? 
Never before have so many people, like Maxworthy, had so much life experience and the time and the capacity to do something significant with it. That's the gift of longevity, the great potential payoff from all the progress we've made in extending lives.
But we won't collect this experience dividend if we don't move to recognize a new stage of life and create the kind of support people need to transition from the end of midlife to the beginning of their encore years. We need innovation. 
How about inventing a gap year for grown-ups, a time when they could take a break, volunteer at home or abroad, or try a new career direction? A gap year—perhaps financed by a new tax-exempt savings vehicle we could call the Individual Purpose Account— could be a source of renewal for those embarking on a new career chapter. 
What about midlife fellowships for those seeking roles that combine purpose with a paycheck? And why stop there: Let's rethink our entire education system. Why cram so much learning into our teens and early 20s when we may want to move in a whole new direction in our 50s, 60s, and 70s?
By capitalizing on the unique assets of this vast population, we can make something extraordinary out of what so many think of as the leftover years. The right public policies could even provide new chances for social mobility. Today's boomers are the first wave passing into this new period, which will soon be occupied by their longer-living children and grandchildren. In crafting our society to respond, we'll open up options for younger people, who could then make life decisions with the expectation of more than one bite of the apple. 
We all have a stake in this project. It's our chance to turn the purported paradox of longevity—good for individuals, terrible for society —into a vast payoff for all generations, today and tomorrow.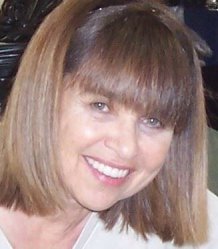 Susan Luxenberg
President
HomeSmart LLC
Recent data gathered by the National Association of Home Builders (NAHB) indicates that consumers are becoming increasingly aware of aging-in-place options for their housing needs.  Whether remodeling or building new, consumers are planning ahead and opting to remodel or design their homes so as to make them more comfortable as they age and allow for continued independence.   There does seem to be, however, a bit of confusion over some of the terminology used in regards to designing changes for aging in place.  In recent articles I've seen the terms aging in place modifications and universal design used interchangeably.  There are important differences between the two. 
Aging in place modifications refer to altering an existing home so as to make it more comfortable, safe and accessible as we age.  It's most often done reactively to accommodate some physical disability that has arisen.   Stairs, narrow doorways, low toilets, inadequate lighting, and deep sided bathtubs all become safety hazards when you are physically challenged.   Not surprisingly then, the types of modification most frequently requested include:  
Add grab bars          78% 
Install higher toilets      71% 
Change a tub or existing shower to a curb-less shower      60% 
Widen doorways         57% 
Build ramps or removing thresholds        45% 
Enhance lighting or adding task lighting       45%  
Universal Design, on the other hand, is not about adding grab bars and ramps so that we can continue to care for ourselves and remain at home once we're disabled.  It's much more proactive and forward thinking that that.  Many existing homes include features that at best are inconvenient:  thermostats placed at a height that can only be reached when standing, outlets set low on the walls making it necessary to bend to reach them, narrow bedroom and bath doors, microwaves that are unreachable when seated, entrances requiring steps for access, cupboard shelves that can't be reached without step stools, toilets that become too low for aching joints.  These are features that that we never think about until we develop some physical disability – either temporary or permanent – at which point we are faced with a dilemma.   And because we are often forced to adapt our homes quickly as a result of an injury, we wind up relying on equipment as a quick fix rather than spending the time planning quality renovations that will maintain the beauty of our home environment and last a lifetime.   
Universal design refers to how you address your entire home while you're still healthy, using products that are designed to be intuitive and functional as well as beautiful and adaptable to change, if and when the need arises.  When space is designed using the
principles of universal design
, no one could ever guess your home was designed for aging because it's not.  Universal design does not mean design for seniors.  It means design for everyone – young and old, physically challenged or not.  Space does not need to be adapted for anyone because it's suited to everyone.  So for example, rather than having to install a ramp for someone needing to manage the steps to a front entrance, what if entrances were built without any steps at all?  What if walkways were sloped from the driveway to the front door so ramps were unnecessary?   Or, what if we did not install bathtubs as a standard feature in every bathroom?  What if the new standard was a well-equipped walk-in shower with built in seats? What about including touch free faucets, cabinets and lights with touch controls, refrigerators with shallow shelves, temperature read out controls for faucets so as to prevent scalding, varying height counters, wireless thermostat controls, microwaves that fit into drawers, and slip resistant flooring?   The beauty is that, while these features and products all fit into the principles of universal design and are of benefit to everyone, they also anticipate a time when climbing over a tub wall, reaching a shelf, or walking up stairs becomes too difficult.    
The difference between aging-in-place modifications and universal design is significant and can impact your home environment drastically.  Smart Boomers will grab on to the principles of universal design to create beautiful homes for their lifetimes.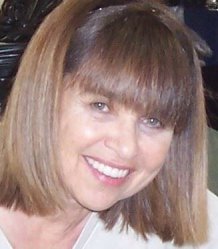 Susan Luxenberg
President
HomeSmart LLC
Our social and financial pundits have been telling us that it is become increasingly more frequent to find households comprised of parents and their adult children.  Whether it's young adults moving back home to live with their parents post college , elderly parents moving in with their adult children, or adults moving in with their elderly parents,  we're seeing more and more instances where families are combining households.   The reasons for this housing shift are many and range from financial necessity to care giving practicality.  Whatever the reason, home environments often require modification to accommodate the disparate needs of varying aged family members.  
One growing trend is to add a private in-law suite for aging parents.   Plans with full in-law apartments might have a separate entrance from the main entrance and be entirely self-sufficient having a small, but complete kitchen and utility/laundry room.  Other plans might just include a privately located first floor bedroom and bath designed to accommodate parents, family or help, or even a free standing accessory dwelling unit (ADU).   Depending on your lot size, zoning and building codes, and your budget, the space can be designed to whatever configuration and size works best for you.  
Alternately, a more cost effective solution to creating a safe and comfortable in law suite might be to remodel your garage.  The garage conversion is one of the most economical types of home improvement in a cost per square foot basis.  It creates a living space that keeps your loved one close to you, while creating two separate living spaces for privacy and the highest level of independence possible.
If the entry from the garage to your home includes steps it's a good idea to raise the garage floor level to meet the house floor level. Aesthetically, raising the floor to match that of the house incorporates the finished garage space into the rest of the house.  Practically, it removes any steps that a senior might have to negotiate when joining the family in the main house.  It is also a benefit to construction.  The resulting crawl space can be utilized for plumbing such as drain lines from the toilet, shower, sinks, along with electric runs, etc.  
If your access to the house is on the same level as the garage floor, you might have to break the garage concrete floor to install the plumbing for the new in-law suite. The good thing about this elevation is that you will wind up with a fully accessible entrance without the need for any ramps – present or future.
The standard dimensions for a single car garage are 12' x 24' or 288 sq ft.  The standard dimensions for a two car garage are 24' x 24", 576 sq ft.  Obviously the more square footage you have to work with, the more you'll be able to include in your floor plan. 
So what can you include in 288-576 sq ft?  The minimum size for a bedroom that could accommodate a twin size bed  is 10' x 10'.  A standard sized bathroom is 5' x 8' and while not spacious, is still usable as people get older.  A single car garage can certainly accommodate a bedroom and bathroom.  A double car garage could even accommodate a small kitchen.  Here are sample floor plans for both a single and double car garage.
You may be considering constructing an in law suite because of an immediate need, but it's smart to keep future accessibility needs in mind as well.  Here are some minimum dimensions and clearances to use when planning for accessibility. Of course you'll need to check everything with local building codes. 
   General Interior 
Doors: 2 ft. 8 in. clear opening
Hallways: 3 ft. wide
    Kitchen
Wheelchair turning space = 5 ft. diameter
Sink: counter on both sides = 2 ft.; knee-space below
Oven/cooktop/stove: counter on both sides = 2 ft.; pull-out shelf below oven
Refrigerator: counter on open side = 1 ft. 6 in.
  Bathroom
Wheelchair turning space: 5 ft. diameter
Sink: 2 ft. 6 in. clear width; knee-space below
Toilet: 1 ft. 6 in. to grab bar wall; 3 ft. 6 in. clear width  
Susan Luxenberg
President
HomeSmart LLC
Several months ago I wrote a couple of posts 
about
new trends in housing
.   I focused on Accessory Dwelling Units, The Med Cottage, and the Tiny House, all twists on small, often mobile, freestanding dwelling  units.   I continue to be intrigued with this trend.  There's something very appealing about minimal, jewel box homes and certainly something to be said for simplifying once the kids are grown and retirement is on the horizon.  Acceptance of little dwelling units might still be in its infancy, but it's easy to see the application of a small house model to the aging Boomer market. 
When I wrote the earlier blog posts, I received a number of comments and questions about both the interior floor plans  and exterior designs of tiny homes.  I recently came across a short PBS video entitled 
Living Large: A look inside the tiny house movement. 
  It's a wonderful glimpse into the tiny house, the people who live in them, and the varied architectural styles and layouts that are being built today.   I think it's a piece worth watching.
  Susan Luxenberg
  President
  HomeSmart LLC
Good kitchen design makes working in the kitchen easier and more pleasant for everyone.  For those who want to age in place however, good kitchen design is an integral part of maintaining independence.  So what features should you consider when planning a kitchen that will optimize your ability to use the space comfortably as you age.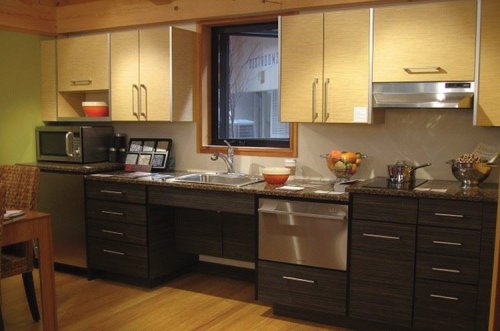 CABINETS
1. Allow 4' of floor space  between base cabinets and a kitchen island for ease of
   maneuverability
2. Place your upper cabinets 48" above the floor and lower cabinets 6" above the floor.
   This will limit the stretching and bending needed to reach dishes and pots and pans. 
3. Install cabinets with adjustable upper shelves.  Also available are motorized 
   cabinets that move up and down with the push of a button, or motorized shelves that 
    can be installed into your existing cabinets.
4. Lower cabinets should have slide out shelves and full extension drawers that pull out
   further than normal drawers.
5. Install easy to grip knobs or pulls
6. Provide for adjustable cabinetry and removable base cabinets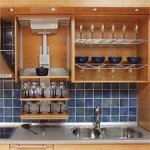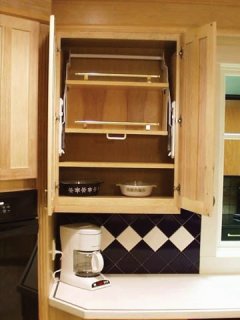 COUNTER TOPS
1. Select colored or patterned borders at counter edges to provide visual orientation to
   workspaces; choose counter edges that are rounded rather than squared   
2. Vary the height of your counter tops.  Consider a counter that is 28"-32" high (table
   height) for someone who wants to sit while cooking, preparing food or washing dishes.   
3. Allow for open, under counter seated work areas, minimally 30" wide 
4. Select counter top materials that are smooth enough so you can slide heavy pots and
   are heat resistant.  Install a pull out shelf under the counter adjacent to the stove 
   or microwave so there is a place to put down hot dishes or pans.
5. Design sufficient counter space for placing dishes adjacent to or opposite all appliances.

APPLIANCES
1.  Purchase a side-by-side or drawer refrigerator.  These refrigerators are easier to
    access for those who use a wheelchair since the chair can be pulled up closer to the 
   shelves.   Refrigerators with adjustable shelves also easily accommodate a number of
   physical disabilities.  Lower shelves are easier for those with difficulty lifting their
   arms and higher shelves work well for those who have trouble bending.  
2.  Choose a cook top with either front or side controls and with burners that aren't set
   in a straight line.  This will allow you to adjust a control or turn on another burner
    without having to reach across a hot stovetop.  Check  to make sure the controls are 
    easy to read. 
3.  Mount a wall oven so you don't have to bend.  If you select a model with a door that 
   swings to the side rather than pulls down you will avoid having to lean across a hot 
   door when taking items from the oven. 
4.  Microwave ovens should be placed either at counter height, in the wall, or in drawers.
5.  Look for the newest trends in pull out dishwashers.  These appliances are fit into 
   drawers that pull out just like all the other drawers in base cabinets.  If you prefer 
   a standard dishwasher, install it 8" off the floor to minimize bending.
 Susan Luxenberg
  President
  HomeSmart LLC
I recently returned from a trip to visit my parents who are considering selling their home and moving closer to one of us kids.    Since they've lived in their house for the past 47 years, the prospect of going through closets and drawers filled with accumulated belongings (let alone a basement where we've all stashed our mementos) is daunting.  As I started to discuss a plan of attack with my mother, it became obvious how overwhelmed she was.  After all, my parents' possessions have been gathered over a lifetime and hold many memories for both of them.  An oversized embroidered tablecloth evokes a memory of one of our family Thanksgiving celebrations; the silver tea service reminds my mother of the many parties she has hosted.  But even though she no longer uses these items, she is reluctant to get rid of them.  How could she possibly decide what to keep and what to throw away?  How could she be assured that once she got rid of something, she wouldn't regret it?   The more I urged her to discard those things she no longer used or needed, the more uncomfortable she became.  I, who have now moved six times in the past 40 years, tried to reassure her that sometimes paring down one's possessions can be freeing.  Not surprisingly, that bit of advice was less than reassuring so I did some research to find more expert advice that would help her decide what she could live without. 
The following are excerpts from an article, "Just Say No to Too Much Stuff
",
 found on
Family Circle.com
.  It's a list of 18 things you can get rid of today along with some great ideas on how to let the things you don't need go.  I think you'll find this article helpful whether you're de-cluttering, spring cleaning or, like my parents, considering a move from that much beloved home.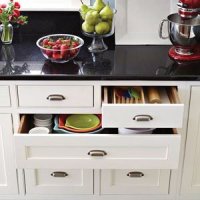 Just Say No to Too Much Stuff
Stuff. For many of us it's worse than any four-letter word. That's because "stuff" can weigh you down and hold you back, says Gail Blanke, author of Throw Out Fifty Things. And, in the end, much of what we accumulate in life isn't all that important. As Marilyn Bohn, author of Go Organize!, points out, "No one ever says, 'I wish I'd kept more stuff.'"  Here's how you can share and bless others with all of your stuff—and end up with a cleaner, more peaceful home while you're at it.
1. Kitchen Utensils
Is your utensil drawer so full you can barely open and close it? You're not alone. When Robin Austin started cleaning her kitchen in preparation for a move, she found she had plenty of duplicate utensils, the result of a new marriage that combined households and six kids. Many of us also buy new utensils but forget to get rid of the old.  Here's a smart way to figure out what you're really using, from Motherboard Mom Jeanne Smith, Overland Park, Kansas: Toss everything—all the spatulas, rubber scrapers, pie servers, and so on—into a box. As you use a utensil from the box, put it back in the drawer. After a month, check what's left in the box. Keep those once-a-year items that remain in the box, like a turkey baster or candy thermometer. But donate the rest.
2. Coffee Mugs
Another item many moms find hogging valuable cupboard space: coffee mugs. "We had over 20 coffee mugs," says Kansas mom Dawn Schnake. She and her husband each chose four mugs to keep and donated the rest to a church rummage sale. "Even if you received something as a gift, it's okay to let it go," says organizer Marilyn Bohn. "You only need to keep what works for you."
3. Plastic Containers
Mary Pankiewicz, owner of Clutter-Free and Organized in east Tennessee, suspects that plastic containers have a secret life (probably hanging out with those AWOL socks and hangers). How else can you explain why so many lids and bottoms don't match up? She suggests holding a "lid party" to match up those errant tops and bottoms. Pankiewicz recently took her own advice. "I had 25 lids with no bottoms and six bottoms with no lids," she says. After swapping with friends, she recycled the rest of the mismatched items.
4. Little-Used Kitchen Stuff
When was the last time you used that Bundt pan? If it was months ago, maybe you should give it to a friend. That's what Suzy Ayres and a pal did when they performed a joint kitchen cleanup. They took everything out of their cabinets and only put back what they used regularly. "The things that we left out that didn't get used much, we had to choose. If we put one thing back in the cabinet, we had to pick one thing to donate," Ayres says. The two also traded items: "She had lots of muffin pans and I didn't."
5. Vases
Got vases from the last three Valentine's Day bouquets? Take them back to the florist, says Marla Cilley, who lives in Transylvania County, North Carolina, and runs the flylady.net, an Internet site devoted to housecleaning and organization.  "It takes away your creativity and takes over your mind," Cilley says.
6. Food
• Check the expiration dates on everything in your pantry, fridge, or freezer. If it's about to expire, put it on the menu for that week, says professional organizer Bohn.
• Motherboard Mom Dawn Schnake gives her sons what they call "muffin pan snacks" to get rid of those almost-empty bags of cereal, crackers, and chips. She fills each of the 12 muffin cups with a different snack and throws in some veggies, cut-up fruit, and cheese cubes. "The boys think they've sat down to a feast," she says—and she gets her pantry cleaned out.
• If you know you're never going to use an item—and it's still good—give it to your local food pantry.
• Have an "Eat Out of the Pantry or Freezer" week, says Marla Cilley, flylady.net. You'll be surprised at how creative you can get with your menu planning when you're only using the ingredients on hand. She also suggests this as a way to inspire creativity and frugality: "When you throw away food, imagine you're throwing dollar bills in the trash can!"
7. Spices
They don't mold and don't appear to go bad, but spices don't last forever, not even cayenne pepper. (Cinnamon's an exception to the rule.) "Dried is one thing, tasteless is another," says organizer Blanke. Give your spices the smell and taste test and if they've gone bland and boring, dump them. To find out how old your McCormick or Schilling brand spices are, go to http://mccormick.com/Spices101/HowOldSpices.aspx. And when you buy new spices, mark down the date on the package with a Sharpie.
8. Receipts
Computers were supposed to usher in a paperless society, but it hasn't happened quite yet. "Most of us are still drowning in paper," says organizer Pankiewicz. She suggests an annual cleanup. Check with your accountant about how long to keep important papers like tax returns but, in general, materials that support tax returns (receipts and so on) can be tossed after seven years.
9. Magazines
Do you have a stack of magazines by your bed that you haven't read? If two months have passed and they're still sitting there, consider donating them to a retirement home, hospital, doctor's office, or school. Many take magazines for art projects (if not for reading material).   Organizer Bohn suggests tearing out articles and putting them in a folder you can grab when you know you'll be sitting and waiting (think doctor's office).  
10. Mail
It's a common bad habit: Grab the mail, flip through it for anything interesting, and then set it on "the pile" that accumulates until the day you start searching for overdue bills. "Scan and stand" is the system recommended by organizer Pankiewicz. "Standing is the trick," she says. Don't be tempted to sit down: Bring in the mail. Leave your coat on. Find a place by the wastebasket, recycling bin, or shredder, and stand and handle each piece of mail. Put bills in a basket or pretty gift bag, take magazines to where you read them, scan any newsletters and bulletins for important information, and discard the rest. "Your goal is to make the mail disappear," she says.
11. Unread Books
"Books are our friends," says organizer Blanke. "I know my husband won't ever get rid of his dog-chewed copy of Rudyard Kipling's Kim that he's read 50 times." So, keep your favorites—the ones you'll read again or you use for reference—neatly in a bookcase. In fact, if you're a book-lover with a big collection, a whole wall of books can make a dramatic statement and keep them organized. But, if you have lots of volumes that you have no intention of reading any time soon, donate them. Blanke suggests giving them to www.booksforsoldiers.com. "You really are paying it forward when you donate things," she emphasizes.
12. Clothes
Here's a sad truth: You're probably not going to lose the weight to fit into those 10-year-old clothes you have in the closet. Just give it up and give them away, says Pankiewicz. This doesn't mean you're giving up on ever being healthier or thinner, it just means you aren't going to be held hostage by some old clothes that don't fit, need repair, or were on sale (but you never liked). Donate them all and we guarantee you'll feel "lighter."
13. Kids' Clothes
Michaela Freeman, a mom in Oklahoma City, Oklahoma, keeps clothes for her children a year after the end of each season in case things still fit. What doesn't is passed to friends with young children. "How can you put a price on helping another person?" she asks. She's benefited as well. Friends with older kids pass clothes on to her youngsters
14. Kids' Artwork
Of course every piece of artwork your child ever did is a masterpiece. But that doesn't mean you need to keep it. If it's not something you want to put on the wall or in a portfolio to save, take a photo and toss it. You can develop a digital "art gallery" or put photos in a photo album and you'll take up a lot less space. After all, think about it: If you keep four pieces of paper per week per child, by the time they've graduated from high school, you'll have one huge collection, points out Bohn. "Take a picture and let it go!" she says.
15. Electronics
Power cords, USB cords, and other paraphernalia for electronics clog up our desks and cabinets, says Chris McKenry, owner of Get It Together LA!, a professional organizing company in Los Angeles. "It's a jungle," he says. "And there's not room for the things you need."  Sort through that "jungle" and match cords to gadgets. Old cell phones can be donated to women's shelters. Other old electronic items, like some printers and computers, should be properly recycled. "It's against the law in some cities to put electronic waste in the trash," warns McKenry. Check with your city for E-waste collection sites. Ditto for old VHS and cassette tapes. McKenry suggests transferring them to your computer for digital storage and then putting the tapes in E-waste collections.
16. Linens
"Most of us have way too many towels and sheets," says The Fly Lady. "Some people no longer even have beds that the sheets fit!" She recommends two sets of sheets per bed and keeping the extra set under the foot of the mattress or in a drawer in the bedroom to free up room in the linen closet.
17. Medicine
Check your medicine cabinet for expired prescription and over-the-counter drugs, but don't flush them or throw them in the trash. Instead, take them to your local pharmacist for proper disposal.
18. Toys
•Carol Showers Brown, mom to three in Manassas, Virginia, taught her kids to donate toys. "We lived in Bangkok and the orphanages there were so grateful for toys, even used ones." Her kids would fill a basket with toys to give away several times a year. "It worked really well because the kids picked out what toys they were ready to part with," she says.
•Remember that preschool song of "Clean up, clean up"? At Diana Dawson's Austin house the song was more likely "Wade through it," she says. That's why she set "dump-it deadlines"—if the kids' stuff wasn't picked up by a certain time on a certain date, she would gather their things and donate them. Sure enough, the first time she had to follow through with her daughter. "The most difficult were the books on the floor, and I donated those to her elementary school," Dawson says. "The school librarian told her she appreciated the donations and other kids enjoyed her books." Her children and a group of neighborhood kids also put on their own garage sale of their toys to raise money to adopt a family at the holidays.
•Mom Michelle Speak has donated many of her children's toys as they've outgrown them, but not all. "I've kept the toys I can imagine my grandchildren would play with." Put the special, keepsake toys away in a well-labeled box.
 Susan Luxenberg
  President
  HomeSmart LLC
There are numerous housing models being developed in an effort to meet the requirements of Baby Boomers as they strive to maintain vibrant, active lifestyles.  Recognizing that growing older can bring on increased isolation and loneliness as social connections lessen, these housing efforts emphasize independence and social networking and focus on a community approach to independent living.   
Senior Cohousing Communities are adult communities developed by people with a common vision.  Senior cohousing revolves around custom-built neighborhoods organized by the seniors themselves in order to fit in with their real needs, wants, and aspirations for health, longevity, and quality of life. This is housing built by seniors, not for them. Physically the communities are a combination of small homes, courtyards and open spaces and include a common facility that serves as a social center with a dining room, kitchen, lounge and other recreational facilities.  Residents in cohousing communities meet regularly to develop policies and all decisions are made by consensus.  
Continuing Care Retirement Communities (CCRCs) offer a continuum of care in one location, starting with independent living, progressing to assisted living then nursing care.  Residents move from one setting to another as their needs change.  Most CCRCs require a one-time entrance fee and then monthly payments, although there are some CCRCs where no entrance fee is required and you pay a monthly rent.  The nice thing about a CCRC is that once you buy into the community, you are provided with housing for life.  CCRCs offer a range of services – transportation, housekeeping, personal care and health care – along with many social opportunities. 
Village network
is a relatively new community approach to helping seniors remain in their own homes. A community defined by a specific geographic boundary utilizes a combination of volunteers and staff to coordinate services available to its residents.   Residents aged 50 + become "members" of the network and can access these services at an affordable price provided by professionals who've been vetted by the group.  These services might include medical care, legal assistance, home repairs, transportation, personal shopping, as well as group social outings.  This concept is also known as a
Virtual Retirement Community
.  
Avenidas Village
in Palo Alto, CA is an example of this type of community. Among the services Avenidas Village provides to San Francisco Bay area seniors are discounts on  transportation, free emergency preparedness reviews,  medical advocacy  and volunteer opportunities.  Participating seniors also have access to members only amenities such as a website, social and cultural activities and a directory of fellow members.
Susan Luxenberg
President
HomeSmart LLC
We can talk about universal design and show picture upon picture of upscale new products designed for aging-in-place, but the fact that the question, "Won't accessibility modifications decrease the value of my home?" continues to be asked, tells me that we're not yet done with the conversation.
Simply put, accessibility modifications that are poorly done will definitely decrease the value of your home.  On the other hand, accessibility modifications grounded in good design will increase its value.  Like all home renovations, if a project is done well it will appeal to others.  If not, it will become a negative when you try to sell your home. The determination of a home's value is not a science but rather an art that combines an objective comparison of size and features to other homes in the neighborhood, with a subjective evaluation of any extra amenities that might set your home apart from the others.  
So why are modifications directed at making a home safer and more comfortable for its occupants given such a bum rap?  I think that part of the problem is the perception that accessibility modifications will look institutional.  Until quite recently, most people's exposure to walk-in showers, grab bars, and ramps came through visits to family in nursing homes or hospitals.  Certainly the majority of builders have not included these features in their model homes, nor do we see interior design magazines focusing on ways to handle accessibility modifications.  We're left thinking that anything other than the current trend in home design is a negative.  It's ridiculous, really, that we're forced to modify our homes to accommodate aging rather than have our homes built with a view to the long term.  If architects and builders had given any thought to an aging population, they might not have designed and built so many step down showers, step up entrances, 28" doorways or 5' x 8' bathrooms – all features that are difficult to maneuver as we age and become more infirm.
We can probably all agree that updated kitchens and baths add value to a home so let's look at some common accessibility modifications to those two rooms to assess how these modifications might affect home value.
Since most adults encounter problems maneuvering into a bathtub as they get older, the most common accessibility modification for those who want to age in place is to replace the tub with a shower, preferably one that is "curb-less".  A curb-less shower has no step or curb separating it from the rest of the bathroom floor but rather is at the exact same level as the rest of the bathroom.  The shower floor is imperceptibly pitched to a center drain and often additional trench drains are set along the edge of the shower floor to deter any water from the shower running into the bathroom.  When consideration is given to the design of a curb-less shower, it becomes an enhancement to any bathroom and a pleasure for everyone to use.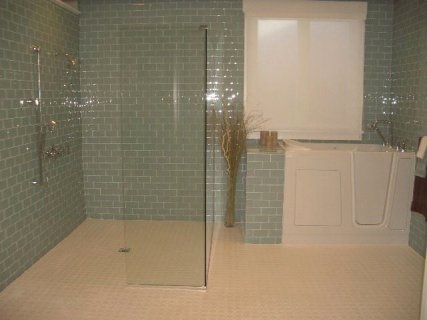 The kitchen is another area of the home often requiring modification for accessibility as most standard kitchens are not well designed for someone in a wheelchair or using a walker.  To allow for everyone to use a kitchen comfortably, there should be counters of varying heights, easy to reach top shelves and pull out bottom shelves, front control appliances that can be used while seated, non-slip flooring, and contrasting edged counters.  Below is a picture of a kitchen specifically designed for all ages and abilities (universal design). There is nothing in this kitchen to detract from home value.  In fact, it's just the opposite - most people see a very functional yet beautifully renovated kitchen.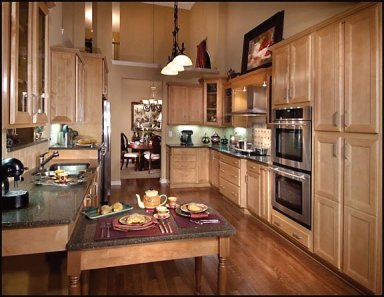 The important thing to note is that while accessibility modifications are done to accommodate those with disabilities, when well thought out and well designed the results are attractive and usable for all.   When
you think about it, if you design a home that everyone can use comfortably, no matter their abilities or disabilities, you've opened up the market of those who would be interested in purchasing your home.  And there's nothing negative about that.
Susan Luxenberg
President
HomeSmart LLC
/