Knowing that the air in your home is safe and conducive to aging in place can give you peace of mind. Because seniors often have compromised lungs and immune systems, indoor air quality should be at the forefront of your mind when choosing a home. Elderly people are exposed to high levels of indoor air pollutants because they spend more time indoors and may already have compromised respiratory systems or underlying health conditions. Further, you want a home where you could reside long-term with minimal repairs or maintenance to maintain that great air quality.
So what are some of the things you should be mindful of when buying a home to age in?
ASBESTOS
Checking for asbestos in the home is crucial if you're buying a home built before the 1980's and planning on any renovations or additions to make the space more livable. The material is likely to be in homes from this time and is easily disturbed during any demolitions or renovations. Asbestos can cause lung and respiratory diseases such as mesothelioma and should be removed from the home by professionals.
RADON
Whether you're considering buying a newly built or vintage home, prioritize radon testing. This should be done by a professional on every floor you plan to live on, especially the basement, since radon gas comes up through the ground. Radon is a carcinogenic radioactive gas and is the second leading cause of lung cancer. However, if the home has elevated levels of radon, don't panic. Instead work with a radon contractor to seal the foundation and mitigate levels.
LEAD
If the home you're looking at was built before 1978, there's a good chance it has lead paint or lead plumbing. Exposure to this material can cause lead poisoning and is especially dangerous to elderly folks because of the symptoms. Before purchasing your home, it's important to test for any remaining lead products . If any lead is found, it should be removed prior to moving in.
FORMALDEHYDE
Some pressed wood products such as particle board and hardwood or permanent press fabrics such as curtains or sofas may contain formaldehyde, which can cause lung, throat, and nose irritation or cancer. The best way to prevent high levels of formaldehyde is to simply air out or wash any new products that have a high VOC (volatile organic compound) level. If the home has newly installed cabinets or paneling, air out the house before moving in.
CARBON MONOXIDE
Oil and gas furnaces, wood and coal stoves, and anything else gas or oil powered produces carbon monoxide, which causes low oxygen in blood and is extremely dangerous. While homes must have a monitoring system, it's advisable to have the heating system inspected before purchasing a home. During the inspection, ask them to ensure the heating system is properly vented to the outdoors and have them point out the alarm to you.
MOLD
While mold isn't as dangerous as some of the toxins mentioned above, it still poses a threat. Mold tends to grow in dark, damp places, but could be anywhere in a home. Because mold causes irritation of the lungs, throat, nose, skin, and eyes, it's crucial to check for and clean out any mold before moving into a new home. This is especially important for seniors who have compromised lungs, asthma, or other breathing problems.
WOOD BURNING STOVE
Choose a home that doesn't use a wood burning stove, instead opt for a traditional furnace, pellet stove, or any other alternative. Smoke from wood burning stoves emits particle pollution, carbon monoxide, nitrate oxides, VOCs, benzene, formaldehyde, and various other carcinogens. These emissions can cause a variety of heart and lung conditions and aggravate existing conditions present in the elderly.
CARPETING
Carpets can trap various asthma triggers and pollutants such as tobacco smoke, dust, dust mites, dander, and mold. Since carpets are surfaces that are disturbed often by mere foot traffic, the pollutants are constantly being re-released into the air. If possible, choose a home with little to no carpeting, and instead opt for hardwood or tile flooring. Further, new carpets are often installed with VOCs, chemical irritants that seep into the air.
FRESH AIR
While it's crucial to ensure your home doesn't have any of the toxins mentioned above, it's still important to air out your house. Look for a home with many well insulated windows, this way you can be warm in the winter, but always have the option of fresh air and sunlight.
Conclusion
Vulnerable populations like the elderly need clean air because of their e.levated risk for lung and heart problems. Advocate for yourself and your loved ones armed with information about indoor air quality. Although a lot can cause indoor air pollution and lead to new health conditions or worsen existing ones, knowing what to look for and ask about is the first step. Communicate with the home inspector and voice your concerns during the buying process. Ask them about the specific pollutants you're worried about and have them walk you through air quality measures in the home.
 Asking the hard questions now will let you breathe easy in your new home.
Susan Luxenberg
HomeSmart LLC
If you or a loved one are reaching the point in life where either a move or upgrades to a current home is necessary, working with an accessibility specialist can be like finding a pot of gold at the end of the rainbow.  
Maybe you or someone you know would like to be more independent but are having difficulty maneuvering the barriers found in most homes. Narrow doorways, stairs and steps, standard bathtubs, slippery floors are all common barriers to safety that most people struggle with as they get older.  An accessibility specialist can help with these issue. These professionals deal with all of the aspects of home remodels in order to allow those who are aging but don't want to move away from their home, or those with disabilities but who want to maintain their independent living conditions succeed in their desires.  Although there are a large number of independent and assisted living facilities available in most areas, an overwhelming number of people would prefer to spend the golden years of their lives in the home where their children may have grown up, or where they've created decades of good memories and connections.  
If you do need some help, who should you call?  What type of training should an accessibility specialist have?   There are only a few programs that offer specialty training in designing and remodeling home environments so as to help those who choose, remain in their homes safely and comfortably. There is more to this than meets the eye and these specialists have learned to look not just at a specific environment but also the people who will be living there. This is precisely what differentiates an accessibility specialist from a contractor - their ability to link specific ailments with specific solutions and to project long term changes as one ages that might affect ones safety and independence within a home environment.  Keep in mind that even simple things like grab bars should be installed based on an individual's physical condition.  
The National Association of Home Builders offers a short course known as the Certified Aging in Place Specialist (CAPS), designed to train contractors in the technical and business management side of renovations as well as the customer service skills which are needed for these types of transaction. 
The University of Southern California Leonard Davis School of Gerontology offers an online course in Home Modifications, dedicated to promoting aging in place and independent living for persons of all ages and abilities. This five week program covers home assessments and safety checklists, construction techniques, funding resources, and also includes required coursework in the ethics of dealing with a vulnerable population.  After successful completion, the Program grants an Executive Certificate in Home Modification (ECHM).
What can you expect once you've located a trained accessibility specialist?  The Specialist will meet with you in your home to help define your needs, and then complete a full written assessment that includes suggestions for improving safety and comfort.  Recommended changes will vary widely from home to home, based not only on home layout but also on each individuals physical requirements as well as budget realities. Afterwards, you will be shown some plans and/or be given written suggestions to suit both your short term and long term needs. Depending on the size and complexity of your project, you may be offered a floor plan which will help you to visualize the concept in the way that it will appear once complete.  The suggestions can include every aspect of your home living, both inside and out.  For example, a ramp leading up to your home will help with stairs if they become hard to navigate or if you have to use a wheelchair.  Seats in your shower along with an accessible and removable shower head, lowered shelves to hold grooming supplies and a handle to help you in and out of the tub or shower unit can all be changes that will help accommodate your right to privacy and good hygiene. You might also need to think about expanding doorways, adjusting the height of your countertops, or making storage more accessible.  Arrangements can be made to reconfigure or bring in specialty equipment for ease of use.  It's possible that your floors may need to be changed (from a deep pile carpet which can catch wheelchairs or even cause a tripping hazard) to low pile carpets or laminate for better traffic movement.  Better lighting can help you see in the dark, and motion sensor lights can alleviate the need for reaching for light switches.  There are so many different things to think about that someone trained in the process will help to ensure nothing is overlooked and can make suggestions that haven't even entered your mind.  Renovations can be a large expense and quite the production; you want to get it done right the first time.  Your accessibility specialist will also give you an estimated budget for the renovations you'd like done so that you can determine which are affordable and which ones might need tweaking.
Since most accessibility specialists have dealt with numerous renovations, they can often lead you to competent and efficient businesses and contractors able to handle the suggested modifications.  From electricians to carpenters to plumbing suppliers, an experienced accessibility specialist has set up a good relationship with a variety of tradespeople and can let you know which ones will be right for your particular job and one that will do the work based on your budget.
Article by Jon Reyes, a guest writer from Vidalux. Jon is a specialist writer and has extensive knowledge in everything related to steam showers, saunas and hydrotherapy benefits.
     Times are changing at an ever increasing pace, and with it, offerings in senior housing are attempting 
to keep pace.  These days, seniors are delaying their move from independent to dependent living 
by as many years as possible using a variety of means, and gaining more control over decisions regarding where they live and what facilities are at their disposal.  
     With 2016 came an influx of new assisted living complexes, meaning that the competition can be fierce and providers must cater to a growing set of needs.  Most of the time people move into an assisted living community due to needing some help with medial care that they can no longer maintain alone, even with the help of nearby family and friends.  Over the next 20 years, our population aged 85 and above will increase by 74%.  Knowing what types of medical conditions are most prevalent in their nearby communities in order to accommodate them in the best way possible will give providers a decided edge against the competition.
     One way in which an assisted living provider can take advantage of both an increasing use of technology by seniors (52% of seniors are online) and cater to their desire to remain in their own homes is to offer assistance outside the walls of the assisted living residence.  This may mean offering home visits to help support medical needs or even reminding someone remotely via a tablet to take their medications or eat at mealtimes.A surprisingly high percentage of seniors (over 70%) regularly use some type of online social media, so communication via these tablets or phones is also a great way for staff to keep in touch with their charges. A rise in the use of electronic health records could help support a growing number of seniors, both living in and outside of the residence, without overwhelming staff.  This an easy way to track the health care and condition of a patient and provides a reliable database for those who can relay this information to concerned family members in order to help make the best medial decisions possible.  It also provides a benchmark for those patients living outside the residence for use in considering how many years they will be able to continue to enjoy independent life in their own home.  By providing elder care within their own homes, a company starts a relationship with potential future tenants sometimes years before they need any space within the residence walls.
     It says a lot when a healthy 78 year old today has a life expectancy of 15 years or more with a reasonable level of activity and nutrition, compared to that of someone living in a traditional assisted living residence, who can expect half of that number in years ahead of them.  As our health is better maintained later into life, candidates for residency will demand more and more facilities to support better fitness and diet.  As expectations increase, so too do the number of ways in which a facility can deliver to their residents.  "One stop shopping" businesses are cropping up to help provide a variety of elements that our ageing communities are looking for, including healthy catered meals, hair dressing, social activities, and fitness equipment and classes.  When a provider can outsource all of these things, it has the ability to focus on the health and needs of the residents and become far more streamlined in its care.
     Environments within a facility are changing too, as providers move to make the homes less institutionalized and more community-centric.  Some even offer independent condo living style situations with small team of care givers to manage any concerns for their designated group of 6-10 residents.  Others offer single unit homes or a townhome set up.  The variety of living accommodations has certainly changed drastically over the sterile and hospital-like state of residences from days gone by.
     With each generation adding years on to life expectancy, we will certainly see an increase in versatility and options for elder care in the decades to come.  Our seniors are raising their voices and the demand to be heard is creating an ever increasing shift in a sense of control even late into their golden years.
Article by Jon Reyes, a guest writer from Steam Shower Store. Jon is a specialist writer and has extensive knowledge in everything related to steam showers, saunas and hydrotherapy benefits.
The concept of accessibility is closely linked with the concept of equality.  In many countries, it is enshrined in law, for example the American with Disabilities Act,  The ADA, however, only applies in certain, specific environments, essentially government-run facilities, public infrastructure and employment.  It only covers a limited number of private companies, such as those involved in providing accommodation and transportation.  The development of private homes is entirely outside the scope of this legislation and yet arguably the provision of high-quality, accessible homes is of fundamental importance in a society where lifespans have been growing longer for many years now, with the result that there is a growing segment of people who strongly wish to age in place and enjoy their independence in to great old age.
Universal Design
It's therefore hardly surprising that the principle of universal design has come to the fore over recent years.  In simple terms, universal design is based on the philosophy that all buildings should be completely accessible to everyone, as far as is reasonably and safely possible.  In other words, the idea of homes being created to fulfill the needs of a certain group of potential customers (couples without children, families, empty nesters…) is replaced by the aim of creating homes which are suitable for anyone at any stage of life and regardless of any disability.  As well as incorporating the principles of universal design into new-build homes, or homes which are in need of extensive renovation, it's often possible to update existing homes to make them more accessible.
Accessibility in Practice
The first principle of universal design is that it should accommodate all users and avoid singling out any particular group of people.  Features such as ramps, widened doorways and laminate flooring all enhance accessibility in a way which is appropriate to all users.  The second principle is flexibility in use, which has become very much a feature of modern home design, particularly in cities.  Although this concept is often viewed in the context of maximizing space in smaller homes, it also maximizes usability in larger spaces and includes features such as pull-out work areas in the kitchen, appropriate lighting and accessible storage.  The third principle is simple and intuitive use.  Functionality and usability takes place over advanced features.  This would include features such as walk in tubs, floor-level showers and easy-access appliances.  Again, while these features all enhance accessibility and help to make aging in place a feasible reality, they are all of benefit to all occupants of a home.  It's also worth noting here, that accessibility can become a major issue at any time, for example during the later stages of pregnancy or if a person has an accident and needs time to recover.  Hence, creating (or adapting) homes with accessibility in mind, takes care of these situations before they arise.
Managing the aging process
As the old saying goes, growing old is mandatory, growing up is optional.  The aging process is a part of life, but it's also fair to say that older age has a very different meaning now than it did even twenty years ago.  At age 82 Cloris Leachman competed in season 7 of Dancing with the Stars (in 2008) and lasted a full 7 weeks.  There are many reasons for this change and one of these reasons is that many people have become more actively aware of the need to manage their health throughout their lives and, in particular, as they transition into their later years of adulthood and into their senior years.  For all the advances in modern medicine, the human body itself still works in much the same way it always has, which means that as we age the body becomes more susceptible to injury and takes longer to recover from exercise or accidents.  This makes it all the more important to find gentle way of stimulating the body, with minimal risk of injury.  Water can play an important role in this.  Swimming is a safe and fun way of keeping fit into later years and can be supplemented by wellness treatments which combine the benefits of both water and heat, such as whirlpool baths and steam rooms.
Article by Jon Reyes, a guest writer from Clearwells. Jon is a specialist writer and has extensive knowledge in everything related to steam showers, saunas and hydrotherapy benefits.
The longer I am involved in helping people remain in their homes as they age, the clearer the repeating issues become.  I have found that there are 10 barriers within a home that consistently challenge everyone as they get older.  These barriers wind up causing safety issues because as we age our ability to maneuver safely around them diminishes.  
In the next few blogs I am going to address all 10 issues.  This, Part 1, will tackle the top three:

1.  STEPS AND STAIRS - This refers to both exterior and interior steps. In a perfectly designed home for aging- in-place there would be no stairs or steps anywhere. In Florida many single story homes, while designed for retirees, were designed with changes in floor level. Consequently,there might be a step or two from dining to living room or steps down leading from an entrance hall to the rest of the house.  With aging comes deterioration of our vision and depth perception making these areas particularly unsafe.
The solution for both singular steps and flights of stairs are railings, stair treads that delineate stair edges, and upgraded lighting.  You'll see in the pictures below some examples of these solutions that include battery operated lighting particularly useful for stairs, and colored stair treads which work well on exterior stairs - both inexpensive solutions to major issues.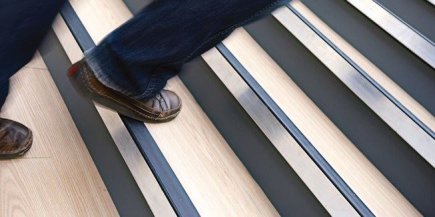 STAIR TREADS
BATTERY OPERATED LIGHTING
For those who can no longer manage stairs at all, in addition to standard portable sutcase ramps there are numerous threshold ramps that are lightweight, some of which adjustable so they can adapt to 1 - 4 steps, and can be easily moved from front to side or back doorways.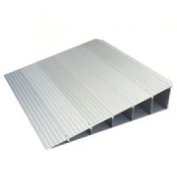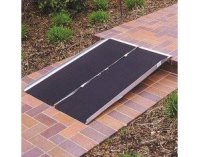 FREE STANDING THRESHOLD RAMP               LIGHTWEIGHT SUITCASE RAMP
2. NARROW DOORWAYS - For a doorway to be accessible and comfortable to get through while in a wheelchair or using a walker or when helped by a companion, it needs to be at least 32" wide.  Many interior doorways would fail that test!  In Florida we face a common issue of 24" bathroom doors.  Once one can no longer walk through a doorway unaided, a 24" doorway is extremely uncomfortable if not impossible to maneuver.  
 
The obvious fix is to enlarge the doorway by cutting the wall so as to widen the door opening then install a new door, preferably a pocket door which allows for complete access.   Keep in mind that to do so may also require shifting the vanity location which is often located adjacent to the bathroom door, so while this may be the only option available it is also a costly one.  An inexpensive option which may prove helpful is to swap the existing door hinges with swing away ones. These will allow for an additional 4" of clearance when getting through a doorway since these hinges allow the door to swing clear of the jamb and set it tight to the wall.  The pictures below show both options.
SWING AWAY HINGES TO REPLACE EXISTING DOOR HINGES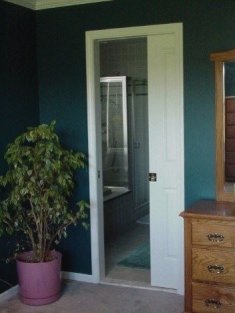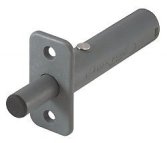 SPRING ACTION POCKET OPENER/CLOSER
POCKET DOOR
3. TOILETING- Why oh why were standard toilets designed at the height they are?  One does not have to be old to have difficulty standing up or sitting down on them.  Just ask anyone with a bad back or a knee injury how comfortable those efforts are. The CDC has released a study showing that 75% of falls in adults over the age of 85 occur in the home and of those falls 52% occur in the bathroom around toileting.  
The solution is to replace your older standard or lowboy height toilet with a comfort height one.  Comfort height toilets are 17" high compared to 14-15" height of a standard one and those 2-3" really make a difference.   Are these toilets expensive?  Not really.  Both Kohler and American Standard offer comfort height toilets starting at about $200.  Just make sure when shopping you use the term "comfort height" and not ADA.  As soon as the salespeople hear ADA they search for an unnecessarily expensive and specifically designated toilet.
If a 17" height is still not enough, a toilet riser (basically a little platform) can be built under the toilet to bring it to a more comfortable height.  You will see pictures below of varied toilet configurations.


COMFORT HEIGHT TOILET           TOILET PLACED ON FLOOR RISER
Another options to install a wall hung toilet, a more popular choice in Europe than in the U.S. The benefits of a wall hung toilet are that one can set the height to individual preference and cleaning under it is easy.  These toilets also take up little room in a bathroom as opposed to a floor mounted toilet which usually has a much larger footprint than the toilet bowl warrants.

Note: for those who require additional help when maneuvering on and off a toilet, wall mounted grab bars can be set on either side of the toilet on the wall behind it.  These bars function like the arms of a chair and offer great security for those with either balance issues or when transferring from wheelchair or walker to toilet seat. There are a couple different styles differing widely in price.  
MODERN FOLD DOWN BARS               TRADITIONAL FOLD DOWN BARS
                                                      TOILET ON CUSTOM BUILT FLOOR RISER
Next:  Part 2, Commonly found barriers within a home #4-6  
  HomeSmart LLC

Baby Boomers are definitely having an impact on housing trends as they demand more sophisticated options and choices for their housing.  Some are selling off the homes in which they raised their families and moving to smaller houses near their children, or to locations with milder climates. Others are planning to stay put and redesign their homes to meet their changing lifestyles.    
Whatever the choice, stay or move, there are certain design features coming into greater demand that reflect the preferences of the Boomer population -- and builders are paying attention.    
First floor bedrooms and bathrooms.  According to the National Association of Home Builders, more than 40% of new homes have master suites downstairs, a 15% increase over the past decade.  It's the Boomers' desire to not have to climb up and down stairs that's driving this trend.    
Larger bathrooms that include dual vanities and curb- less showers.  Even this "stay young forever" generation can't avoid the aches and pains that make a walk in shower such a joy.  These showers have now become showpieces on their own, outfitted to the hilt with beautiful tiles and stone, multiple shower heads, jet sprays, even steam.    
Flex space.  This is an extra room that can easily adjust to a person's changing lifestyle.  So the space might start out as an exercise room, turn into a home office, then later serve as a guest room or caregiver's room.
Central control centers.  Baby boomers are tech savvy and they want all the best and newest tech amenities.  Control centers for Wi-Fi, security, lighting, heating along with systems that manage all media sources are often requested.  Media rooms with surround sound are becoming more common for this group, who now have the time to enjoy it.   
Wider doorways and hallways tend to make a house look more gracious, are easier to navigate when moving large pieces of furniture, and have the added benefit of increased functionality and accessibility should anyone wind up wheelchair bound in the future.   
Bigger windows and increased lighting.  To accommodate a person's need for increased lighting as they age, builders are adding larger windows to let on more natural light.  At the same time under cabinet lights and stairway lights have also gained in popularity.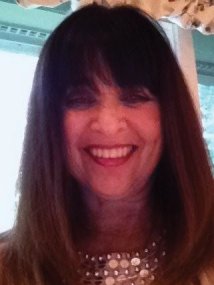 Susan Luxenberg 
   President
   HomeSmart LLC
  About a year and a half ago I posted a blog about
housing trends for Seniors
which included accessory dwelling units (ADU's) like the FabCab and MEDCottage (aka Granny Pods).  These self-contained units range in size from 300 to 1800 square feet, include features that support aging in place, and incorporate universal design along with electronic monitoring and medical care equipment options.  All are pretty much built in a factory, prepared for on-site assembly, trucked to your location and set on a foundation.  The advantages are obvious - these pre-built units take up no more space than an apartment, are easily assembled and disassembled, and allow for independence and privacy with family caregivers close at hand. 
   The article is about a doctor in Virginia whose parents could no longer live independently and decided to move in with her rather than an assisted living facility. The layout of her home however, proved to be physically unsuitable for her aging parents and so the family ordered  a MEDCottage to be installed in the backyard. This month they will become the first U.S. customers to install this 288 sq ft pre-built, free standing unit equipped with assorted high tech devices (a hallway mat that lights up automatically as you walk on it), durable medical equipment (an integrated ceiling lift), and medical monitoring devices (technology that tracks blood pressure, glucose and heart rate and automatically shares this information with both the caregiver and the client's physicians). 
   There are other prefab units on the market similar to the MEDCottage.  Practical Assisted Living Structures (P.A.L.S.) are 280 sq ft, portable units that can be customized to an individual client's needs.  Some features include closet rods that can be lowered to wheelchair level, a night light system on automatic sensors, and  bathrooms equipped with no-step showers and grab bars.   
   As for pricing, the MEDCottage costs $85,000/year new but the distributors will buy it back for $38,000 after 2 years of use.  A P.A.L.S. starts at approximately $67,000 or can be leased at $1,700 per month.  
   Interested?  You'll first need to check  your local zoning laws.  At present only about half the states allow these units for family members, although there are additional states currently considering legislation that would permit backyard ADU's.  
Susan Luxenberg
President
HomeSmart LLC
Along with the desire to age in place comes the question of exactly where to age.  Should you stay in your existing home or move to another?  If you stay, should you renovate to improve comfort and safety and will those renovations add value to your home?  If you move to a different location, should you purchase another home or is it more practical to rent?
No matter which option you're leaning towards, you'll need to factor in an evaluation of the current housing market along with emerging trends.
The Colton Housing Group recently conducted a national study among 3,005 homeowners and renters to better understand how Americans feel about today's housing market and their aspirations for owning or renting a home in the future. The survey and six focus groups were commissioned by Hanley Wood, LLC, and its two main publications, BUILDER and REMODELING magazines.
The 70-question survey focused on attitudes towards the current housing market and problems encountered in the home buying process. Do Americans still view housing as a good investment? Is now a good or bad time to buy or remodel? How do consumers feel about obtaining a mortgage in today's environment? Is homeownership still important?  How do consumers compare owning with renting? Do consumer expectations vary among different age groups and socio-economic segments of the population?
The result of the survey paints an uncomfortable future for the nation's housing market in the short term — a market where credit is tight and one where there is little urgency to buy now. It clearly identifies major bottlenecks in the mortgage market that are keeping many buyers on the sidelines and preventing any significant rebound in housing activity.
Over the long term, however, the survey tells a more positive story.  Specifically, the survey findings show that the desire to own a home has not been derailed by the difficult  economic times we're experiencing and that Americans generally understand the important role housing plays in creating new jobs, generating household wealth, and sustaining a long term economic recovery.    
First, the question of rent or buy.  While the dream of owning a home is certainly alive and well, renting is on the rise because for many it's become the only option due to tough lending requirements.  When asked what sort of housing they would look for if moving to a new location,  62% of the renters said they would have no choice but to rent again.  In sharp contrast, only 10% of home-owning households said they would rent rather than buy another home.  According to real estate website Trulia, buying was cheaper than renting in 74% of the country's 50 largest cities.  In addition to a continuing decline in home prices, low interest rates have added a lot of weight to the buy side of the scale. Add in the tax perks of home ownership and for those who can afford it, it's still a buyer's market.
So, what are the expectations for home prices during the next year?  More than one-fourth (28%) of the homeowners expect to see some decline in prices in the year ahead, and one-third (33%) expect some increase in prices in their market area.   Expectations vary from region to region.  In the Northeast, 24% of the owners expect home prices to decline some in the year ahead, and 35% expect prices to increase. In the West and Midwest, about 30% of the owners expect prices to decline some, and another 30% expect home prices to rise.  In the South, 27% of the owners are expecting prices to decline a bit more, and 34% expect prices to rise in the year ahead.
In response to the question, "Have changes in home prices influenced your home-buying decision?" 35% of owners and 38% of renters said yes.  And while 50% of homeowners under the age of 35 reported that changes in home prices influenced their home buying decision, that percentage fell with age:  37% for owners in the 35-44 age group, 28% for 45- to 64-year olds, and 17% for owner aged 65 or older.
What seems to be sorely lacking in today's market is not desire but a real sense of urgency to buy a home now. Two out of three homeowners and 23% of renters are comfortable with their current living arrangements. And both owners (40%) and renters (45%) cited "no urgency to buy now" as one of the principal reasons for staying out of the market.
Another trend reflected in the survey findings is the increasing number of people who are doubling-up with friends and family.  More than one-third of the owner households and about one fourth of the renter households are doubling-up – young adults with parents, elderly parents with their adult children or grandchildren, unrelated adults living together.  In order to project future housing demand, it is important to recognize the trend and understand why it's occurring, whether it's to cut expenses and ride out the recession, care for an aging parent, or for some other reason.
For those who question whether or not to renovate in order to remain in their current home, remodeling is becoming a more attractive option in today's housing market.  One out of five homeowners (22%) has recently completed a remodeling job or plans to remodel in the next two years instead of buying another home.  Baby-boom generation homeowners are the most optimistic about the remodeling market,  not a surprise given that homeowners over age 50 had a strong preference for staying in their current home throughout their retirement years. Among all respondents 50 or older, more than half (54%) said that they would stay in their current home for their entire retirement.  Another 18% said they would stay in their current home first then buy another home later, and 10% said they would  move to a different home (brand new or existing) before retiring or had already bought another home after retiring. 
So all that said, what's the bottom line?  Home ownership remains an important part of the American experience and receives broad-based support from all age, ethnic, and income groups. And even though more than half of the homeowners surveyed experienced some decline in their home's value over the past year, they still regard homeownership as a good, long term investment.   
 Susan Luxenberg
 President
 HomeSmart LLC 
 .
    In September, the Census reported that almost a third of households were "doubled up," meaning more than one generation of adults were living under one roof.  All in all, 61.7 million adults, or 27.7 percent, were doubled-up in 2007, rising to 69.2 million, or 30.0 percent, in 2011.
   The AARP Public Policy Institute also confirmed multi-generational homes are on the rise in the United States, reporting there were roughly one-half million more households that were multi-generational in 2010 than in 2009, and that in the past two years, the number of multi generational households grew faster than in any other two-year period since 2000, coinciding largely with the recession of the past few years.

    For a variety of reasons, both cultural and economic, families today are rethinking their housing needs. Adults are living together with their grandparents, in-laws, or grown children who are not economically ready to move out.  Particularly for those who want a comfortable way to look after elderly parents, multi-generational living is an appropriate solution. Parents can comfortably live near their caregivers, while still providing independence and privacy for everyone.  
   As a result, builders are receiving more requests to build in-law suites or, as the term is starting to emerge, to "turn one house into two."   
   An in-law addition can be built just as any other home addition, can be purchased as a modular unit that's then attached to your home or set on your property, or can be built in a
garage
(attached or detached).  These suites typically are on a single level and usually comprised of a kitchen, bedroom, bathroom, and a small living room area.  In-law additions need to include extra amenities so as to allow for aging in place, such as wider hallways and doorways, no step entrances, extra room in front of bathroom and kitchen cabinetry, grab bars, levered handled door knobs, comfort height toilets, and curb-less showers.   
   You can find in-law home addition plans in magazines and on the Internet that can often meet your requirements.  If building new, expect to pay around $110 to $130 per square foot for construction.  And while a remodel or addition can make the cost of an in-law prohibitive for some homeowners, it can be less expensive than the money required for long-term care for aging relatives in a facility - and a potential source of income down the road.   
   Before getting too involved in the idea however, check with your municipality to find out how your local zoning and building codes affect this type of addition.  There may be zoning issues to having two separate residences on the same building lot, or special features that the addition must include, like separate utility services, as mandated by code.
Susan Luxenberg
President
HomeSmart LLC
   When selecting material for a bathroom floor, it's really important that the floor stands up to water and offers a safe, non-slippery surface for wet feet.  Falls can happen anytime and anyplace to people of any age, but most falls by people aged 65 and older occur in the home during everyday activities.  Slippery bathroom floors are one of the culprits when it comes to falling at home. 
   So what are good flooring options for the bathroom? 
   Ceramic tiles are a practical choice given that they are relatively inexpensive, durable and water resistant.  Look for those that are textured and not glossy which will prevent the tile from becoming slippery.  Ceramic tiles come in many different shapes and colors which makes it easy to be creative with patterns or borders.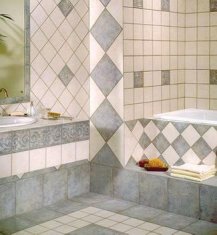 All a ceramic tile floor requires for cleaning is sweeping and light mopping.  A light water and vinegar solution is a safe and cost efficient cleaner that will not damage the tile.  Avoid steel wool or other rough materials that can scratch the surface of the tile.  Ceramic tile can chip or crack if something heavy is dropped on it so make sure to keep some extra tiles for repairs if needed.
   Traditional ceramic shower tiles are starting to be replaced with the rich earthy tones of natural stone tiles, a good fit for most bathroom renovations.  Natural stone has some benefit over ceramic tile, especially for more modern designs.  Natural stone is durable, resistant to wear and stains, and comes in a wide variety of colors and finishes.  There are many types of stone available each with its own characteristics.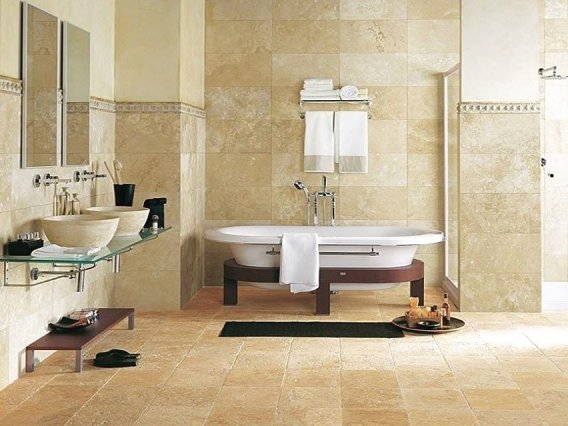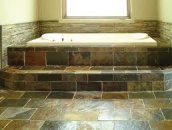 Slate
is a very durable stone and highly recommended for bathroom applications. It is easy to clean and with a little maintenance is almost completely impervious to stains.   Slate also has a rough texture, making even honed slate non slippery – a very important consideration for the bath.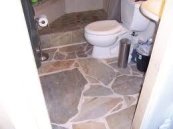 Quartzite
 is one of the hardest and most resilient stones available, whose colors range from repeating sequential patterns to multicolored unique formations, depending on the type of quartzite which is used. This stone is good in a bathroom because of its durability, its resistance to stains and water, and the fact that its texture makes it non-slippery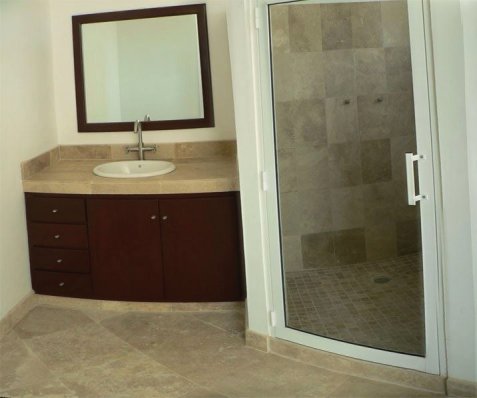 Limestone
and
Travertine 
are softer and more permeable then slate or granite. The patterns that emerge in these stones, while unique, are more repetitive than in multi-colors and so the range of any given color of stone is more subdued. This material is appropriate for bathroom use but it is not as good at resisting stains, nor as durable as either slate of quartzite.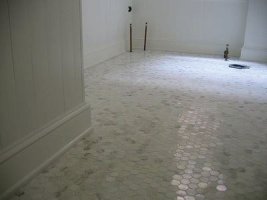 Marble
 is a classic stone that, in the past, has been used frequently to add elegance to a bathroom.  And while it's known for its color and high shine surface, it's exactly that high polish that becomes very slippery when wet.   Marble is also a delicate stone, prone to chipping and staining making it an impractical choice for the modern bathroom.   
   Natural stone can be cut and finished in any number of ways, giving you more flexibility in your designs and with the wide variety of stone available, you should take time to consider all of the options. While natural stone tile may be more expensive than ceramic tile, the beauty and durability are often worth the money. 
   Glass tiles are another choice for your bath and shower floors.  They are water resistant and long lasting with reflective properties that make the most of the light in any given space.  These are the tiles to use if you're looking to create an intricate mosaic pattern for your bath floor.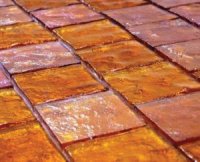 Unless treated, a normal glass tile is no different from polished porcelain tile in terms of skid resistance. Like any high gloss ceramic tile, glass tiles are usually slippery when wet.   If small format (1 × 1" or smaller) tiles are used on floors, the relatively frequent grout lines create texture that inhibit slippage.   For this reason, tile setters sometimes introduce un-textured glass tile mosaic inserts into fields of large ceramic tiles.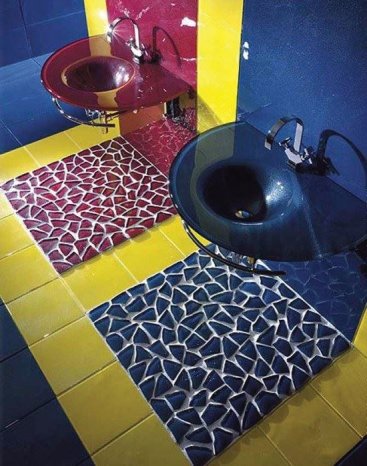 If you are using large glass field tiles on floors, you will need to choose a tile that is specifically floor-rated. Glass tile manufacturers all produce large format glass floor tiles. They are made with a textured surface that provides a high coefficient of friction, mitigating or eliminates slipping, while still delivering the luminous qualities of glass wall tiles. 
Vinyl tiles are an inexpensive, quick solution for those looking for easy do-it-yourself bathroom projects.  Vinyl tile is moisture resistant and available in a variety of patterns and colors.  Vinyl can be purchased as individual tiles or as a sheet cut to the dimensions of your bathroom floor.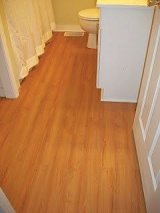 Vinyl tiles are usually 12" or 18" square and are available in all sorts of prints and styles.  There is vinyl that simulates hardwood flooring as well as that which resembles ceramic tiles. When installed properly, the effect of these tiles is identical to the original materials.  
Vinyl tiles are usually coated with a form of urethane which gives them a shiny finish and protects the tiles from wear and tear.  Look for vinyl tiles with textures so that the floor does not get too slick when wet.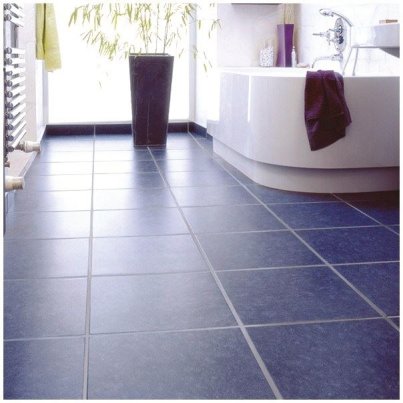 Vinyl flooring can be wet mopped without fear of damaging the surface. Because the surface is impermeable, liquid will not seep into the floor, so mold and mildew is also not a problem. Consequently, vinyl flooring is a perfect choice for areas that are prone to spills and moisture such as bathrooms. 
 Susan Luxenberg
 President
 HomeSmart LLC
/