The problem of elder abuse is not going away.  With millions of cases of elder abuse reported each year, this has become a very serious issue.   Maybe it's a combination of more seniors sharing homes with their families and the stresses most people live under today.  Certainly the struggle to care for an elderly adult who is sick or impaired, either physically or mentally, along with the financial burden of caring for an elderly individual, can cause stress on a caregiver and increase the likelihood of abuse.  
The victim is often female, over the age of 75, dependent on the abuser, isolated and frequently impaired.  The abusers are frequently financially dependent, isolated, inexperienced, unrealistic and impatient caregivers.  And while abusers can be spouses, children, hired caregivers, or any other adults with whom elderly individuals have contact, the greatest risk for the victim comes from those with whom they live.   Family dynamics are a major contributing factor to adult abuse; it is known that in 90% of all reported elder abuse cases, the abuser is a family member. Researchers have estimated that anywhere from five to twenty-three percent of all caregivers are physically abusive.  
What are the indications that someone is not being treated with proper care?  Each state might differ slightly in its definition, but the following comes from Florida's Department of Elder Affairs:
Physical Abuse is the infliction or the threat to inflict physical pain or injury on an elderly person. This includes pushing, striking, slapping, kicking, pinching, restraining, shaking, beating burning, hitting, shoving or other acts that can cause harm to an individual.
Emotional or Psychological Abuse is the infliction of mental stress, pain, or anguish through non-verbal or verbal actions including  verbal berating, harassment, intimidation, threats of punishment of deprivation, criticism, demeaning comments, coercive behavior, isolation from family and friends.
Financial Exploitation involves improper use of the victim's funds, property or assets, cashing checks without permission, forging signatures, coercing or deceiving an older person into signing a document, using an ATM card without permission.
Sexual Abuse is non-consensual sexual contact of any kind including assault or battery, rape, sodomy, coerced nudity or sexually explicit photographing
Neglect is indicated with unexpected or unexplained deterioration of health, personal care,  or living situation, inadequate food, clothing and/or shelter.
We all need to become educated about what elder abuse is and how it can be prevented.  In the event that you know an elderly individual who is the victim of abuse, there are many resources from public authorities to legal professionals, you can contact.  Bottom line --  if  you believe someone you know is the victim of elder abuse, seek help.   You can call the toll free hotline: 1-800-96-abuse.  All calls are confidential.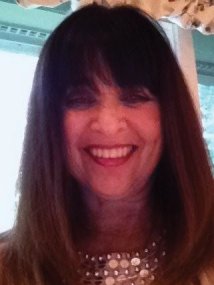 Susan Luxenberg
    President
    HomeSmart LLC
THE RED CARPET WILL ROLL OUT MARCH 16, IN BOCA RATON, FL., FOR PEOPLE WITH DISABILITIES
The nation's Largest Free Event for Kids & Adults with Special Needs Invites America to Attend 5th Annual Day-Long Party in BOCA RATON, FL
The nation's largest, annual, free-event for people with physical and/or intellectual challenges, the Boating & Beach Bash for People with Disabilities, will take place Saturday, March 16, 2013, from 10:00 AM – 3:00 PM, in Spanish River Park, State Road A1A, Boca Raton, FL.
The event encourages families with a child or adult member with disabilities, to spend a long weekend in Florida during the nicest time of year, early spring. "We annually roll out the red carpet to welcome people from all across the United States," says Bash director Jay Van Vechten. "Florida residents and visitors alike have discovered the Bash is the one national event that celebrates diversity by offering a safe, accessible, atmosphere for all ages, with any type of physical and/or intellectual disability, their caregivers and families. 
Last year, 4496 guests registered at the gates, while 501 volunteers lined up to assist with hospitality and helping attendees have the best possible time. Five thousand guests are expected this year. Everything for the day is free to all participants.
See you there!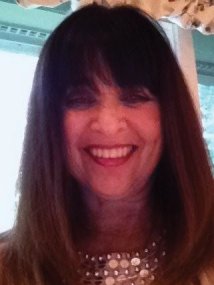 Susan Luxenberg
President
HomeSmart LLC
Periodically I like to check out the new and/or updated technologies for aging in place that are being brought to market. Here are a few I found interesting:
Microsoft, in an effort to improve its technology for people challenged by limited motor skills or for those visually or hearing disabled, has made changes to its new operating system, Windows 8, to significantly enhance accessibility.  Both Microsoft Magnifier and Microsoft Narrator have been improved with touch capabilities making them much simpler to use and maneuver.  To make these features easier to find, greater emphasis has been put on the Windows Ease of Access Center which will be clearly visible on the systems home page.  The Ease of Access Center poses questions that are designed to direct the user to the features they need to be using.  For example, "Do you have difficulty reading the screen?" will prompt someone to open the Magnifier function.  And while not there yet, Microsoft's journey is towards broader accessibility.   Eventually users will be able to interact with their computer or tablet using the method they're most comfortable with --   keyboard, voice recognition or even gestures – virtually eliminating any visual, auditory, or dexterity impediments they might have.  
Care Technology Systems and Qualcomm Life have partnered to create is a cloud based system that enables provider and users to capture data for any wireless medical device and deliver it in a secure and reliable system.  Information can be easily retrieved by physicians, caregivers, or other critical audiences, for use in healthcare decisions.  The company provides fall detection monitoring, activity monitoring, and biometric monitoring (pulse oximeter, glucometer, weight scale, and blood pressure cuff) which is FDA approved and HIPAA compliant.   Read more at  
www.caretechsys.com
Telikin is committed to helping people who are computer novices connect with family, friends and the world.  Telikin makes the easy to use, all-in-one, touchscreen computer that integrates features such as video chat with integrated Skype, photo sharing with an integrated facebook application, email, contacts, weather, news, full web browser, word processing, built in video help and more in a virus free system. With the large monitor, intuitive interface, easy menu of popular features, and extensive customer support, Telikin helps people stay connected to their families, friends and the world. Find out more at 
www.telikin.com
With an estimated 36 million American facing age-related hearing loss and the hearing aid market estimated at $6 billion dollars globally, the race is on to apply current technology -- such as that used in noise cancellation and miniaturization -- to an inexpensive, user friendly hearing device.  Personal Sound Amplification Products (PSAP)  are being marketed as less expensive alternative to a traditional hearing aid.  PSAPs are classified as electronics and not as medical devices by the Food and Drug Administration, consequently they are not regulated and do not require a prescription.  While these personal sound amplifiers may help people hear things that are at low volume or at a distance, the Food and Drug Administration (FDA) wants to ensure that consumers don't mistake them—or use them as substitutes—for approved hearing aids. "Hearing aids and personal sound amplification products (PSAPS) can both improve our ability to hear sound," says Eric Mann, M.D., Ph.D, clinical deputy director of FDA's Division of Ophthalmic, Neurological, And Ear, Nose, and Throat Devices. "They are both wearable, and some of their technology and function is similar."   There are a number of companies making PSAPs which range from well under $100 to around $1,000, unlike a typical pair of hearing aids which cost $3000-$4000.  Able Planet, a $140 million consumer electronics company, offers a tiny, in-ear device, called Personal Sound, which has won numerous product awards.  To read more see
www.ableplanet.com/products/hearing-health
 Susan Luxenberg, President
 HomeSmart LLC
   While there are many people who would benefit from home modifications, finding the money to pay for them can be difficult.  Unless one has private funds, is entitled to VA benefits, has a long term care policy that pays for accessibility modifications, or can draw equity out of their home, there is little else that pays for adapting a home for safety and accessibility.   Local governments used to be a source of funding for these projects through Community Development Block Grants (CDBG funds) but today most of that money has dried up.  
   The challenge then is finding resources to help families that need these type of modifications but cannot afford to pay for this work themselves. 
Rebuilding Together
is the nation's leading nonprofit organization providing critical home repairs, modifications and improvements for America's low-income homeowners.  Their "Safe at Home" program addresses home repair and maintenance issues that may otherwise present a safety risk or that limit access to or within the home.   
Safe at Home covers a variety of strategies, including:
Broaden public awareness and build coalitions around the need for home safety and accessibility modifications
Provide training and technical assistance on fall prevention methods and home safety strategies
Expand our affiliate network's core competency in the delivery of home safety interventions
Act as an information and referral resource on fall prevention and home safety subjects
Advocate for the needs and  of low-income homeowners particularly older adults, people living with disabilities and multi-generational families

   Safe at Home modifications cover fall prevention, fire safety and general safety issues. 
Fall prevention:installing grab bars throughout the home, widening doorways for greater access, repairing stairways, handrails, and wheelchair ramps inside and outside the home
Fire safety:  installing fire alarms and carbon monoxide detectors, eliminating electrical hazards, and repairing structural defects
General safety:  general safety upgrades and rehabilitative practices to ensure the absolute safety and health of the homeowner

   Rebuilding Together and their affiliates can't do it all on their own so collaborating with national and local organizations is a critical factor in a holistic approach to service delivery. Community partners include but are not limited to:
American Occupational Therapy Association (AOTA)
Area Agencies on Aging and National Association of Area Agencies on Aging (n4a)
National Council on Aging (NCOA)
National Home Builders – Certified Aging-in-Place Specialist program (NAHB)
Home Safety Council (HSC)
AARP
American Society on Aging (ASOA)
Local city and county Health and Elderly Service Agencies and Centers
 Susan Luxenberg
 President
 HomeSmart LLC
   The Fair Housing Act is a federal law that prohibits all housing providers from discriminating against persons with a disability.  The Fair Housing Act covers most housing – single family houses, apartment complexes, mobile home parts, condominiums, retirement communities, cooperatives, time shares, senior housing, boarding houses, residential hotels, group homes, and assisted living facilities.  In some circumstances, the Act exempts owner-occupied buildings with no more than four units, single-family housing sold or rented without the use of a broker, and housing operated by organizations and private clubs that limit occupancy to members.
   According to this Act, a disability is defined as "a physical or mental impairment which substantially limits one or more major life activities."  Examples of impairments include mobility and cognitive impairments, vision, hearing, AIDS or HIV infection, mental illness, learning disabilities, head injury, asthma, chronic fatigue, or history of alcoholism or drug addiction.  Disability does not include current use of or addiction to illegal drugs. 
   The Fair Housing Act protects all housing applicants, buyers, and tenants with disabilities as well as anyone associated with them, such as family members.  It requires housing providers to make reasonable accommodations and allow reasonable modifications so that people with disabilities can use and enjoy housing on an equal basis.  A housing provider does have the right to request proof of the disability (a doctor's note should suffice) and how the requested accommodation or modification would increase that individual's safety and comfort.
   Reasonable accommodations are those changes to policies, rules, or practices that persons with disabilities may need in order to have an equal opportunity to use and enjoy their home.  For example, waiving a no pet rule for a guide dog, or creating a reserved parking space near the building entrance for someone who is mobility impaired.
  A reasonable modification is any physical change to a rental unit, condo, co-op, or common space that is needed for an individual's full enjoyment of his/her home. Generally speaking, a modification is considered reasonable when it is practical and realistic and linked to a particular disability.  Here are some examples of reasonable modifications:
 Installing grab bars in the bathroom 
 Widening doorways
 Installing a ramp at the  building's entrance or front door
 Installing lever doorknobs and faucets 
 Converting a tub to a curb-less shower
 Lowering shelves or kitchen counter tops  
   It is each person's responsibility to pay and arrange for whatever modifications they are requesting.  A housing provider can require a deposit to be used to restore the unit back to its original condition when it's time to be rented or sold.  They can also require architectural drawings showing that the work complies with all state and local building codes.   
   If you think your rights have been violated, the 
Housing Discrimination Complaint Form 
 is available for you to download, complete and return, or complete online and submit, or you may write HUD a letter, or telephone the 
HUD Office
  nearest you. You have one year after an alleged violation to file a complaint with HUD, but you should file as soon as possible. 
   What to Tell HUD:
Your name and address
The name and address of the person your complaint is against  
The address or other identification to the housing involved
A short description to the alleged violation (the event that caused you to believe your rights were violated)
The date(s) to the alleged violation
 Susan Luxenberg
 President
 HomeSmart LLC



 
   There's so much new technology in the marketplace aimed at the aging in place market that's it's difficult to keep up.  Every few months though,  I spend time researching some of the newest software and gadgets that have recently made their debut - specifically those designed to help seniors living on their own and their remote caregivers keep in touch.     
 Not surprisingly there has been a growing number of applications available for use with smartphones and tablets.  Here are a couple: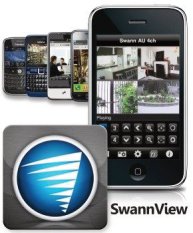 SwannView
 is a video monitoring solution that works on virtually any Smartphone or Tablet without the need for a computer or webcam.  The Swann Security kit (cost: $449) includes four color cameras and a digital video recorder to record up to 30 days of video from all four cameras simultaneously.  SwannView works over wi-fi or cellular connectivity on an Android, iPhone, BlackBerry or any Windows device so you can remotely log in to see a live, real time view.  The cameras are easily mountable and have an infrared LED night vision feature that allows you to see up to 65 feet in the dark.  You can set this kit up to send you an email if the cameras detect motion. 
The
iCam app
for iPhone, iPad or iPod touch (cost: $4.99) allows you to monitor multiple live video and audio feeds over Wi-Fi or cellular connectivity.   With a computer and a webcam, you can visually check- in to make sure all is well.  You can also set up the app to notify you when motion is detected.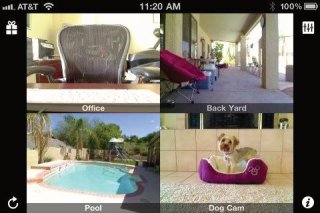 Many seniors who live independently often use a medical alert system to get help in an emergency such as falling. The problem is that in the past, the majority of these systems only worked within range of a home based receiving system. When a person was out of their home, they no longer had on-the-go access to emergency assistance.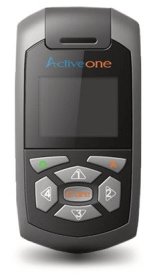 Today's fall detection devices include fall detection that works away from home and allows other family members to monitor the whereabouts of the wearer using GPS tracking. 
ActiveCare's Personal Assistance Link (PAL)
 is a handset offering a range of features to assist people who want to continue living independently.  The device, which connects via a cellular network, includes a one-click help button to call for 24/7 assistance, a built in fall detector that's monitored remotely, and GPS.  The PAL offers one touch communication to Care Specialists from anywhere at anytime.  It  looks like a cell phone but is easier to operate with large buttons and quick one-touch access to family and the 24/7 Care Center.   (Cost:$180 activation fee, $60/month service charge)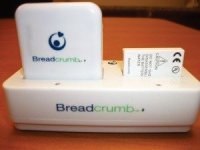 The Alzheimer's Foundation of American  along with Breadcrumb LLC recently announced a state of the art locater device and caregiver-friendly monitoring system. This innovative new tracking device –
BC 300 GPS Device
– is designed specifically for the dementia population and aimed at immediately and precisely pinpointing a person's whereabouts.  .The BC300 system works by setting up a virtual fence around a person's residence and/or other locations, such as a relative's home or an adult day care center, and sends an alert when the wearer leaves that zone.  As one of the smallest, most lightweight tracking devices on the market, the BC300 is strapped around a person's ankle with a heavy duty band. Designed with the symptoms of dementia in mind, including memory loss, confusion and other cognitive loss, the device is not dependent on the user's activation. Caregivers can access the wearer's real time location 24/7 on a Google map via computer or smartphone. In the event the person wearing the locating device leaves a designated safety zone, an alert is sent to the Breadcrumb Customer Care Center--as well as up to five caregivers and if necessary, the proper authorities are contacted .  (Cost: $190, $38/mo service charge)
As more and more families are caring for older relatives, the need for better ways to share sensitive health information has become obvious.  There's many types of information to track, for eg. emergency contacts, details about care-related services or treatments, legal and financial documents,  all of which family members in multiple locations may need access to.  
This past week,
CareZone,
launched it's new site offering a way to share and manage information associated with caring for another individual. You set up a profile about the person receiving care, list their current medications, sketch out to do lists, add any relevant contacts, share notes and upload files. As the creator of a profile you can give others access which you can also revoke at any time. You might give access to family members who share caregiving responsibilities, professional caregivers or medical staff. The company plans to charge $5/month or $48/yr for each person for whom care is provided.  As an introductory offer you can sign up for free until March 15th. 
Susan Luxenberg
President
HomeSmart LLC
   Many of us are facing the similar issue of getting our aging parent(s) to acknowledge that they need some help in their home.  More often than not it's a frustrating "locking of horns" as we try to persuade our parent that it is no longer safe or feasible for them to live without assistance, whether it's help with cleaning and cooking, bill paying, driving, or any of the normal activities of daily living.  
   The difficulty starts in even knowing how to approach the subject, let alone meeting all their ready objections.  Denial and control are the key elements here, so the objections are multiple and range from "I'm don't need any help" to "I don't want to spend the money."  I've had seniors who have been hospitalized for falling, tell me that they know for certain they will not fall again and therefore do not need non-slip flooring or grab bars.  They simply will be more careful.  
   Recently I spoke with a daughter, who lives in California, about installing some additional safety aides for her father, a 99 yr old living in Florida.  Her dad had been hospitalized three or four times in the past year for falling and yet refused to use a walker or allow grab bars to be installed in his home. As she explained to me, "If there was nothing to help him, that's one thing.  But I'm starting to resent having to drop everything to jump on a plane and fly cross country to the hospital when there are options that would help prevent his falls."  
   My sister, brother, and I have had numerous conversations about the best way to broach the topic with our own parents.  We've debated whether, out of respect we should only gently press an issue or, out of concern we should push forward to do what needs to be done.  I've had similar discussions with the adult kids of my clients.  At some point or another, everyone struggles with how long to beat around the bush before taking control and forcing a solution.  
   I've spoken to case managers, clinical social workers, psychologists and gerontologists for some expert guidance in this matter.  Their compounded wisdom suggests we consider the following when trying to help our aging parents:
First, don't barge in and dictate that which you think needs to be done.  Find a quiet time to talk with your parent and explain why you are concerned. Encourage their response, stay open minded, and listen carefully.  
Make the conversation positive and emphasize that if they are proactive and act before there is a crisis, they stand a better chance of retaining control and  independence.
Find out how you can help them by understanding what options they might be considering and what their objectives are.
Do not push them to accept your assessment but rather give them sufficient time to form their own  conclusions.  
Be prepared to prioritize and negotiate the changes you believe need to be made.
Use trusted advisers or other family members for support.  Sometimes it just takes the right person or personality to allow for a dialogue without emotionality or defensiveness. 
Don't just state the problem – help them find solutions.  Do some research in advance so that you know what resources and agencies are available in their community.   Obtain contact information, brochures, financial costs, etc. so that your conversation with your parents can be realistic.
   Most often there's more than one way to handle any given situation.  Your parents may be far more ready to listen if you can present a variety of choices to them, allowing them to make the decision for their own well being.
Susan Luxenberg
President
HomeSmart LLC
    I think most people would agree that making a home safe and comfortable can allow an individual to remain at home and retain independence as they age and their abilities change.  Even the smallest renovation can change the life of someone with a disability and mean the difference between comfort and discomfort in one's own home.  Grab bars, stairway railings, lever door handles, non-slip coatings to flooring, and threshold ramps are low cost modifications that greatly improve safety.  More extensive modifications may include widening doorways, installing elevators, stair and porch lifts, replacing tubs with walk-in showers, lowering counters and cabinets, and increasing lighting.
   Keeping someone independent, however, often extends beyond making physical changes to a home.  It's not uncommon that additional resources are required both in services and equipment.  Assistive Technology devices are a group of products that improve a person's ability to live and function independently.  These products can be as simple as a cane or a weekly pill organizer, or as sophisticated as a voice-activated computer system or sensor. 
   In fact, the area of assistive technology has grown so quickly and there are so many products and devices available to meet every need, that it can be very confusing to the uninitiated.   
Categories of Assistive Technology Devices:
Independent Living Aids.  These products help people perform activities of daily living, such as bathing, dressing, and preparing meals.  They include everything from reaching tools and jar openers, to shower seats, bed rails, night lights and easy to read alarm clocks,  low vision aids and low hearing aids, neck pillows, back pillows, bluetooth devices -- the list is endless.
Medication Aids.  Pill organizers (from the simplest to the most high tech), timers and pill crushers.
Mobility Aids.  Canes, walkers, scooters and wheelchairs, both manual and electric.  Walkers improve stability and should be tested to ensure they are sturdy, lightweight, at the correct height for the individual, and can be moved easily. Manual wheelchairs require some arm strength or leg strength and skill to move the chair while electric wheelchairs are useful for those who can move around on their own but lack the strength to wheel themselves. Scooters are useful for those who can walk very short distances and get around by themselves.
Technology.  Advances in computer and phone technology have greatly helped seniors to live independently while maintaining connection to family, friends and support services.  There are modified phones with large buttons, headsets, speakerphone capabilities or visual displays.  Updated computer technology includes voice recognition software and modified keyboards.  There is also simplified equipment that allows for email, photos and other documents without having to use a computer.  
Crisis Monitoring.   Personal emergency response systems (PERS) call the appropriate contacts and emergency services when a monitor center is alerted via an emergency button worn as a pendant, bracelet or belt.  Occupancy monitors use pressure sensitive pads that activate when someone moves to get up.  Webcams and other sophisticated computerized systems allow for long distance monitoring for distant family members. 
   Most of these products are available at drug stores or medical supply stores and you also can easily browse online for products.  And while some assistive devices are paid for by Medicaire, ie walkers, wheelchairs and scooters if prescribed by a physician when determined to be medically necessary, most are not.  If you are looking for funding you'll need to check Medicaid waiver programs, health insurance, the Department of Veteran Affairs and some public service organization like United Way and Easter Seals. 
    If you are uncertain exactly what products or equipment to choose, there are a few agencies which keep a complete list of assistive technology devices and can help you determine which is right for your particular circumstance.  In addition to the national programs, every state has a State technology assistance project that has information about assistive technology, financial assistance to purchase equipment, and loan programs.   ABLEDATA  can connect you with someone in your state.
For more information, you can contact:
    Susan Luxenberg
    President
    HomeSmart LLC
The question frequently comes up as to how to pay for accessibility modifications, especially more major ones like a fully adapted bathroom or kitchen.   Unfortunately, other than long term care insurance and personal savings there's little out there today to help defray the cost of renovating a home in order to create a barrier free environment.
There is, however, money available for Veterans.  Veterans or service members who have specific service-connected disabilities may be entitled to a grant from the Department of Veterans Affairs (VA) for the purpose of constructing a barrier free home or modifying an existing home to meet their special needs. 
The Specially Adapted Housing Grant (SAH), or a 2010(a) grant, is intended for disabled veterans.  The goal of the SAH Program is to provide a living environment that affords the veterans or service members a level of independent living he or she may not normally enjoy.  
The grant is meant to offset the cost of specially adapted housing and offers up to half of the cost of the purchase, construction, or renovation of the house to a maximum amount of $50,000.  If the maximum grant is not used all at once, a second grant can be obtained for future adaptive modifications.  For example, if the total cost of adapting a home is $80,000, the maximum grant would be for 50% of the $80,000 or $40,000.  The veteran could, at a later date, claim another grant of $10,000 for the repair of the adaptations done originally, or for the installation of additional adaptations, or towards the purchase, construction, or adaptation of another home.
According to VA requirements, those eligible for the grant are those entitled to or currently receiving VA compensation for what the Department of Veteran Affairs defines as permanent and total service connected disability.  Eligibility must first be determined before an application for the Grant can be made.  Some of the requirements in determining eligibility include:
1.     It must be medically feasible for the veteran or service member to reside in the 
        house.
2.     The house must be adapted to be suitable to the veteran's needs for living purposes.
3.     It must be financially feasible for the veteran to acquire the house with the 
        assistance provided by the Grant.
The types of adaptations covered include ramps, lifts, widened doorways and hallways, expanding garages and carports to allow for wheelchair maneuverability, accessible bathrooms, adjusting placement of wall switches and electrical outlets, windows that are operable from a wheelchair, automatically operated entry and garage doors, kitchen adaptations, modifying exterior walkways and entrances.
The following are pictures of projects completed under the SAH grant program.
         Modified Kitchen with new cabinets,
          counters, flooring and window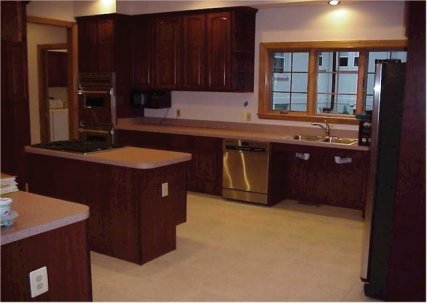 Fully adapted bathroom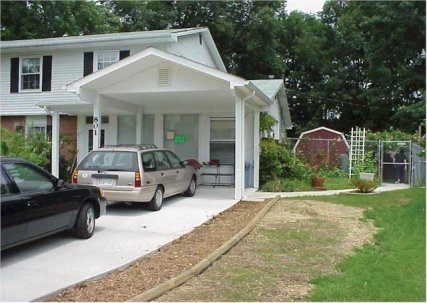 Carport addition
The Special Housing Adaptations (SHA) program, or 2101(b) grant, provides the actual cost to the veteran of certain adaptations and/or equipment, not to exceed a maximum grant of $10,000. The home to be adapted must be owned by the veteran or by a member of the veteran's family, and the veteran must intend to continue residing there.
Types of renovations covered depend on the specific disability and include special lighting, sliding doors, handrails, grab bars, smoke detectors, security systems, exterior doors and locks, concrete or asphalt walkways, fencing,  porches, awnings, additional electrical, lever faucets, lowered cabinets, rocker light switches and other adaptations with the approval of the VA.
Here are a couple of pictures of projects completed under the SHA program.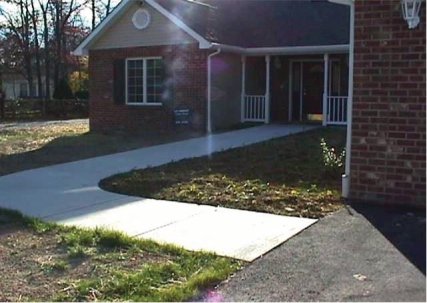 Bermed walkway and front porch
                                                  Enlarged doorway and pocket door
The Temporary Residence Adaptations (TRA) program provides adaptation assistance to veterans who are residing, but do not intend to permanently reside, in the a residence owned by a family member. If a veteran is otherwise eligible for SAH, the assistance is limited to $14,000. If a veteran is otherwise eligible for SHA, the assistance is limited to $2,000.
SAH and SHA grants may be used up to three times, as long as the aggregate grant amount does not exceed the statutory dollar limitation. TRA grants may only be used once (and count as a grant usage for purposes of the limit of three), and the amount of assistance provided will be subtracted from the veteran's available statutory maximum.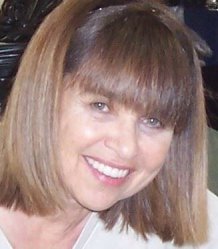 Susan Luxenberg
  President
  HomeSmart LLC

Aging Baby Boomers themselves may be a bit young for the services of a Geriatric Care Manager,  but there are many Boomers who are arranging care for an elderly parent or relative.  If you've ever been in the position of searching for information about resources in a community for the elderly, you already know that the task can be overwhelming and difficult - especially from out of town. 
Geriatric Care Managers are educated listeners who can provide an individualized road map for dealing with all the issues associated with aging. As per the
National Association of Professional Geriatric Care Managers (NAPGCM)
, a professional Geriatric Care Manager (GCM) is a health and human services specialist who helps families who are caring for older relatives. The GCM is trained and experienced in any of several fields related to care management, including nursing, gerontology, social work, or psychology and has 
extensive knowledge about the cost, quality and availability of elder services in the community.
GCM's are experts in helping families determine what kind of help an older adult needs and can assist in planning and coordinating whatever help is required. The services they provide include:
1. Conducting  a thorough assessment of a client's physical, medical, mental and financial status so as to identify problems and provide both short and long term plans for care.
2. Providing crisis intervention

3. Acting as a liaison to families at a distance, overseeing care, and quickly alerting families to problems – especially important when families are engaged in long distance care giving
4. Screening, arranging, and monitoring in-home help or other services, including assistance in hiring a qualified caregiver for in home care.

5. Reviewing financial, legal, or medical issues and offering qualified referrals to geriatric specialists.
6. Assisting with moving an older person to or from a retirement complex, assisted care home, or nursing home.

7. Providing consumer education and advocacy.
Geriatric care managers often bridge the gap between ongoing independent living and more full-time care such as home health aides or assisted living.  Their role is essential when there are numerous decisions to be made, the person is in the midst of a crisis or at a crossroads such as a hospitalization.  GCM's also serve to buffer some of the emotional stress that occurs in a crisis and help a family work towards a unified solution.
This is yet another case where Medicare or Medicaid does not pay for the service, and long-term care coverage varies widely.  Most agencies charge an hourly rate of between $60 to $300 per hour depending on the part of the country.  And while these fees can be pricey, sometimes a single consultation, where the family can become educated about their options, is all that's needed. 
You can find Geriatric Care Managers through the Area Agency on Aging in a community, hospitals, senior centers, geriatric assessment centers, or non-profit agencies serving families.  You can also call the National Association of Professional Geriatric Care Mangers at 520-881-8008
Susan Luxenberg
President
HomeSmart LLC
/