Question:  Will modifying my bathroom negatively affect my home's value?
Answer: Actually, modifying your bathroom to make it safer and more accessible will improve the value of your home.  Many of the past solutions for accessibility were pretty institutional in design but today there are numerous alternatives that not only function to improve safety and comfort but also enhance the look of the space. The manufacturers are all aware that there are 77 million Baby Boomers who are looking to the future and demanding high end products to make their homes safe as well as beautiful.  Furthermore, this generation of Boomers is becoming educated in the concept of universal design – looking to create spaces that are comfortable for all users regardless of their physical abilities.  Think about it, if your bathroom – or for that matter any room in your home -  functions well for a wide range of users, young/old, short/tall, wheelchair bound or not, it becomes more desirable to a wider range of purchasers when it comes time for you to sell.
Question: My husband and I (both of us in our early 80's) live in a two story home and it is becoming increasingly difficult for me to climb the stairs to our bedroom. We do not want to leave this house but want to remain here for as long as possible. Can you explain both stair lifts and home elevators and whether either one is a practical solution for us? 

Answer: When deciding how best to adapt your current home both physical and financial considerations are key.  And since I do not know your particular situation or what your preferred type of housing would be if moving, I can only review the features, some pros and cons, and costs of both options and leave it to you to determine what might work best for your situation.
A stair lift is a motorized chair on a track that carries a person up and down the stairs. Stair lifts are typically attached directly to the stair treads, not the walls, so installation can be accomplished in under a day with minimal disruption to the house. In addition to quick installation, stair lifts can easily be removed when they are no longer needed.  Many companies purchase used lifts, then refurbish and re-sell them, so it is possible to recuperate some of the equipment costs when you are no longer in need of the lift.
Stair lift solutions are available for types of stair configurations - inside and outside - and can be battery operated, A/C operated, or A/C operated with battery backup. Each requires a grounded electrical outlet positioned near the unit to power it or to recharge the battery.
The cost of a stair lift is substantially less than a home elevator. Cost depends on simplicity – the simpler the unit, the straighter the stairway, the lower the cost.  A new stair lift installed on a simple, straight stair should cost under $4,000. Used ones will cost less. Pricing depends largely on the drive mechanism selected, the options you choose, for example battery-backup, remote controls, upholstered seat, etc., the length of the track (number of stairs it will travel), and the type of stairway on which it will be used. There are companies that will rent them which might make sense if needing for a vacation or seasonal home.
Stair lifts do have ongoing costs and regularly scheduled maintenance is recommended along with annual replacement of the battery (battery-operated units).
A home elevator is the better option for someone who is unable, or would have great difficulty transferring into a stair lift chair. A home elevator is a significantly more expensive option than a stair lift and one that can be difficult to incorporate into an existing home.
In order to install a home elevator, you need to find space for the elevator shaft. The first way to locate usable space is to look for downstairs closets,pantries, or powder rooms with clear floor space above on the second floor that can be incorporated into the shaft.  If none of that is available, a shaft could be built by taking space from an existing downstairs room and space from the corresponding room above to use for the elevator shaft.  This is a definitely a major (read expensive) remodeling project all one its own and very disruptive.  If there is no interior space available, an exterior shaft could be built with doorways to the interior cut into the exterior wall. 
Costs of home elevators vary significantly based on the number of floors spanned, the structural requirements for the shaft, electrical requirements, and the size and features of the elevator itself. Lower-end residential elevators begin around $15,000 and can cost upwards of $100,000 for more sophisticated or decorative models.
Home elevators require regular inspection and repairs and their maintenance costs are higher than those of a stair lift.
When it comes to deciding what makes the most sense for you, as with any modification for aging in place, you will need to weigh the emotional, physical and financial costs of moving as compared to the cost of the renovation and the value it brings as regards your comfort, safety and independence.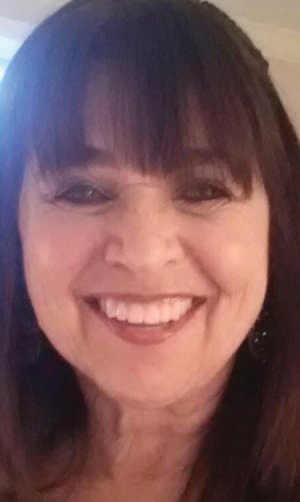 Susan Luxenberg
  President

  HomeSmart LLC
Question:  My husband and I are planning to completely remodel our master bathroom.  We recognize that at this point in our lives it might be smart if we incorporated features that would allow us to comfortably use our bathroom as we age.  What do you recommend for those of us baby boomers looking to upgrade our bathrooms?
Answer:  You might be surprised to learn that I'd recommend the same bathroom renovations to a baby boomer as I'd suggest to a younger family or an older couple. Today's trend is towards universal design – that design which allows everyone, regardless of age or physical ability, ease of use.  One benefit of universal design is that as we get older and our lifestyle changes, we can still comfortably use our home without need for additional adaptations or equipment. As an added bonus, planning renovations from a universal design perspective ensures an increase in the resale value of your home and opens to door to many more potential buyers.   
So here are universal design elements to consider: 
   Try to create a bathroom large enough to allow for a 5' circle in front of the plumbing fixtures.  When space is at a premium, do not create a separate room for the toilet or shower but instead keep the space open. 
   Make sure the bathroom doorway is minimally 32" wide, preferably 36".  Doors should swing out rather than in or you could install a pocket door. The doorway threshold should be flush with the adjacent flooring.
   All flooring materials must be non-slip. Look for matte finished tiles and natural stone, instead of glazed tiles or polished stones. 
   Select a comfort height (16 – 18" height vs. 14-15") toilet or wall hung toilet which are space saving and can be mounted at an individualized height. These toilets are becoming more and more popular for people of all ages.

   Install a curb-less shower which has no lip or threshold at the entry. The floor slopes towards the drain and away from the rest of the bathroom floor.  A swing out, frame-less door or shower rod and curtain also help keep water within the shower area. 
   Build in a shower bench which can be sized as large as you'd like or purchase a folding shower seat that can be mounted to the shower wall.  
   Use a handheld shower head mounted on a slide bar. These versatile shower heads are easy to use when standing or sitting and are an aid when younger children are using the shower. All come with multiple settings that allow you to control the flow of water. 
   Install grab bars in the shower and tub.  A typical placement is one vertical bar to be used as a hand hold when entering a shower/tub and one horizontal bar placed along the long wall. With the advent of special mounting brackets that allow grab bars to be installed securely into drywall faced studs, installation is no longer dependent on having special backing behind the walls.  If you find in the future that for example, you require grab bars in the toilet area, you'll be able to have them installed them as needed. Grab bars now come in so many different styles and colors that they no longer have to look institutional.  If your local hardware stores carry nothing other than the chunky standard stainless steel bar, check online. You'll be surprised at the range of choices you have. 
   Consider a wall mounted sink or floating vanity that would allow for a mobility device or wheelchair to easily roll up under. If you want to maintain a vanity cabinet, you can still use a wall mounted vanity –just set it at least 9" off the floor to allow for a wheelchair footrest underneath. 
   Choose accessible faucets that do not require a strong grip to operate.  Between single handled or double handled lever style faucets, sensor, and touch faucets there are many designs and styles to choose from.
Now with these elements in mind, take a look at these bathrooms to see how universal design was applied in each.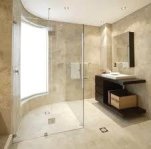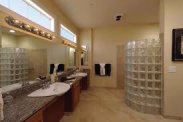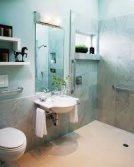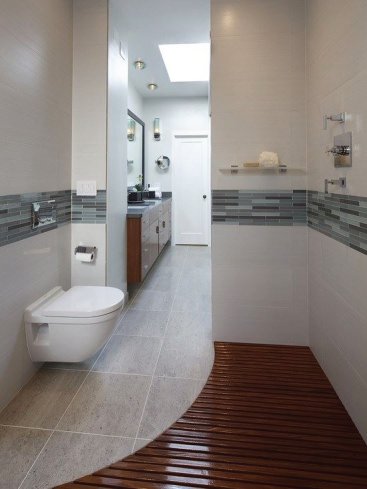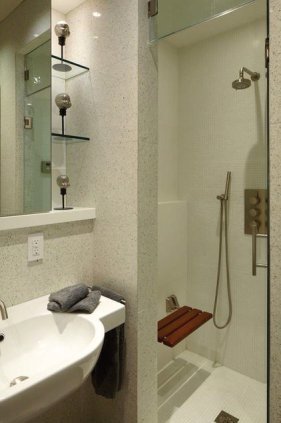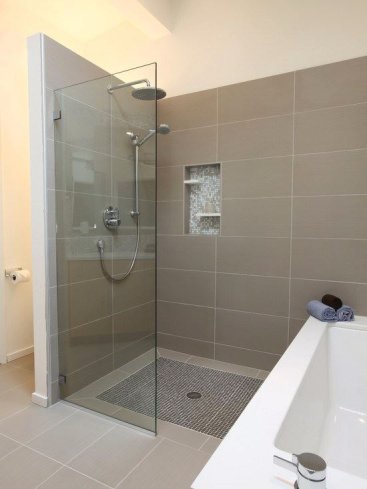 In every one of these bathrooms you'll find features that not only will adapt to your physical needs as you age, but will also be appreciated by people of any age. We've come a long way in understanding how our traditional design approach to bathrooms has not really been suitable for people throughout their lives. Just remember as you make your selections to think through not just your present lifestyle but what might be in the future.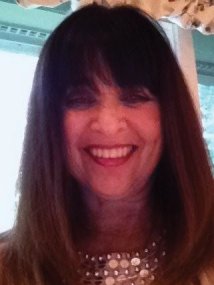 Susan Luxenberg
 President
 HomeSmart LLC 
Question:  My husband and I recently retired and decided to move to another area of the country. We sold our larger, family home and purchased a two bedroom condo in our new location.  I'm struggling with how to turn this much smaller space into something that feels comfortable.  What can you suggest?
Answer:  Decorating a small space can be a big challenge, so here are some tips for creating a spacious feeling in your new home.
Stick to a single color palette. A monochromatic room can feel clean and calming.  Vary the tones and textures of a single color and keep all of your furniture in a light, muted palette.  Break your color scheme with a few saturated  accents.  
Make your furniture multi-task.  Look for furniture that does double duty - a cabinet that folds out into a guest bed, or a desk that expands into a table.  These units are completely functional when opened but can easily be minimized when not required to save on space.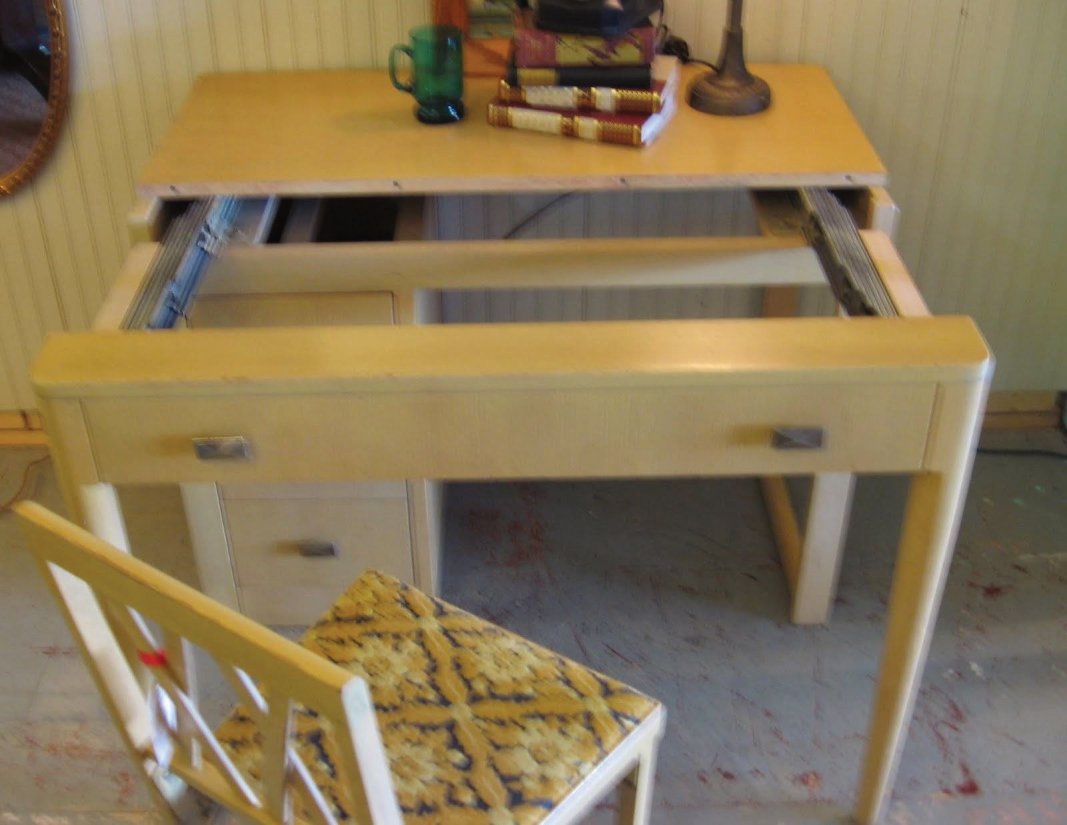 Create Illusions.  Define different living areas with half walls or open room dividers which help to open up the space visually.  Area rugs will do the same thing.  Color and contrast also work to make a room appear larger or smaller.  The more saturated the wall color is, the more the walls seem to advance towards you creating the feeling of a smaller room. The paler the color, the more the walls seem to recede, making the room appear larger. 
Use vertical space as well as horizontal space. Do not ignore the value of wall space.  Build shelves under staircases, install floor to ceiling kitchen cabinets, hang pots over your stove and utensils from a wall over a work counter. You can also install open or closed cabinetry over a desk and a built-in medicine cabinet in the bathroom.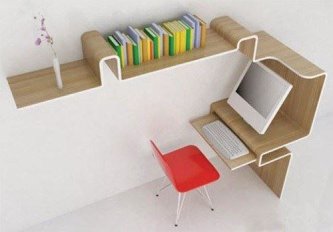 Bigger is better. A lot of small furniture can make a room feel cluttered. Instead, arrange the room around a few prominent pieces to make the room feel sleeker. Lightweight pieces in simple designs work best. Furniture with legs make your rooms appear larger as do glass tables.
Work from the top down.  An overhead focal point draws the eye upward and increases the visual height of a room.  Choose a ceiling color a few shades lighter than your walls for an uninterrupted floor-to-ceiling flow.
Make every closet count. Custom designing your closets will give you maximum use of that very valuable space.  Don't settle for a simple rod and shelf -- you'll be amazed at how much storage you can get in a well designed closet.
Select accessories you love.  Keeping things simple helps a small space seem uncluttered, but a house becomes a home when it's filled with things you love.  Hang the chandelier you found at the flea market, display the carving from one of your travels, and hang that well loved quilt.  Not only will your favorite accessories make your home more interesting to others but they will give you a sense that you are indeed still home. 
 Susan Luxenberg
 President
 HomeSmart LLC
Question:  My aunt is 78 years old and lives in a two story home.  She is starting to have difficulty managing the stairs up to her bedroom and bathroom due to a developing arthritic condition. She intends to stay in her home for as long as she can but does not have the funds for any major remodeling.  Would a stair chair make sense and how much do they cost?   
Answer: Installing a stair lift chair is certainly a practical solution that can be a cost-effective alternative to remodeling, depending on the configuration of the staircase.  For example, if the staircase is straight, has no turns, and is not particularly narrow, you can expect the cost to run between $3500 and $4500 including installation.   On the other hand,  if your aunt's staircase is curved, or there are other factors that might make installing the stair chair lift more difficult, the cost can rise significantly.  Stair lifts do come in varying models with varying price tags, so researching the features offered in different models is important to controlling the cost.   
Stair lifts can be rented and can also be purchased pre-owned.  And while Medicare does not cover the cost of this equipment, there might be some federal funds available for this type of home modification.  Your local Area Agency on Aging might have additional information on fund availability. For more detailed information on stair lifts, read our blog on
Managing Stairs
Question: Are there cell phones that are easier for seniors to use?  My mother often doesn't hear her phone ring and never seems to remember how to retrieve her voicemail.   
Answer:  Many older people have trouble with cell phones because they are too complex to navigate, are not intuitive, and have screens too small to read.  There are a few, however, that have been designed specifically for the senior market.  Here are just two that are available:   
Just5
 was designed for seniors or people with hearing or eyesight problems. This phone is simple yet very attractive and well designed.  Features include big buttons for easy dialing, a "speaking" keypad, which confirms the buttons pressed, an emergency button, amplified sound, simple keyboard lock and a long lasting battery. There are no confusing menus, options or settings to frustrate the user.  The phone itself is approximately $120, monthly fees are low, and there are no contracts required.   
The Emporia Life Plus
was designed for easy reading and the buttons and keypad are easy to use. The phone is meant to be used closed most of the time. The default screen is the contact list, so there is no menu navigation when you want to call someone; just arrow down to the number and hit the big green button. There is a large emergency button on the back of the phone. Once pressed, it will dial up to 5 numbers that can be programmed into it. As an added bonus, this phone will run off AAA batteries when the Li-Ion battery runs down. It offers speakerphone and text messaging as well.  
Susan Luxenberg
President
HomeSmart LLC
Question: My Dad is now having difficulty bending to sit and stand up from his bathroom toilet.  He refuses to use the full toilet commode that goes over the toilet, claiming it's uncomfortable.  We've looked at comfort height toilets but they are still not high enough for him to easily maneuver.  We've also looked at the high toilet seats that fit on top of the toilet but we're afraid those will not be very steady.  How do we solve this problem?  
Answer: You can use a toilet riser to raise the height of the toilet. Typically by installing a riser, you can raise the height of the toilet up to 4".  A toilet riser is bolted permanently to the floor to create a solid and sturdy base for the toilet.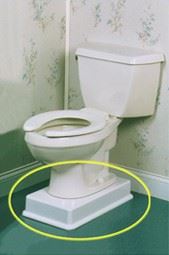 There are many benefits to choosing this approach over the toilet commode or a high toilet seat (aka toilet seat riser): 
A riser is aesthetically more pleasing than either a free standing toilet commode or booster toilet seat that attaches onto the toilet.  Because the riser is placed underneath the toilet, it doesn't draw attention to itself.  It blends in to the bathroom and doesn't look like medical device.  
A riser is permanent, doesn't need to be taken on and off the toilet, and is much easier to clean than either of the other choices.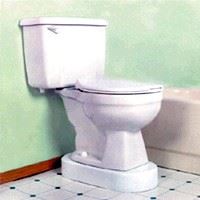 You do not sacrifice comfort when you lift your toilet from the bottom. You can re-use your existing toilet and toilet seat. 
For those who want a more customized look or height, you can also build a platform/riser under your toilet.  Just remember to keep the size of the riser minimal so that it does not extend beyond the toilet seat edge and cause a tripping hazard. 
Susan Luxenberg
  President
  HomeSmart LLC
Question: We have a guest bathroom that our parents use when they visit.  We'd like to install grab bars in the bathtub and shower area. How do we decide what size grab bars to use and where to place them? 
Answer: Many older adults prefer a grab bar that is 1" – 1 ¼" in diameter as it's easier to grip, especially for those with a reduced hand grip. And while grab bars come in smooth or textured finishes, those that are textured help prevent soapy hands from slipping.  Some grab bars even have specialty slip resistant designs, like finger grips on the underside of the bar, to aid in maintaining a firm grip.  
While the placement of wall mounted grab bars depends on the wall structure, plumbing layout, whether bathing or showering, and the user's height and range of reach, there are general guidelines you can follow.  
1.    On the shorter side wall opposite the showerhead – Locating a bar here will aid in balance when stepping in or out of a tub or shower.  You can either install a bar vertically or horizontally on this wall.  I prefer a vertical bar at this location, 18" in length, installed no more than 9" from the outside edge of the tub wall.  The bottom of the grab bar should be approximately 32"-36" above the floor.  If you prefer to place the bar horizontally, install a 24" bar, approximately 33"-36" above the floor.  
2. On the longer wall – Locating a bar here offers support while standing in the bath or shower.  If placing the bar horizontally, use a 24" – 48" bar (depending on the length of the shower area), 33"-36" above the floor.  The horizontal placement assists a user when facing in either direction but is limited to a fixed height.  Alternately, you can install the bar at a 45 degree angle which allows individuals of different heights to access the bar comfortably and will help when getting up from a shower chair or from the bathtub floor.  A diagonal bar also allows for a more natural and functional hand placement with less stress on the wrist. The lowest end of the bar should sit approximately 9" above the tub rim and slope upwards towards the showerhead. 
The safest way to install a grab bar is either directly into the studs, into plywood blocking that has been installed behind the wall, or with special fasteners that meet the requirement of sustaining 250 lbs. of dead load force. Grab bars should never be installed with only plastic anchors and screws directly into tile and wall board since they may not hold up if pulled on during a fall.   
Question: We've seen suction style grab bars and grab bars that mount on the tub.  Are these safe to use?
Answer: There are companies that offer grab bars that suction, clamp, or screw onto the side of the tub wall.  I would not recommend using these style bars as I have witnessed how easily they can shift or completely detach when being used to get in and out of a tub.  Maybe, when used properly, these bars can help to stabilize balance BUT one has to be extremely careful not to pull on them.  Installing a grab bar is not a place to skimp and what appears to be an easy, inexpensive solution could wind up being quite costly.  With the new fasteners available today, there is little reason not to securely mount a standard grab bar on the wall, or to use a flip down bar or floor to ceiling pole instead. 
  Susan Luxenberg
  President
  HomeSmart LLC

Question:  I've put tub strips on the bottom of my bathtub to keep from slipping but the tile on the bathroom floor itself gets slippery when it gets wet.  Is there anything I can do to make my floor less slippery?
Answer:  Today most builders and remodelers install non-slip tile on bath and shower floors to prevent exactly the problem you describe.  If you are not planning on changing your floor tile, there are numerous topical applications designed to invisibly increase traction and make your tile, marble, stone, and even wood floors non-slip when wet.  The coating does not change the flooring's color or texture.  You can find non slip coatings for your bathroom floor in tile stores or online.  Look for the names   InvisaTread, SureStep, Grip, It, or Tile Grip, just to name a few.  All are easy to install – clean the floor, spread the coating over the floor so that the floor remains evenly wet, let it sit for 20-30 minutes then rinse. Similar to any sealant, the coating will need to be reapplied every couple of years depending on how frequently you wash your floor.   
 Question:  We have two steps leading to our front entrance.  My husband is now in a wheelchair and it's impossible for me to maneuver his chair on these steps.  Do you have any suggestions?
Answer: There are many lightweight aluminum ramps on the market that will take care of this problem.  First, figure out how long a ramp you need by measuring the total height of the steps.  For every inch of height, you will need 1 foot of ramp.  So for example, let's say that each step leading to your front door is 4" high.  You will need a ramp that measures 8' long.  You can easily find sources for ramps by going online.  You'll find solid ramps, ramps that fold up (suitcase ramps,) and ramps with and without handrails. The differences have to do with the weight of the ramp, its length, whether or not you need handrails, and how portable you'd like it to be.  Just make sure you don't skimp on the length of the ramp – if you are in between two sizes go UP.  You don't want to feel as if you are losing control of the wheelchair because the ramp is set too steeply.   You might also want to consider creating a landscaped, bermed walkway .  Your walkway can be sloped from the front door, will provide the same ease of access as a ramp but be much more attractive.   
 Susan Luxenberg
 President
 HomeSmart LLC
/