We love this product for our clients.  It's called Flip A Grip and is a handle that can mount on a door frame, or anywhere someone might have a problem maintaining balance. While we install grab bars of all sizes and shapes in bathrooms to increase safety for our clients, these little handles work beautifully in a places where a grab bar is just to big or bulky -- particularly in doorways.    
The Flip A Grip is a sturdy handle with a non-slip, latex free handle that glows in the dark and folds out of the way when not using it. If you or a loved one has trouble with transfers, stairs or walking, the Flip A Grip is a great safety product. Designed by a physical therapist to prevent falls and make it easier and safer to get his patients in and around the house, the Flip A Grip can help you maintain your independence.
Flip A Grip Features:
• Allows for greater mobility and independence within the home
• Attaches easily, securely and fits in spots that ordinary grab bars can't fit
• Folds up to be hidden and out of the way when not in use
• ADA compliant and meets ASTM specification 446-85
• Has capacity to handle both push and pull forces
• Non slip grip glows in the dark
You can find this product online at various retailers.  It costs approximately $40/handle.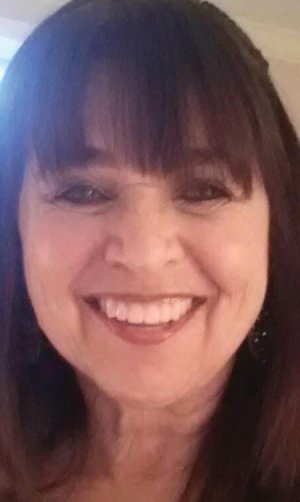 Susan Luxenberg
  HomeSmart LLC
We have recently completed some accessibility projects for people in wheelchairs and replaced their hinged bedroom and bathroom doors with pocket doors.  In doing so, we looked for an easier way to close and open the door than the standard little door pull usually inserted in a pocket door's edge.  We found a product called Pocket Door EZ-Closer which allows someone to quickly release the pocket door from its cavity with one bump or push. and prevents the pocket door from slamming into the pocket frame when the door is being opened. Its' spring loaded action works as a shock absorber, helping to prevent damage to the pocket door hardware.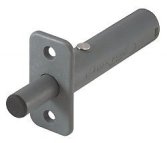 We have found the EZ-Closer to be very easy to use and simple to install.  It works with new or existing doors and door styles, is flush fitting and has been durability tested on doors weighting up to 170 lbs.  It requires no maintenance and has a 5 year manufacturer's warranty. 
There are two models available, both seem to function identically.
 Steel  - steel casing and plunger  Molded - glass filled nylon casing and plunger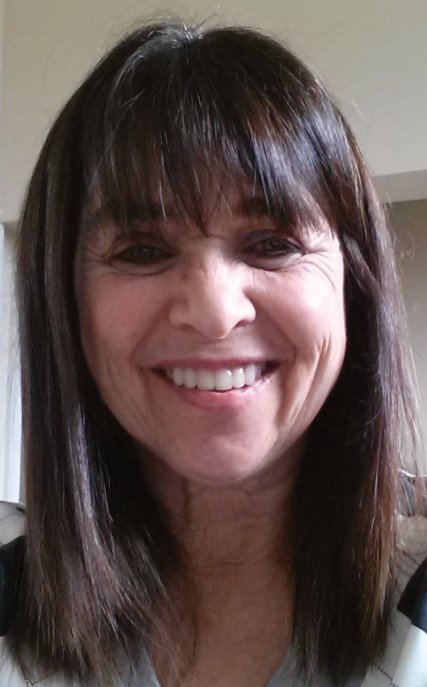 Susan Luxenberg
President
HomeSmart LLC
It's hard keeping up with all the new gadgets emerging in the home automation market and disappointingly, many turn out to be nothing more than toys. 
Lockitron
, a key-less entry system that fits over an existing deadbolt lock and allows a door to be locked or unlocked using a smartphone, looks like a product that's actually suitable for the aging in place market. Any smartphone can use Lockitron through a simple two-button application. You can use your phone to lock or unlock the door from anywhere in the world and share the ability to operate the door lock with caregivers, friends or family. Any time a door outfitted with Lockitron is unlocked via phone (or key), the system will send a message to your phone.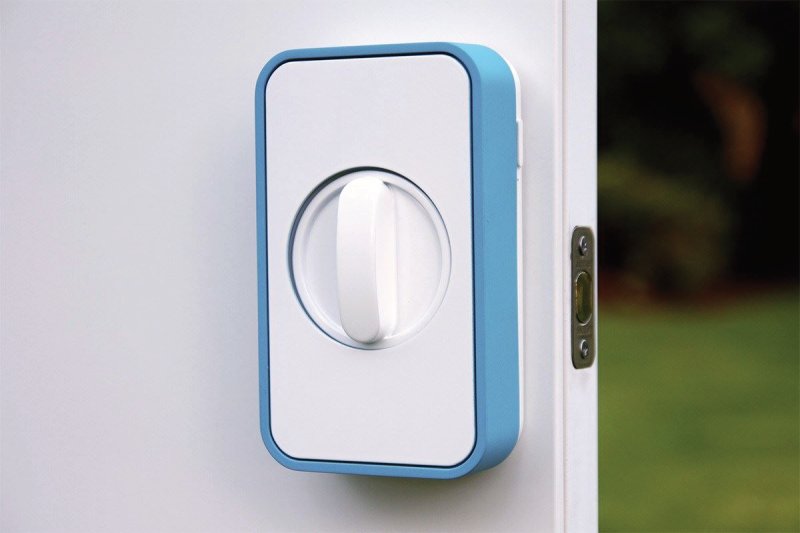 I particularly like the fact that Lockitron slips over an existing lock, making it easy to install and remove. Placing it on the interior of a door, as opposed to the exterior, keeps it immune from vandalism. Lockitron's batteries last for up to one year and the system  sends a notification when batteries are running low.   Right now the company is taking orders for May delivery. You can read more about this product on the Lockitron website: 
www.lockitron.com
or watch a video interview with one of the founders at
http://www.youtube.com/watch?v=vMOM_BznnKo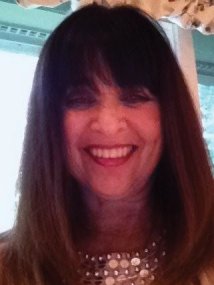 Susan Luxenberg
President
HomeSmart LLC
Roll-A-Ramp® is an ADA compliant, portable, versatile ramp system great for use as a wheelchair or scooter ramp and for users looking for an option to chair lifts, permanent ramps or conversion vans.  Roll-A-Ramp®  is made of an aircraft anodized aluminum, is very sturdy yet light enough to carry by hand, and easily adapted to meet a variety of accessibility needs. The ramps come in 12", 26", 30", & 36" widths and can be built to any length desired. Add additional links to change the length with simple tools provided with each ramp.  Ramps roll up like a sleeping bag for convenient storage and easy portability.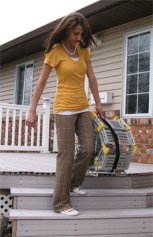 Homes – public buildings – visiting – appointments – restaurants – RV's – Roll-A-Ramp® can go whereever  you need it.       
Lightweight:  8' x 30" portable wheelchair ramp weighs only 31 lbs
Strong:  Supports 1,000 lbs
10 Year Warranty 
Versatile: Add length or separate into shorter sections for easier handling
Flexible: Take a section off a longer ramp, add an Approach Plate and use as a second shorter ramp to take with you.  When you get home, simply hook it back on.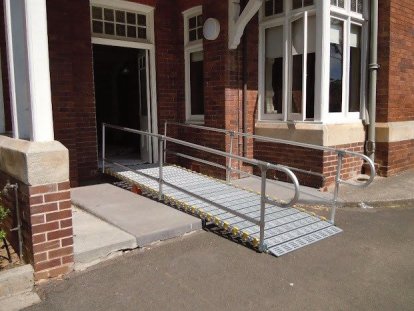 Note:   
Veterans may be eligible for a ramp at little or no cost through HISA and other funding sources. This can be used for service and non-service connected disabled veterans.   In addition, Roll-A-Ramp®  offers a lifetime warranty on ramps to all Veterans.  For more information contact
Roll-A-Ramp®
 or view their
dealer network.
Susan Luxenberg, Pres.
HomeSmart LLC
Roll-under sinks and vanities are a necessary feature of accessible bathrooms, and making a vanity roll-under can be done in many different ways.  Most often the approach is practical where function trumps design, but a few companies are starting to offer vanities that go beyond a functional solution.  Duravit, a German company, has created a bathroom collection that is really quite stylish. Its
Delos Collection
was intended to be light and minimalistic, working well for both master and guest bathrooms.  
The apparently floating console has no visible supports, made possible by an invisible wall fitting that enables this straight-lined design to be showcased to full effect.  Tall cabinets, semi-high cabinets, and drawer units complete the collection. The cabinet doors do not have handles. They protrude a little over the edge to facilitate opening. Delos drawers can be opened and closed with a little gentle pressure. A new, interior organizer system offers a particularly tidy solution for the interior.
The Delos countertops are simple and leave plenty of space below. The sink can be mounted under the counter for accessibility or set on top of the counter for a modern look.   Towel bars can be attached to any side of the console, making them very easy to reach. 

Delos is available in two wood finishes and in a high-gloss white. The real-wood veneers in particular highlight the comfortable character of the bathroom furniture. Choose from dark walnut or light oak.
 Susan Luxenberg
 President
 HomeSmart LLC
Handi-Treads ™
non slip stair strips are an outdoor aluminum non slip surface designed to ensure safety and protection against stairway accidents and injuries.  They can be used on any material including wood, concrete, masonry or ramps.  They are inexpensive, easy to install, and are a good solution for areas where water, ice, snow and sand can make walking slippery and dangerous.  The anti slip strip not only improves traction but also provides a visual and tactile cue to be careful and slow down. 

   Handi-Treads™ feature a lifetime residential warranty and start at $7.95 each, depending on size.  Standard sizes are as follows, although custom sizes are available: 
 1.    1.875" X 30"    strips          
 2.    3.75" x 30"     stair treads
 3.    3.75" x 48"     stair treads   
 4.    2.75" x 12"     stair nosings
 5.    6" x 30"        stair nosings
 6.    9" x 30"        stair nosings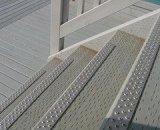 Treads come standard in a plain aluminum, anodized clear coat, powder coated black, powder coated safety yellow, and powder coated brown.  Custom colors are also available (additional charges will apply).   
   These non slip treads are 100% aluminum, manufactured from an OSHA approved material and have been used on ADA compliant ramp surfaces for many years.  The aluminum never rusts and requires little maintenance.  
   Susan Luxenberg
    President
   HomeSmart LLC
  With so many people downsizing as they age and their lifestyles change, I'm  interested in finding new products designed for smaller spaces, particularly kitchens.  The last time I built a really small kitchen was for a studio apartment and the configuration wound up being nothing more than a few cabinets lined up against a short wall with a stove on one end and refrigerator on the other - definitely pretty standard and boring. The updated version of a studio kitchen or kitchenette, the compact  kitchen, has opened the door to more interesting small space design. The compact kitchen is a space saving combination appliance/cooking center that is specifically designed for the home, but for a far more casual lifestyle. Take a look at some of the new compact kitchens being offered on the market today. 
Kitchoo
, a French company, has designed compact kitchens that provide all the functionality expected from a kitchen in the least space possible. Most models incorporate an integrated fridge-freezer, an induction hob with 2 rings, and a telescopic mixer tap, while optional extras include integrated dishwasher, microwave oven, washing machine, recycling bin and cutlery rack, depending on the model.   Kitchoo compact kitchens are sophisticated, well-equipped and extremely practical. The five designs, including the award-winning K1 kitchen, can be hidden away behind closed doors when not in use and look like any other cupboard or dresser that you might find at home.  Right now Kitchoo is only sold in the UK, Switzerland and throughout Europe with future plans to distribute in the United States.  Current pricing is about 5390 euros ($ 6,978) for the K1 kitchen to about 6800 euros ($8,805) for the larger K2 kitchen version.  Keep in mind installation is extra.
Kitchoo K1  Compact Kitchen
Kitchoo K2 Compact Kitchen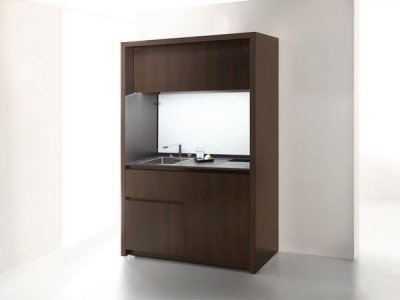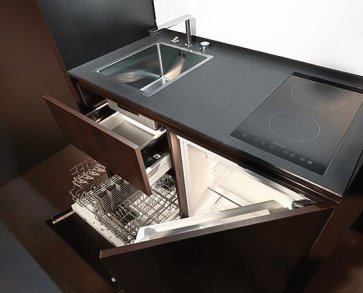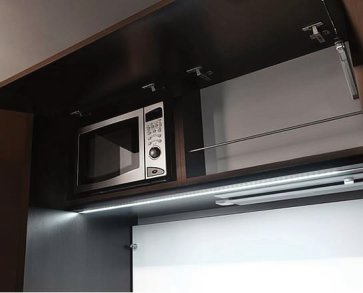 If you're looking for something that makes a strong style statement, how about the 
CircleKitchen ? Designed by 
Compact Concepts
, this kitchen furniture manages to handle space problems in a highly functional and stylish manner, although the unit only measures about 6 sq ft.  It features all the characteristics of a usual kitchen.  Integrated with the ability to rotate as much as 180 degrees, the Circle Kitchen provides  everything from a regular sink, to dishes, a microwave and even a dishwasher. Pricing is between $6,500 and $15,000 plus installation costs.
Styles range from the sleek and modern basic circle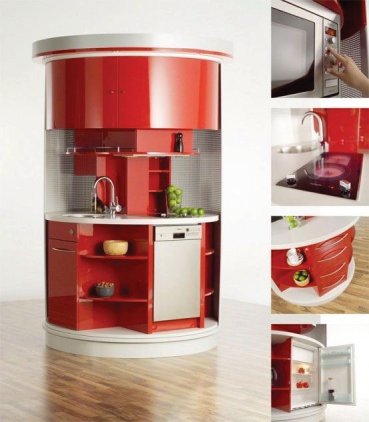 To a more subdued look with additional cabinetry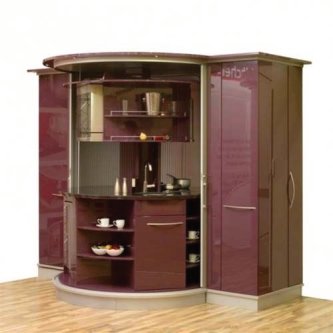 There are also more traditional (and less costly) compact kitchens being offered.
Acme
Kitchens
 specializes  in a full line of custom made all-in-one built ins designed around your specifications.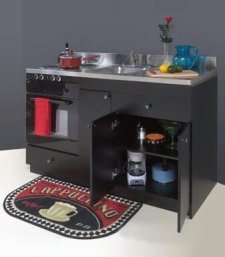 Here is a 60" electric compact kitchen with built-in oven. This model provides additional base storage space and allows for use of a separate upright refrigerator.  It includes a 20 gauge stainless steel counter top, sink bowl, single lever faucet, sink strainer, four (4) electric burner elements and a 24" wide electric oven with black glass door and convection bake feature. Many options are possible; you may substitute a gas burner cooktop, include a dishwasher and alter the appearance by choosing a custom color, counter top and door finish.
And another Acme kitchenette design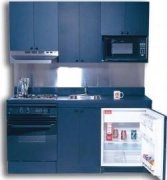 Compact Kitchens
offers units ranging in 4 sizes: 30", 39", 48", and 60" which are priced from $899 to $1,499 plus shipping and installation.  Their 60" wide (c-60) model features the sink on the right, two 110 volt electric sealed burners, and two generous storage com-apartments. Refrigerator freezer is off center in middle. Dimensions are 59.5" Wide X 38" Tall X 24" Deep.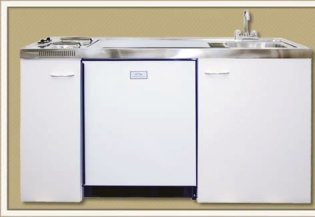 With the current trend towards downsizing, innovative space-saving designs for the home are more important than ever. And as added bonus, installation of these kitchen units is much easier and less costly than installing the components of a more traditional kitchen.   Are these units going to be suitable for everyone?  Certainly not, but when looking to conserve space while at the same time enhancing design, the new compact kitchens are worth a second look. 
  Susan Luxenberg
  President
  HomeSmart LLC
According to the Home Safety Council, falls are the leading cause of injury among seniors, and safety experts all agree that badly lit hallways and staircases are potential accident areas within the home.  PathLights™, an inexpensive, automatic lighting system, is designed to help people avoid falls during low-light conditions in the home. 
The PathLights™ system
 includes three battery-operated individual units -- two "A" units and one "B" unit -- that are calibrated to work together.   When the "A" unit sense motion, the "B" light turns on, lighting the path before a person gets there.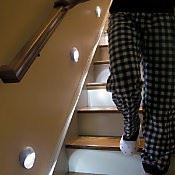 Installation is a very simple DIY project that requires just a ruler, and the entire system takes less than five minutes to install. You can install the 3 motion sensor stair lights, 8-10" off the floor, up to 20 feet apart on your stairs or in your hallway, using screws or mounting tape  which are both included. When you get within 6 feet of the first unit, the light comes on which then triggers the next unit to light as well. The PathLights™  Wireless LED Stair Lights stay on for about a minute, so you can safely make your way down dark staircases or halls. And since these motion sensor stair lights are battery operated, you can add them anywhere you need extra lights. Each wireless LED stair light requires 3 AA batteries (not included) that should last for approximately 16 months.
The cost of the complete system ranges from $35-$40.
 Susan Luxenberg
  President
  HomeSmart LLC
.
/