Here's a look at another bathroom project recently completed.  We were asked by adult children of an elderly couple to modify this bathroom to suit their parents. One of the parents used a walker at all times, the other a cane.  This existing bath off the master bedroom had a small step down shower adjacent to a garden style bathtub.  Neither bath nor shower was functional or safe for these clients and the couple never used the garden tub.    
EXISTING LAYOUT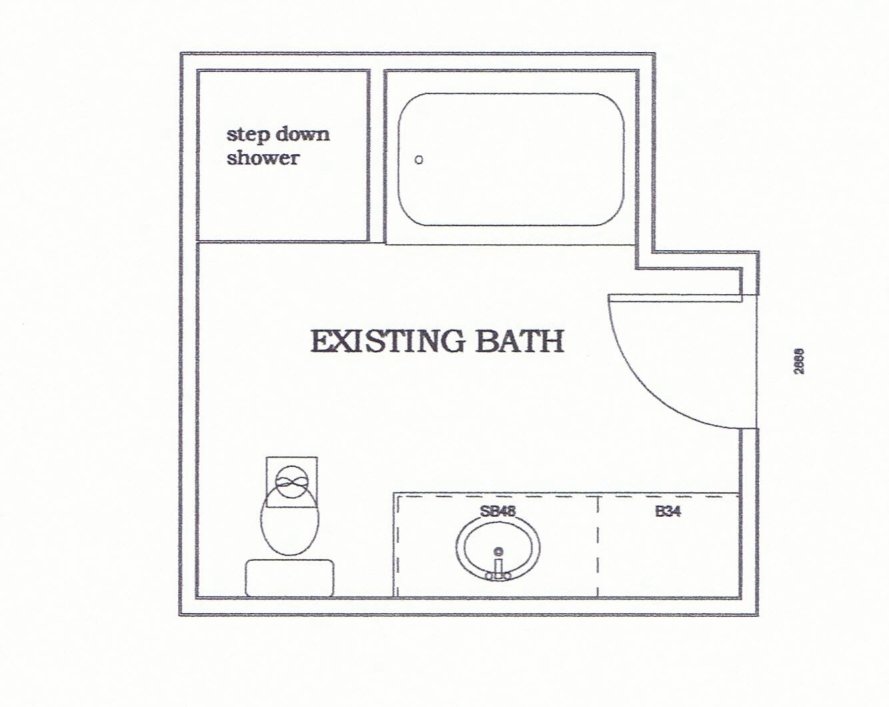 The clients' wish list for their redone bath included more storage and a second sink.  The existing 9 1/2' x 12' bathroom while fairly large, did not have a linen closet and while there was a 60" vanity, part of it was wasted with an extended counter without either a sink or storage cabinets underneath. In addition,the toilet was standard height which was becoming increasingly difficult for both parents to use and there were no grab bars anywhere in the bathroom. 
Our plan then was to remove the shower stall and bathtub in order to reconfigure that area and build a walk-in shower with adjacent linen closet.  We also pulled out the old single sink vanity in order to install a double vanity with a sink for each user.

NEW LAYOUT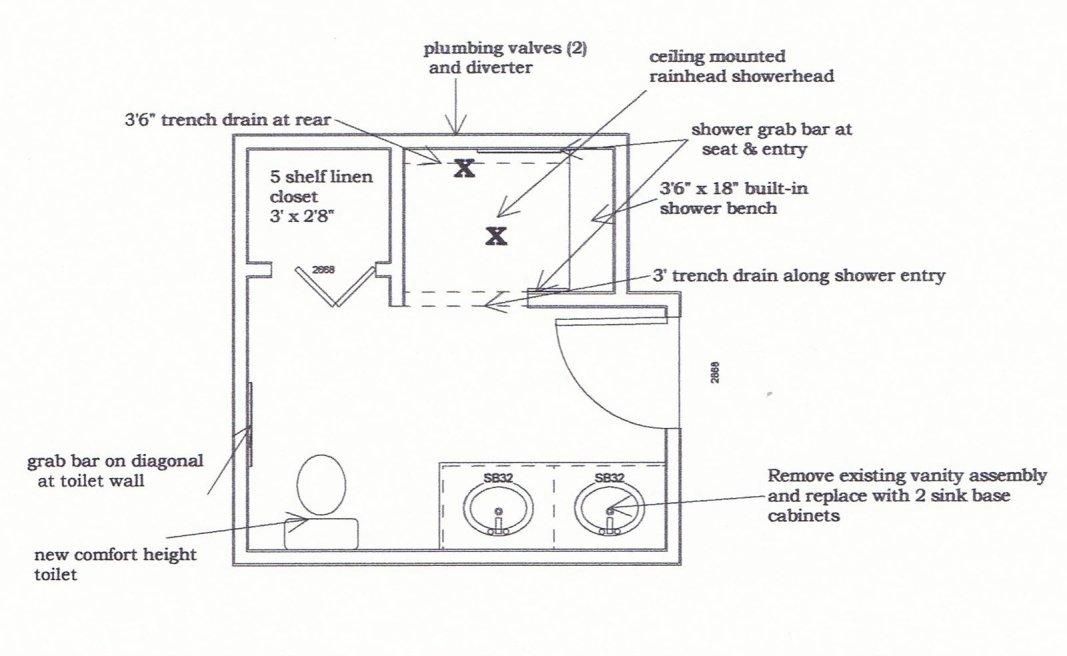 Our Work Plan
DEMOLITION: 
remove existing tub, toilet and 5' vanity 
remove existing step down shower to include glass shower enclosure & wall tile     
cap and reroute plumbing lines and close floor drain
remove all bathroom floor tile
CONSTRUCTION:
fill in shower floor (4") and bring to same height as bathroom floor 
frame linen closet:  3' wide x 2'8" deep
frame shower:  60" wide by 42" deep with entrance opening at 32"
build shower bench 3'6" wide x 18" deep x 18" hi    
build 9" x 12" shower niche; bottom of niche at 46" A.F.F. 
install blocking at (2) grab bar locations in shower
PLUMBING:
reroute plumbing as per plan
install shower valve and two-way diverter, rain head and handheld shower rheads      
install 2 trench drains: 1 in opening to shower and 1 along rear wall as shown on plan v
vanity:  install plumbing for additional sink 
install new sinks (2) and lav faucets (2)
toilet: replace existing toilet with new Kohler comfort height toilet
FINISHES:
tile bath floor and shower floor, walls and shower seat; top of seat to be granite
Install 1 row of 4" tile as baseboard as required
install (1) 24" horizontal grab bar in shower at 34" A.F.F. and (1) 18" vertical grab bar with bottom of bar at    
   48" A.F.F 
install (1) 24" diagonal grab bar adjacent to toilet; bottom of bar at 30" A.F.F.
install 3 new vanity cabinets:  2 sink bases, 1 drawer base
install granite vanity top
replace existing exhaust fan with new fan in same location
paint bathroom walls and closet door & trim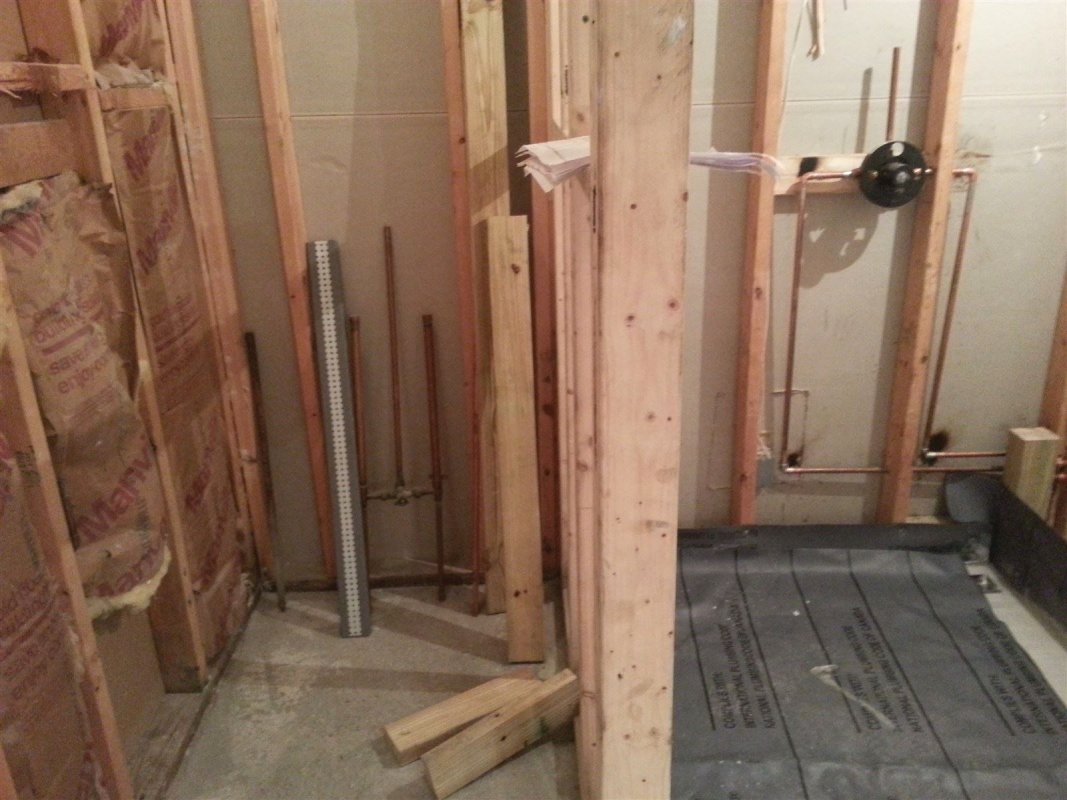 Framing for linen closet on the left and walk-in shower 
  on the right
  You can see the new plumbing in place in the shower and the
  old shower plumbing still needing to be removed in the back
  wall of the linen closet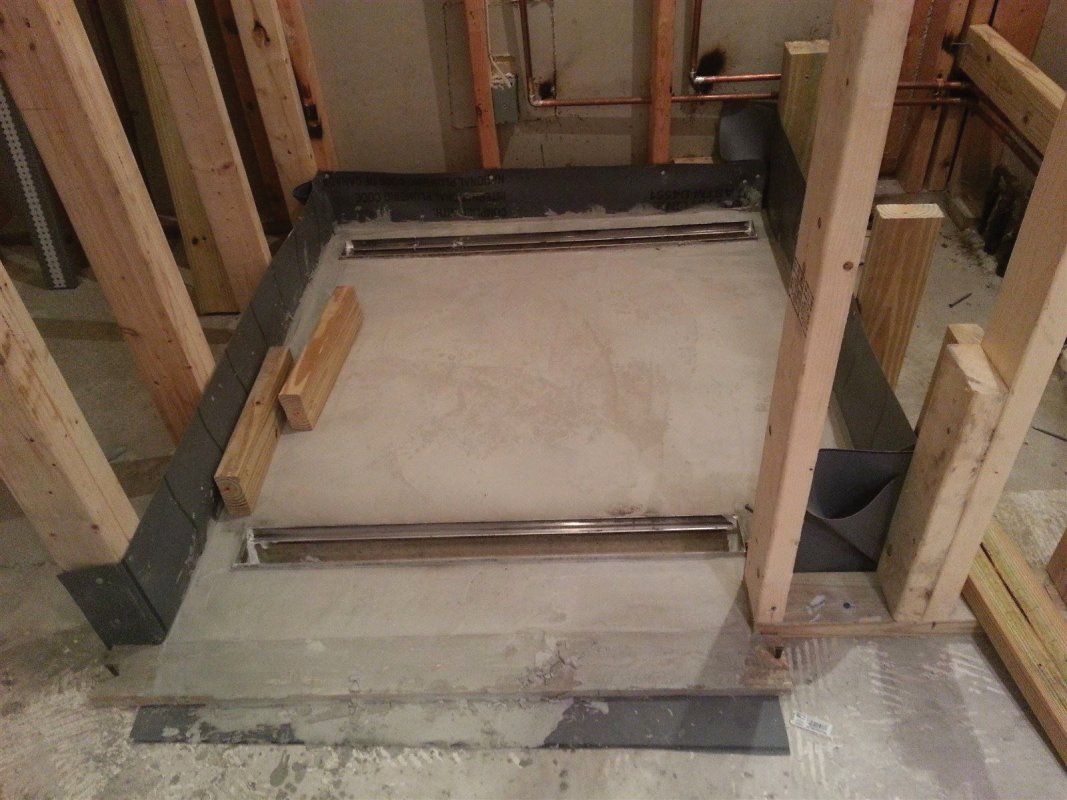 The locations for the two linear shower drains. The shower
floor is sloped to the rear drain and catches all the floor water 
while the front drain is an extra measure to catch water that
might spray off a body while showering.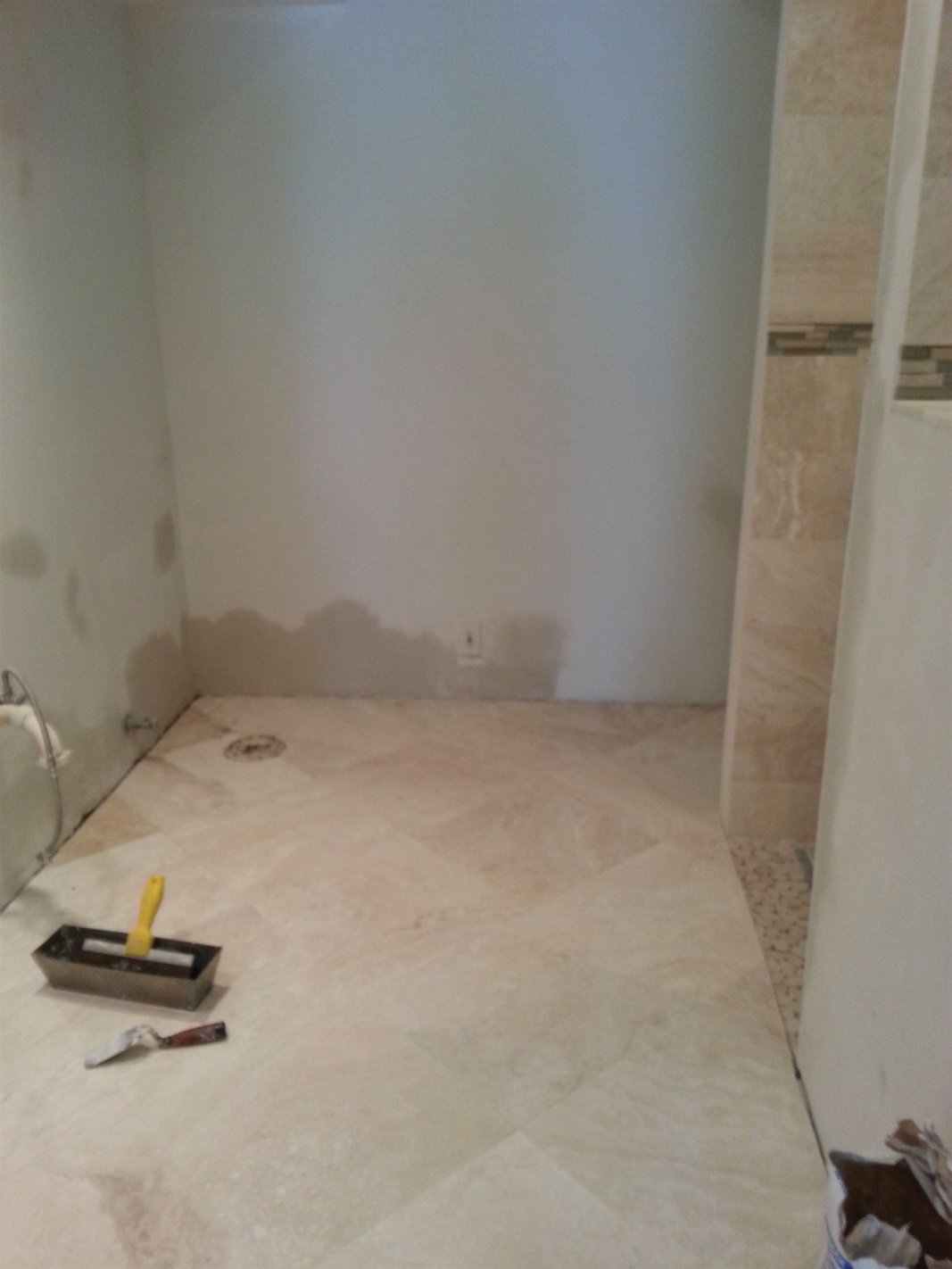 A view from the doorway through the newly tiled bathroom. 
Shower to the right, vanity and toilet to be placed to the left.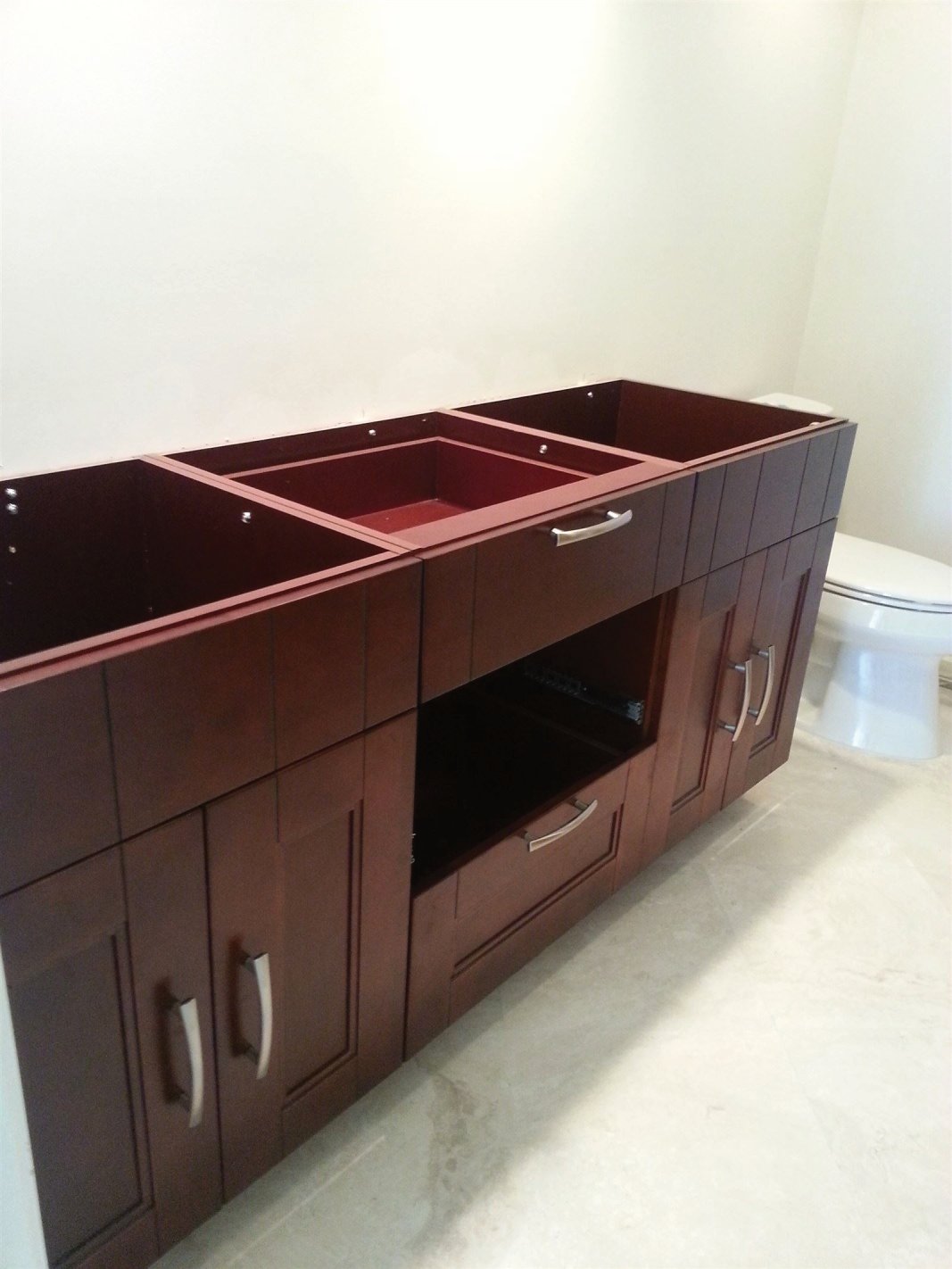 New double vanity in place waiting for granite top and plumbing
  finishes.
The completed bath - a more functional, updated bathroom for aging-in-place!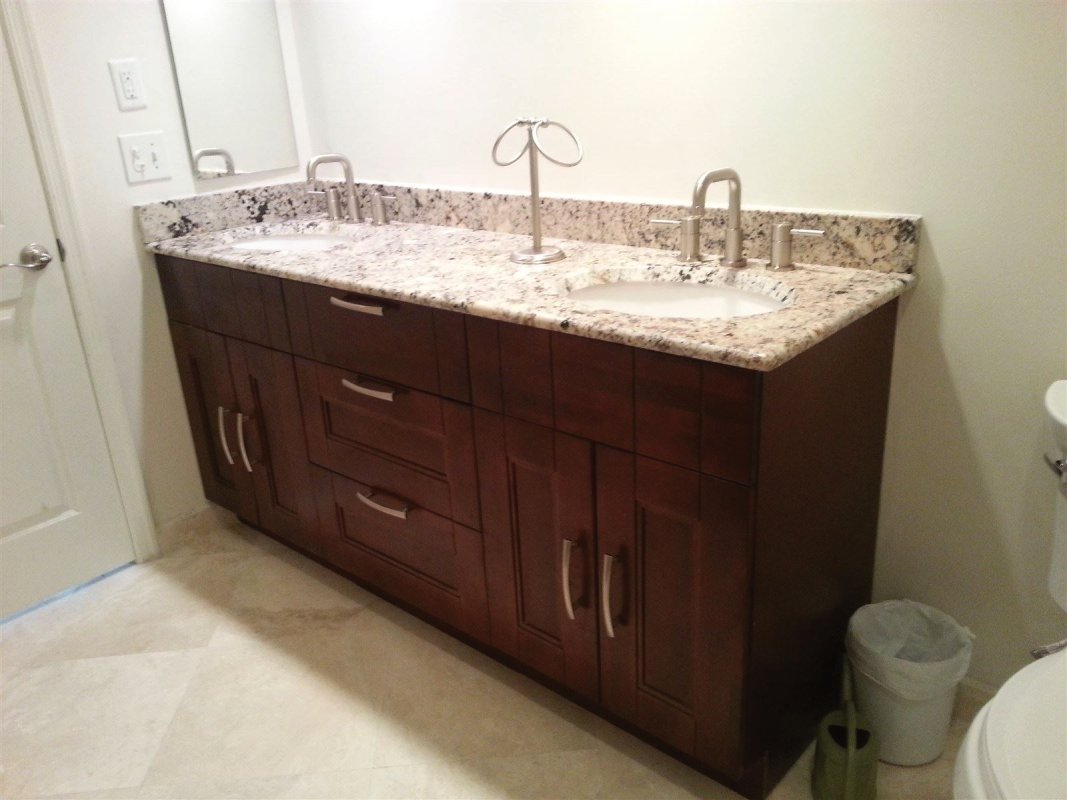 Double sink vanity with drawer space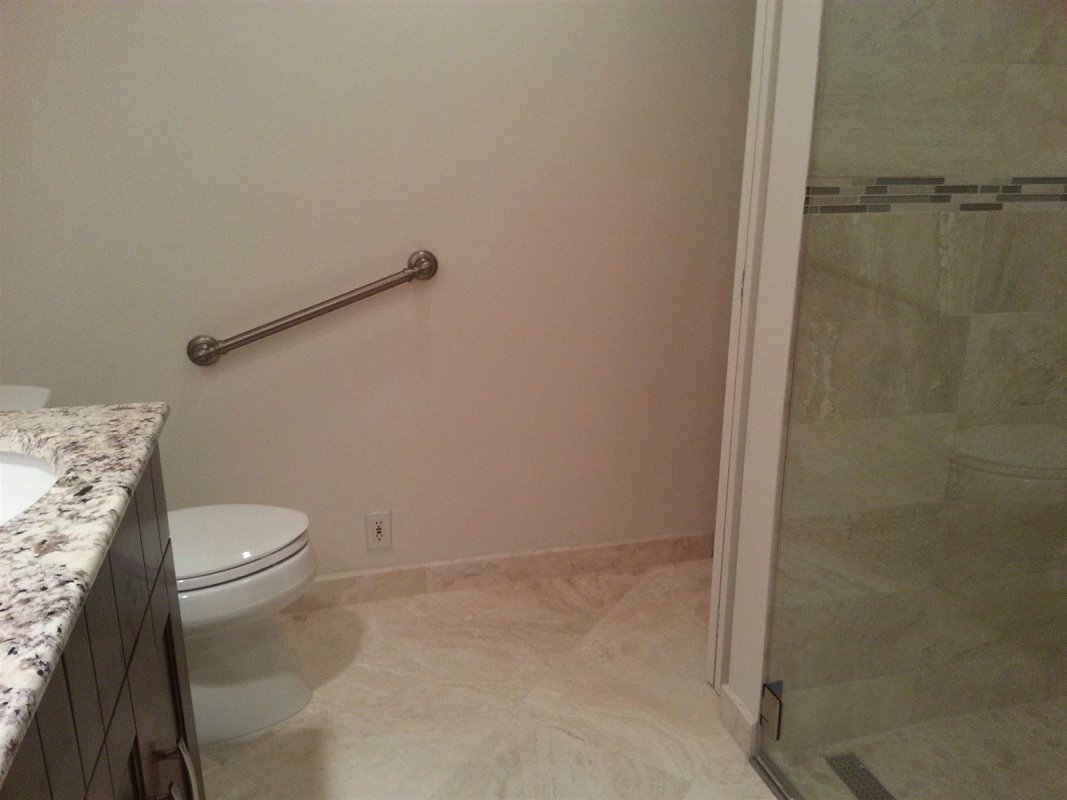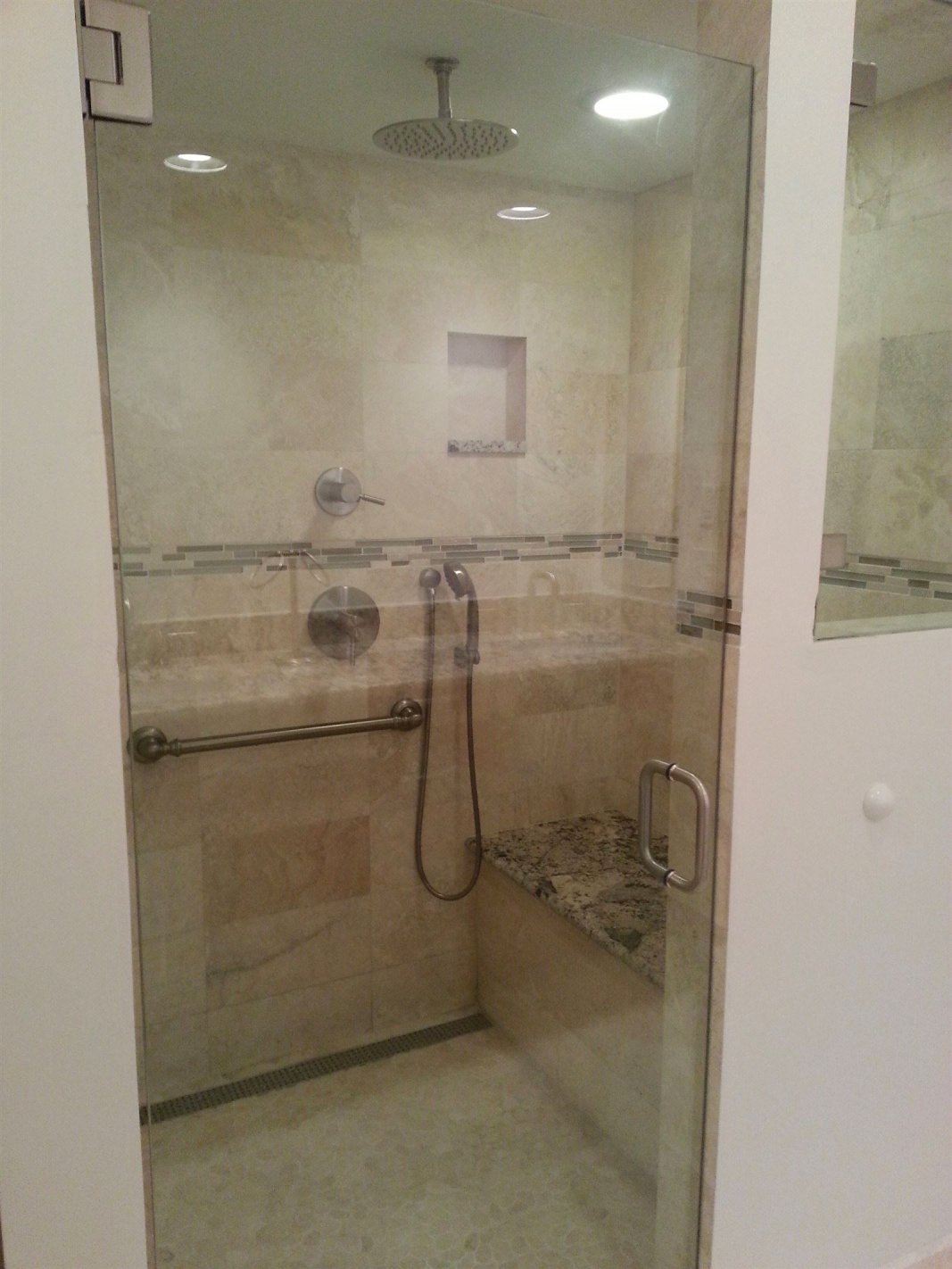 Ceiling mounted rainhead shower head plus handheld shower head
  situated near built-in seat.  Non slip floor tile, levered
  handled faucets, and grab bars complete this safe
  and functional yet stylish shower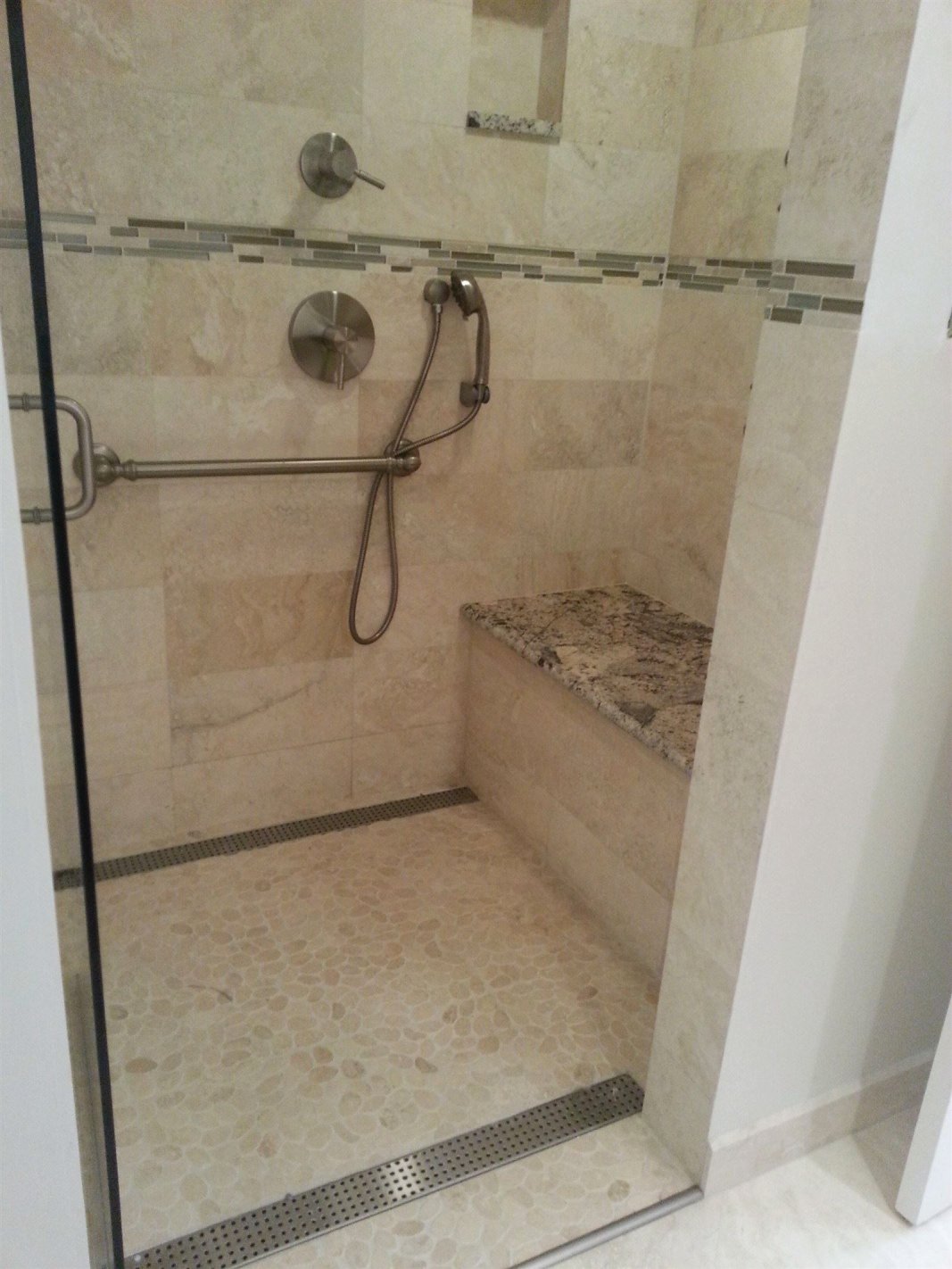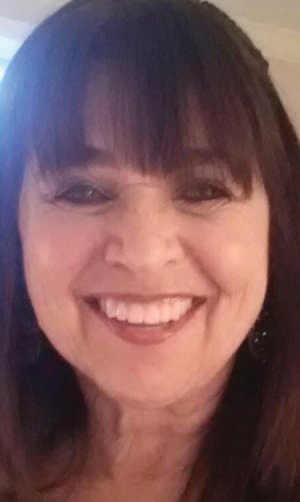 Susan Luxenberg, Pres.
HomeSmart LLC
We've recently worked on a number of bathrooms needing modifications, all for clients with vastly differing physical issues.  Regardless of the underlying issues, however, the remedies are the same –  building walk in showers, replacing low toilets with higher ones, and widening doorways seem to come along with most bathroom modifications. 
A recent project  involved widening a standard bathroom for scooter accessibility which resulted in opening one of the bath walls into an adjoining bedroom closet, removing an old tub so as to build a walk in shower, shifting the location of the toilet, and removing a standard vanity so as to build a roll under one.
Here's the original layout of this 8' x 11' bathroom: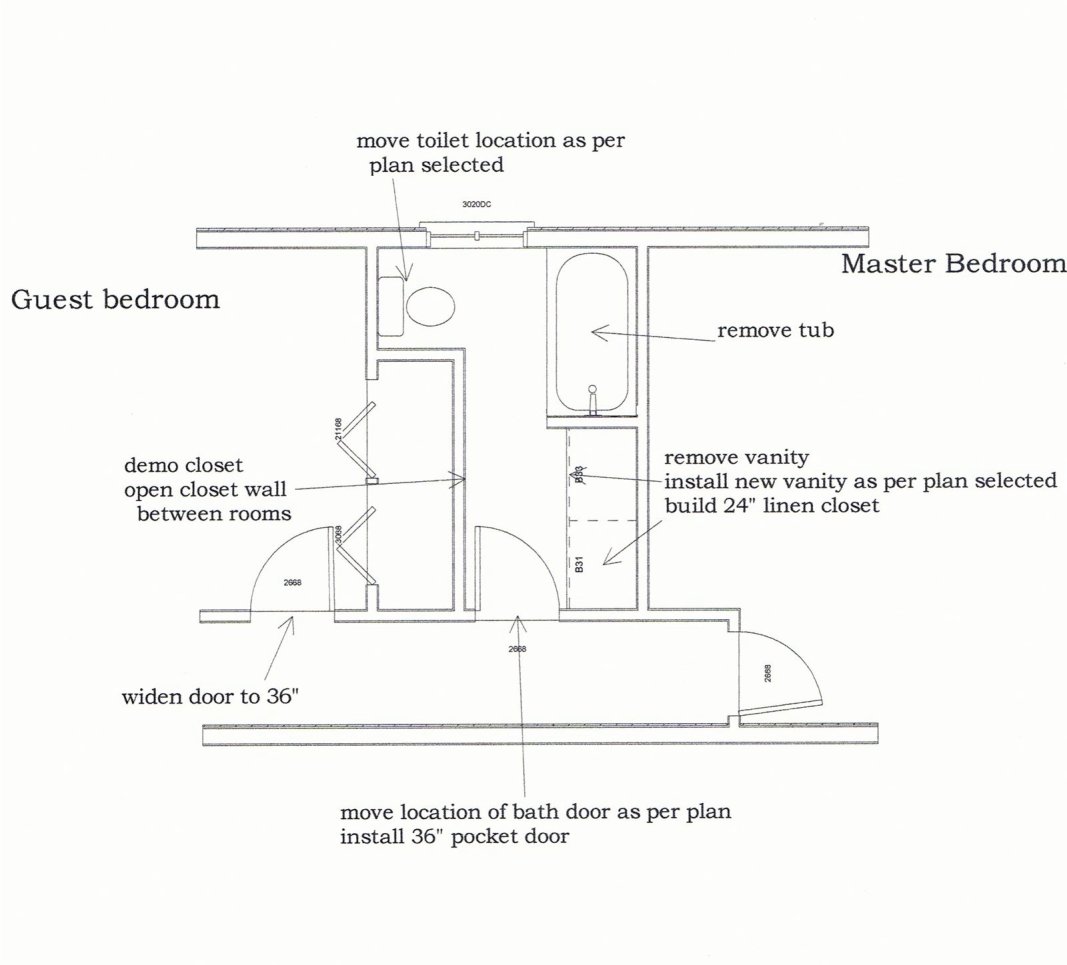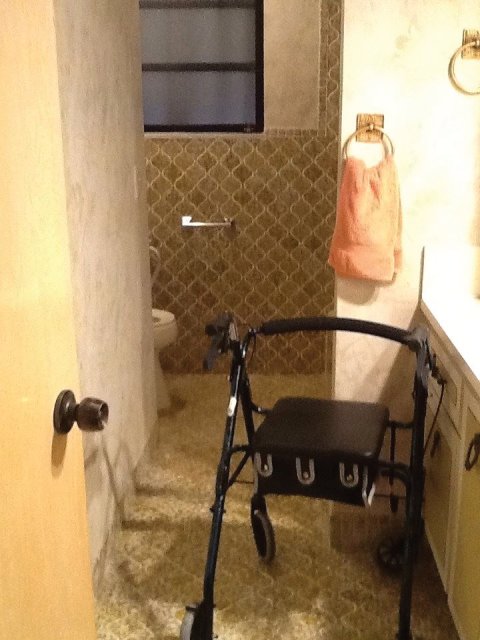 View of the existing bath from the doorway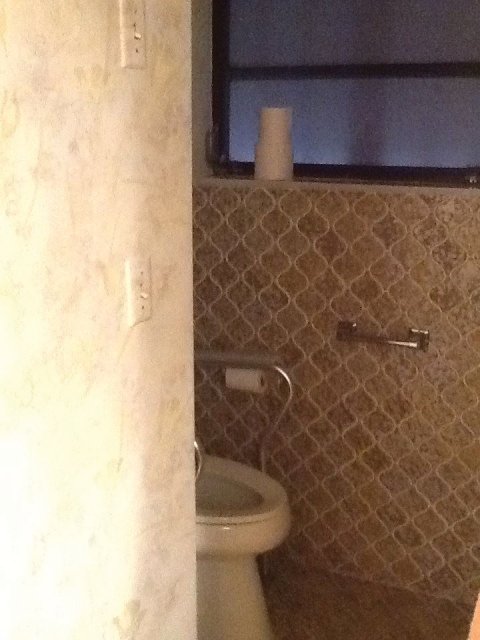 crowded toilet with little access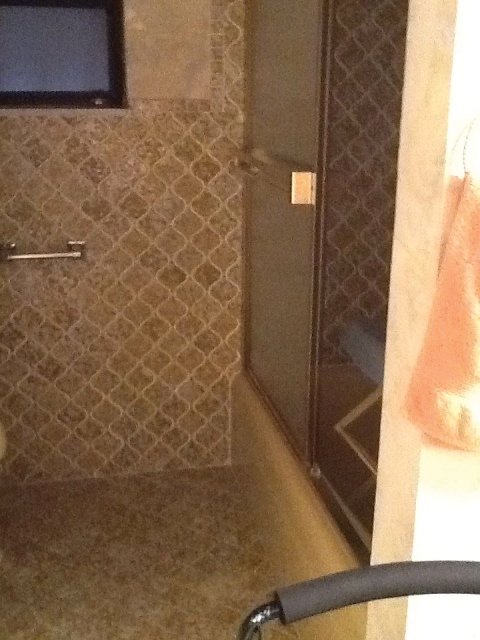 Standard bathtub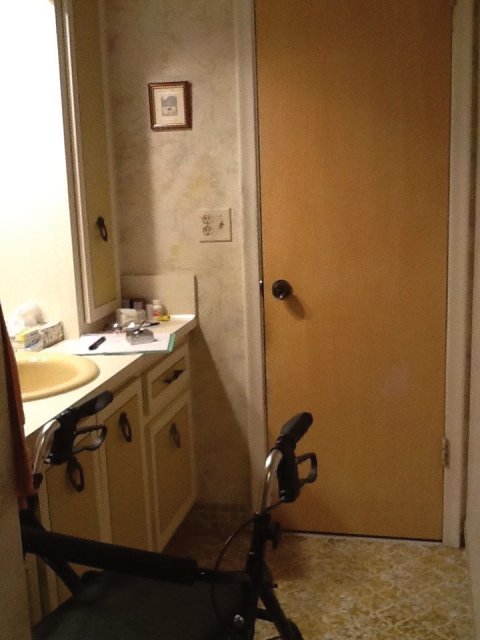 Narrow doorway 

To accommodate our client who who wanted to bring her wheelchair or scooter into the bathroom, we needed to create a wide turnaround area that would allow her to move freely between toilet, shower and vanity.  We designed the following layout: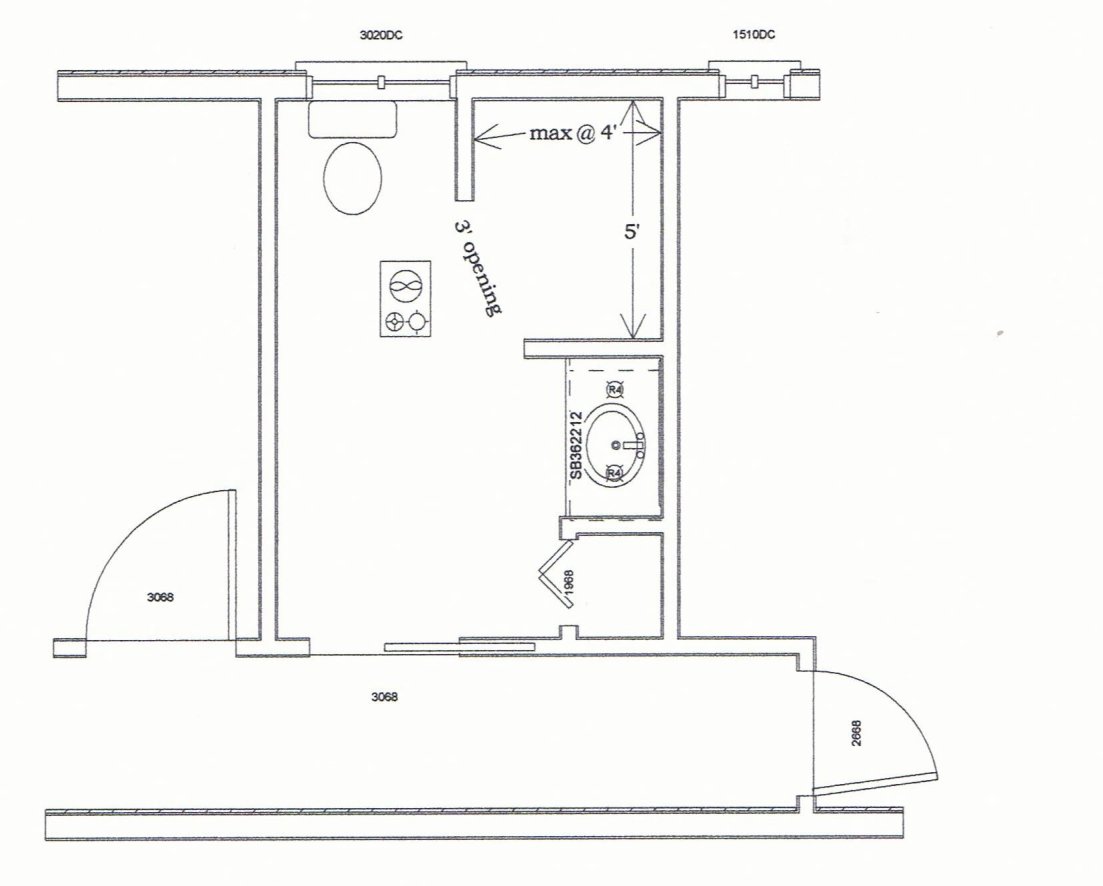 The general scope of work was as follows:
·         Remove the wall between the bathroom and guest room closet and close in the closet from the guest 
          bedroom side to gain an additional 3' of width in the bath (new bath size: 11' x 11')
·         Shift the location of the bathroom door and expand it to 36"
·         Build a curb-less shower , enclosed by two ½ walls topped with glass panels
·         Move tub drain location and replace with trench drains along shower walls
·         Install new tile walls in shower, floor to ceiling, and behind toilet
·         Install new tile floor throughout bathroom and into shower
·         Relocate existing electrical to work with new fixture location
·         Install can lights over vanity and toilet and fan/heat/light adjacent to shower
·         Remove the existing vanity and replace it with a 36" roll under counter, new sink and faucet
·         Build a 24" linen closet adjacent to the vanity
·         Paint bathroom
·         Install new 36" hinged door for guest room
·         Rebuild guest room closet on alternate wall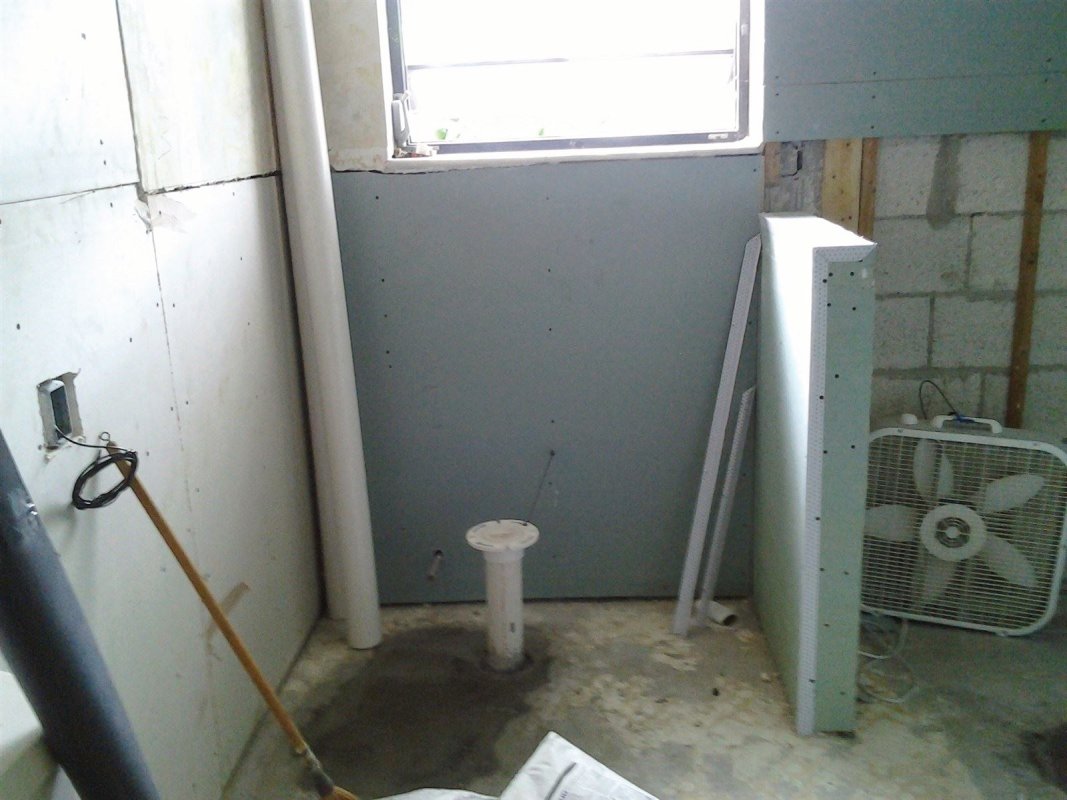 Toilet plumbing was relocated to the adjoining wall for direct access from doorway and sufficient room to maneuver.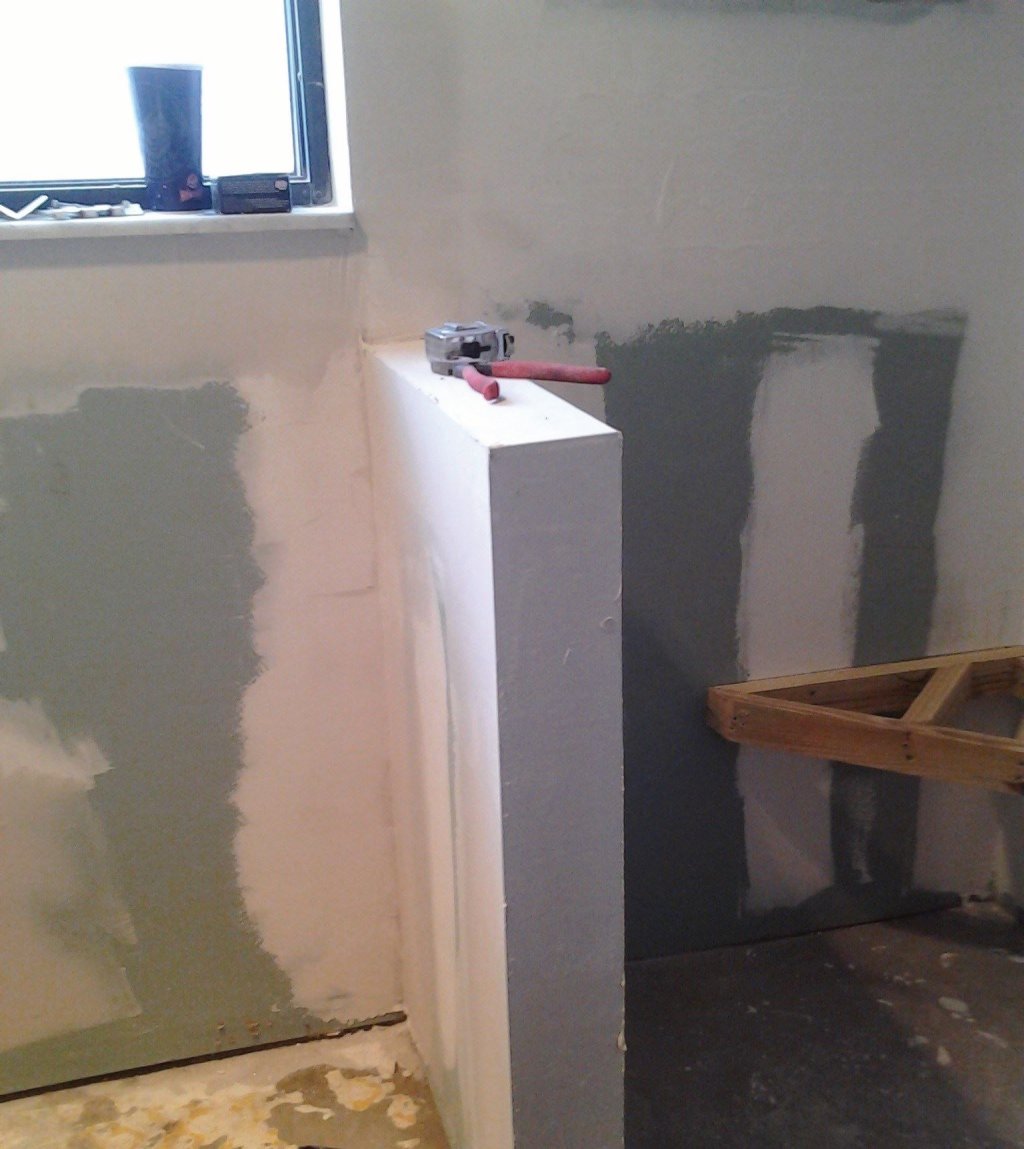 Shower walls in process; you can  see the wood framework in the corner for a floating corner granite shower seat.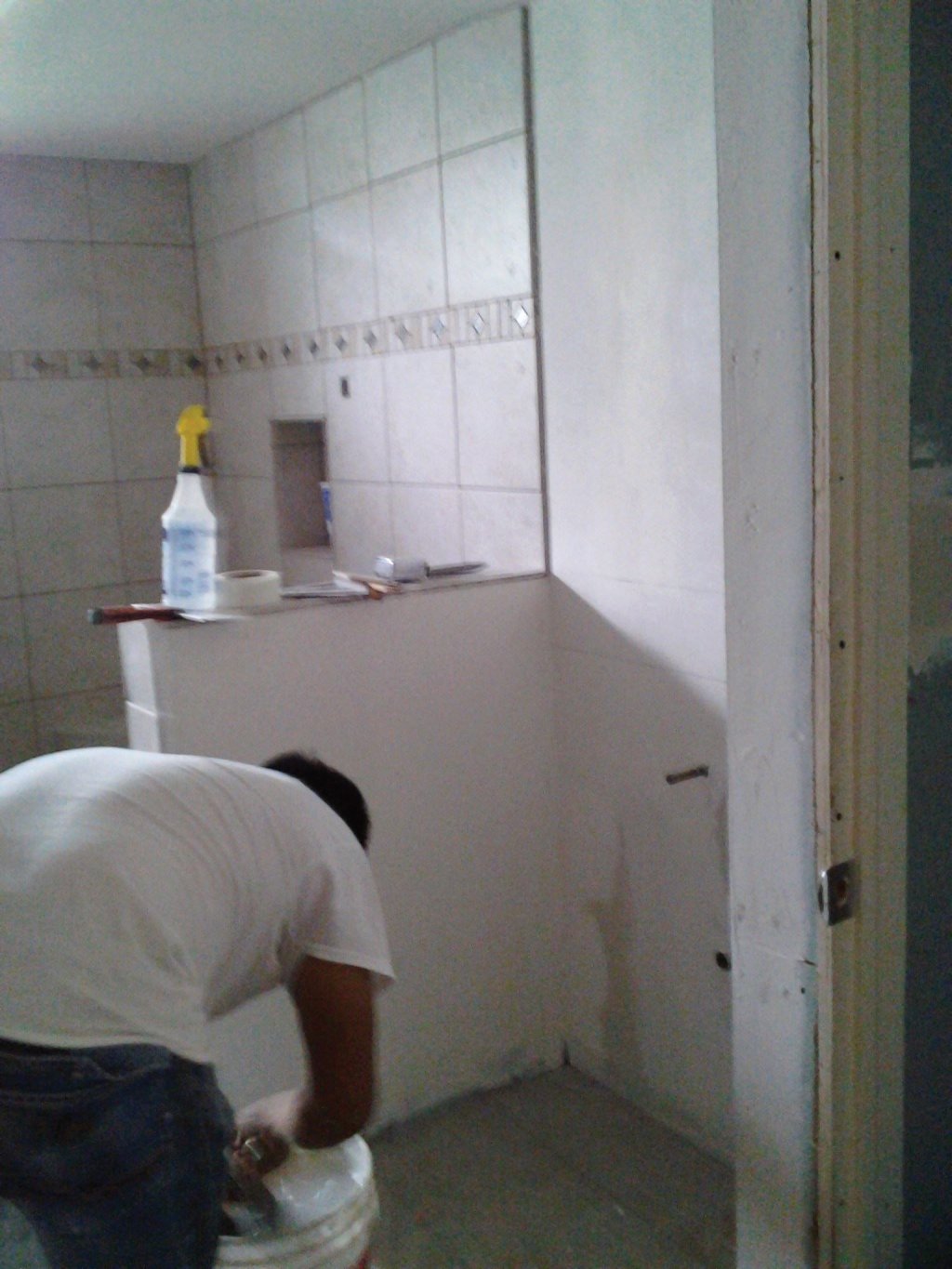 Non-skid flooring tiles were installed throughout bathroom and shower.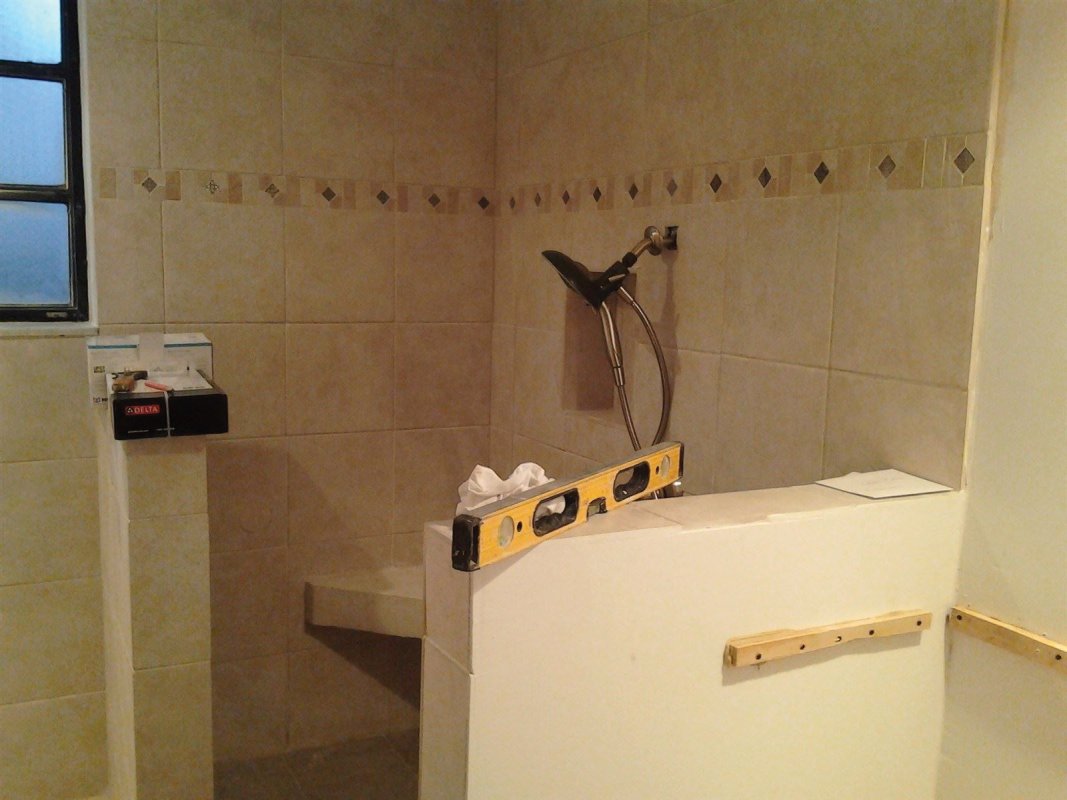 Shower half-walls being measured for glass splash guards.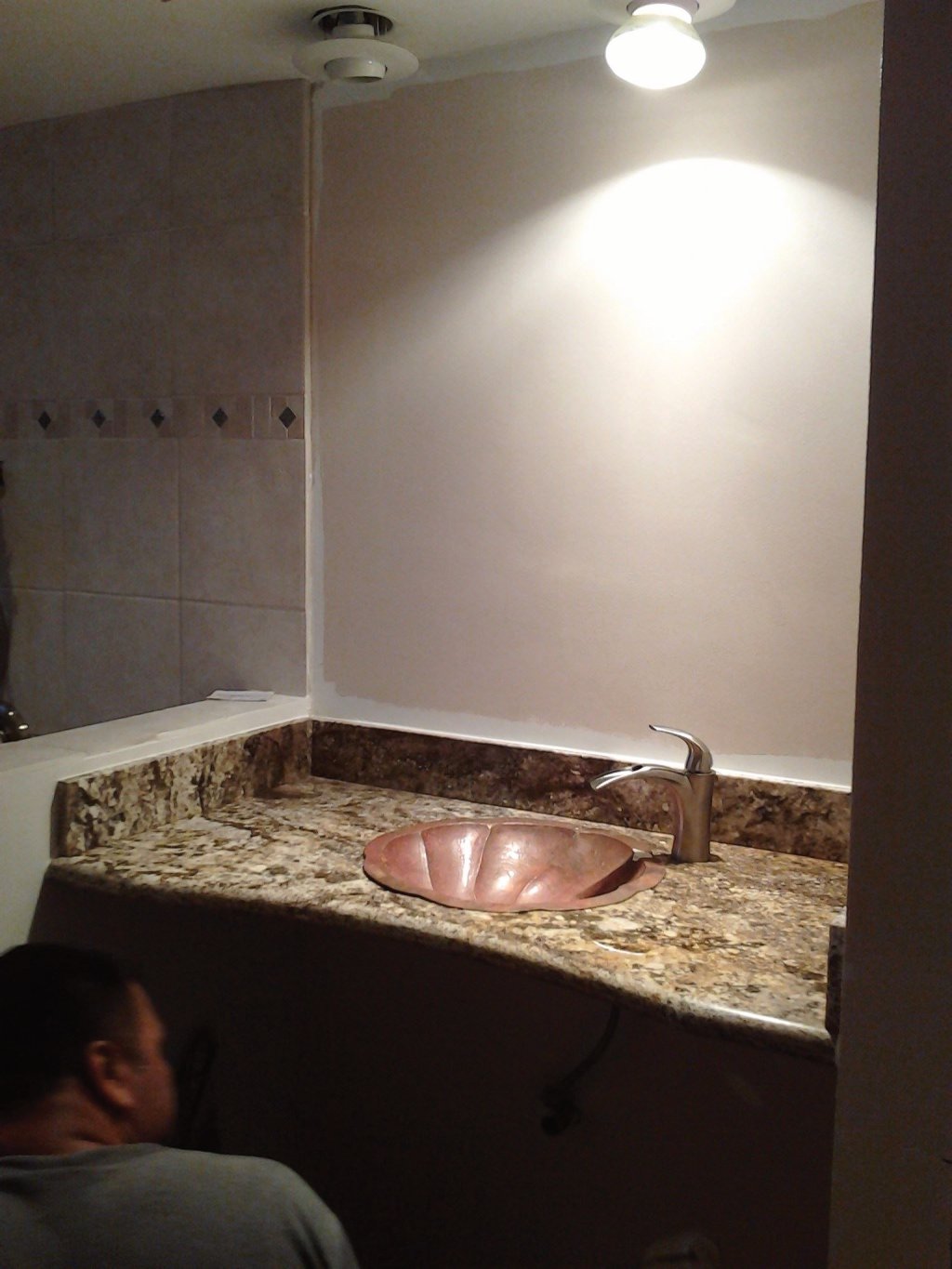 Vanity top, sink and faucet installed; open
             underneath for scooter access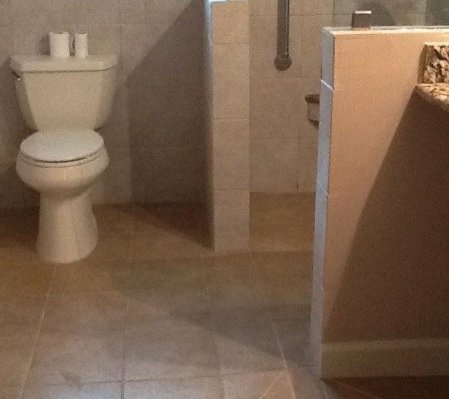 Curb-less shower entry; shower floor sloped to trench drains installed along interior shower walls which keep all water within shower boundaries and off the bathroom floor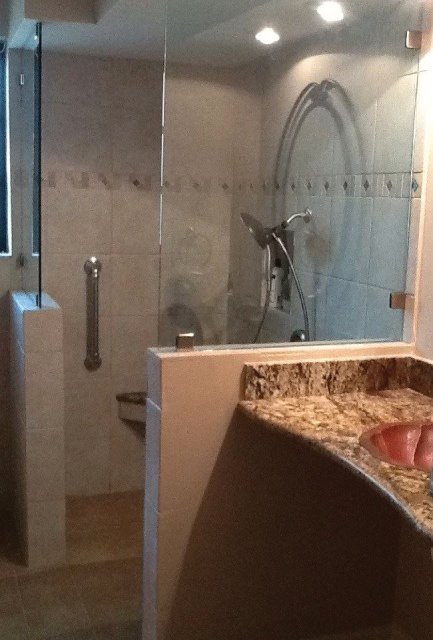 COMPLETION!
After months of frustration at being unable to take a shower or use her bathroom independently, the end result was a happy client whose updated bathroom now functioned to meet her needs.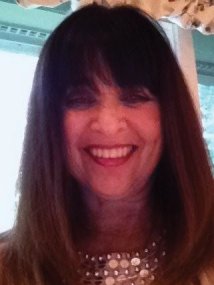 Susan Luxenberg, Pres.
   HomeSmart LLC
We're back after a very busy summer filled with interesting projects. In the coming weeks I'll share some of the design challenges we faced in the hope they will motivate readers to share their own projects, questions and solutions.
My favorite project of the summer was done for Baby Boomers who live in an upscale oceanfront condo in  S. Florida.  Although they had recently redone their master bath, one of the spouses had since suffered a disability and bathroom modifications were needed so the bathroom would remain functional and attractive for both.  Given that they had already spent quite a bit of money on the first renovation, they hoped to keep the accessibility modifications to a minimum.
CHALLENGES:
1. The biggest obstacle to functionality was the curb at the shower entrance.  The disabled spouse accessed the shower via a wheelchair, and while able to stand and pivot onto a shower seat, walking was difficult and the 5" shower curb made it extremely difficult to navigate. 

Our preference when adapting a shower for accessibility is to remove the curb and level the shower and bathroom floors so there is a smooth transition between both.  We pitch the floor and adjust the shower drainage to include trench drains at either the shower entrance or back wall to catch any water from "leaking" onto the bathroom floor.  In this case however, while the pitch was good, the shower floor was actually 1/4" higher than the bathroom floor.  Our client wanted a simple, inexpensive solution so that that the shower floor would not need to be dug out, re-plumbed and re-poured to match the level of the bathroom floor.
2. The disabled spouse was using a free standing shower chair which was in the way when their partner used the shower
3.There were inadequate grab bars in the shower to aid the disabled spouse in standing once seated in the shower
4.The lowboy toilet necessitated the need for a toilet commode which both spouses disliked.
5.The entrance door to the master bedroom/bath suite was 30 " wide and was a tight turn for the wheelchair when coming into the master suite hallway.  As a consequence, the walls and door trim were getting pretty beat up.
BEFORE  – EXISTING BATHROOM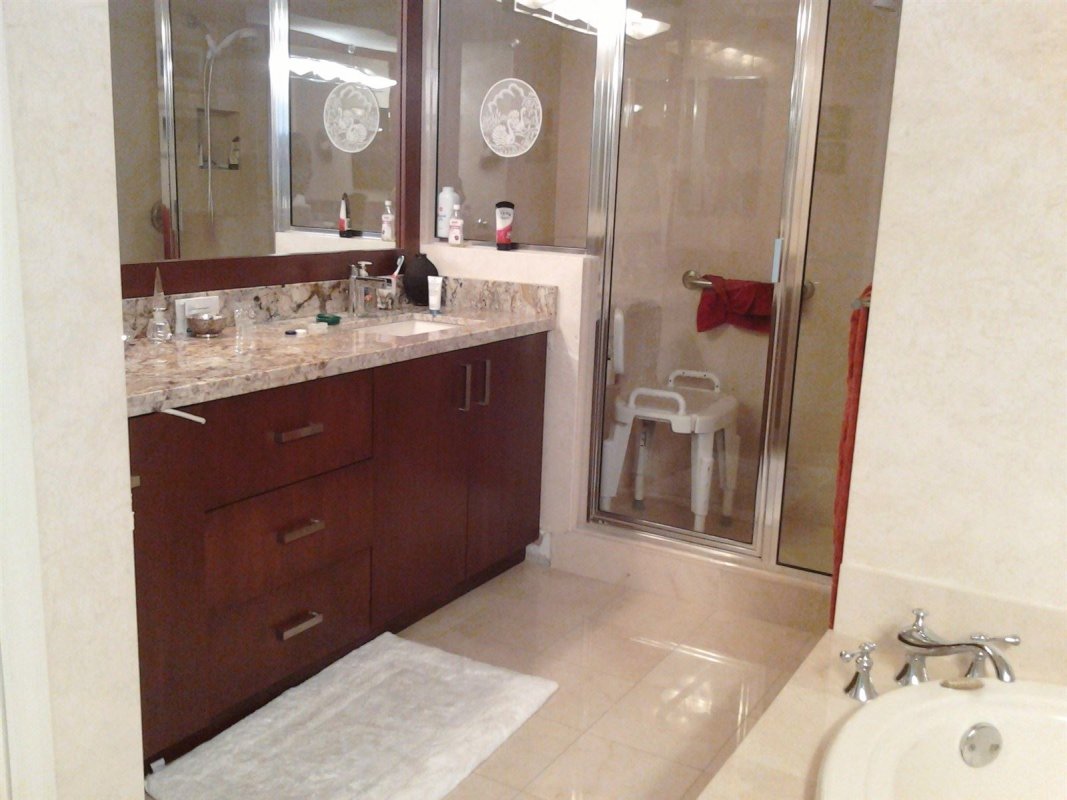 5" shower curb, narrow glass door entry, free standing shower chair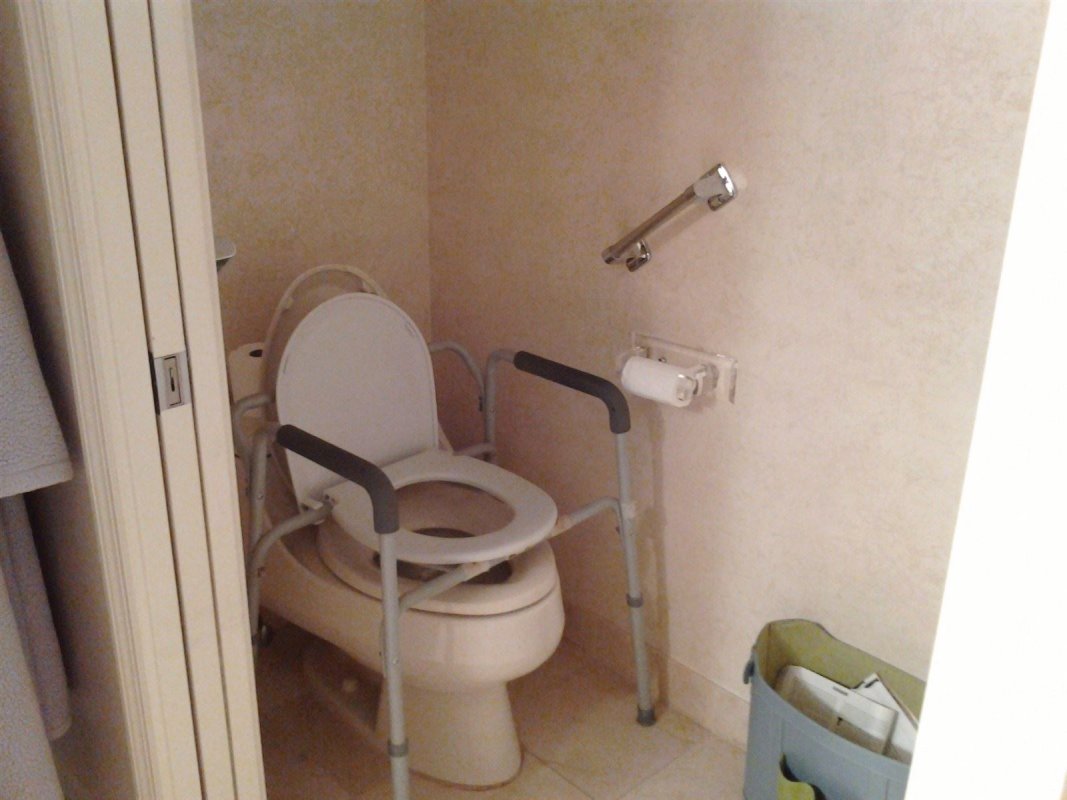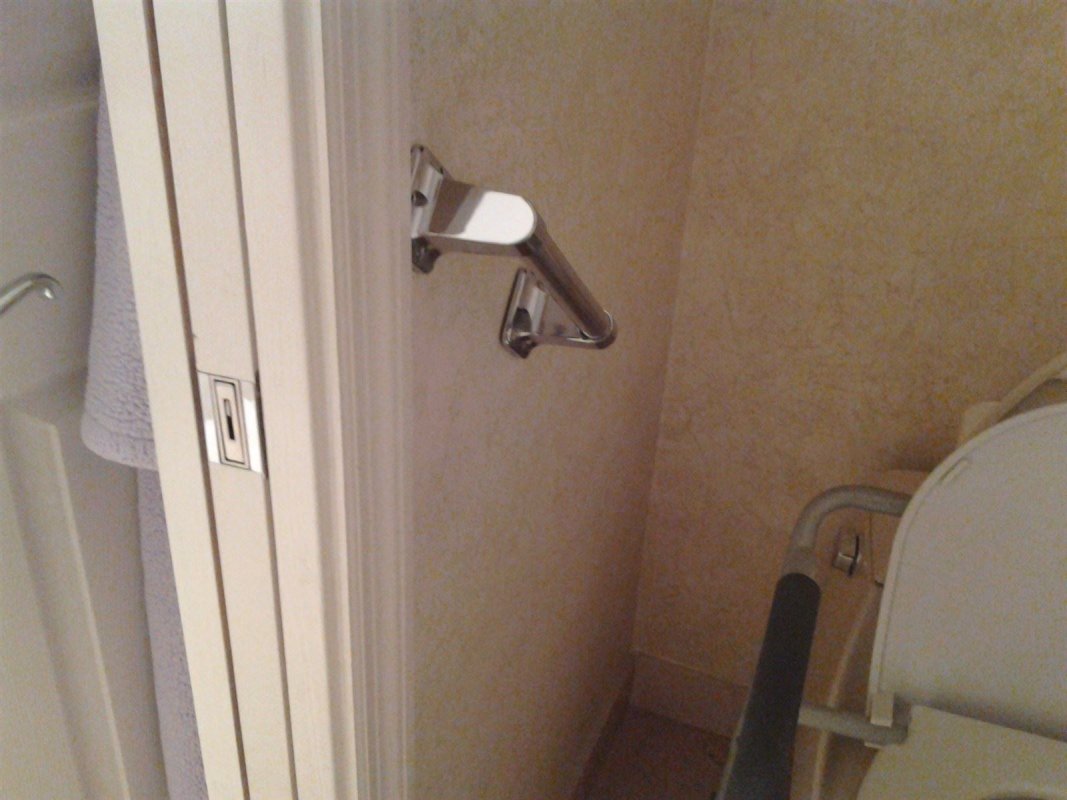 Lowboy toilet with commode; grab bars placement ineffective for client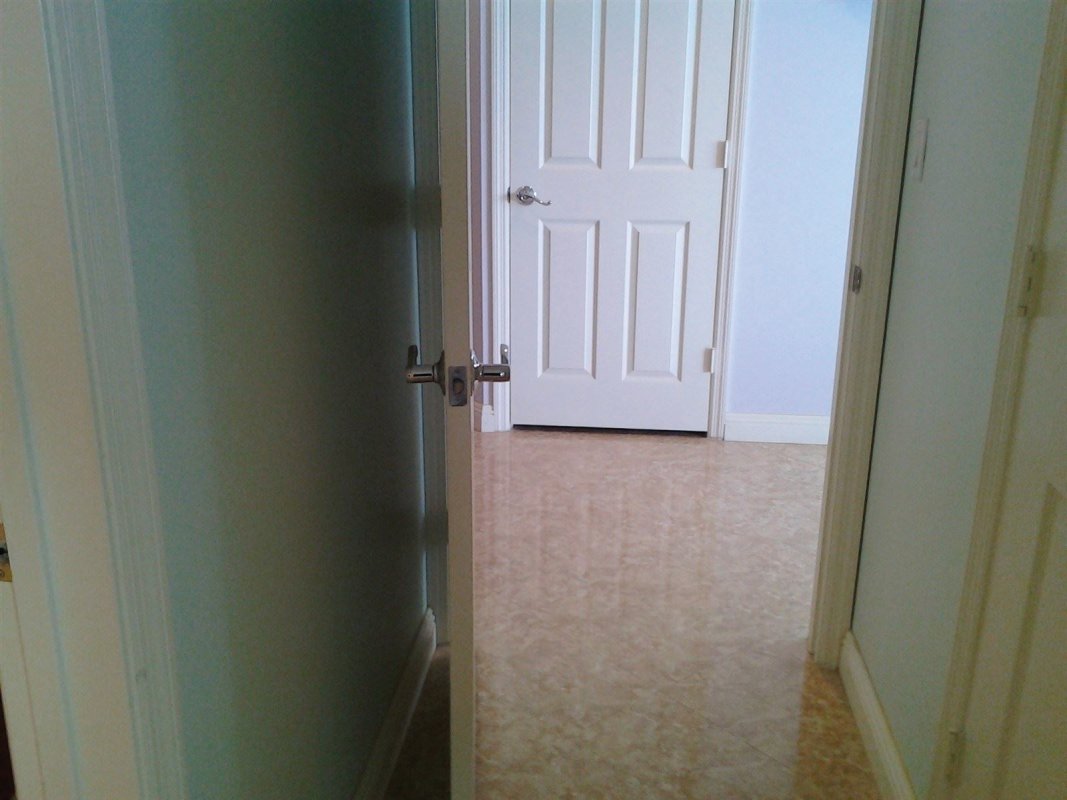 Narrow doorway created tight access for wheelchair
DURING  RENOVATIONS:
1. Shower entrance – the 5" curb and glass doors and panels were removed so that non-slip stone tile matching the existing marble was installed as a sloped threshold.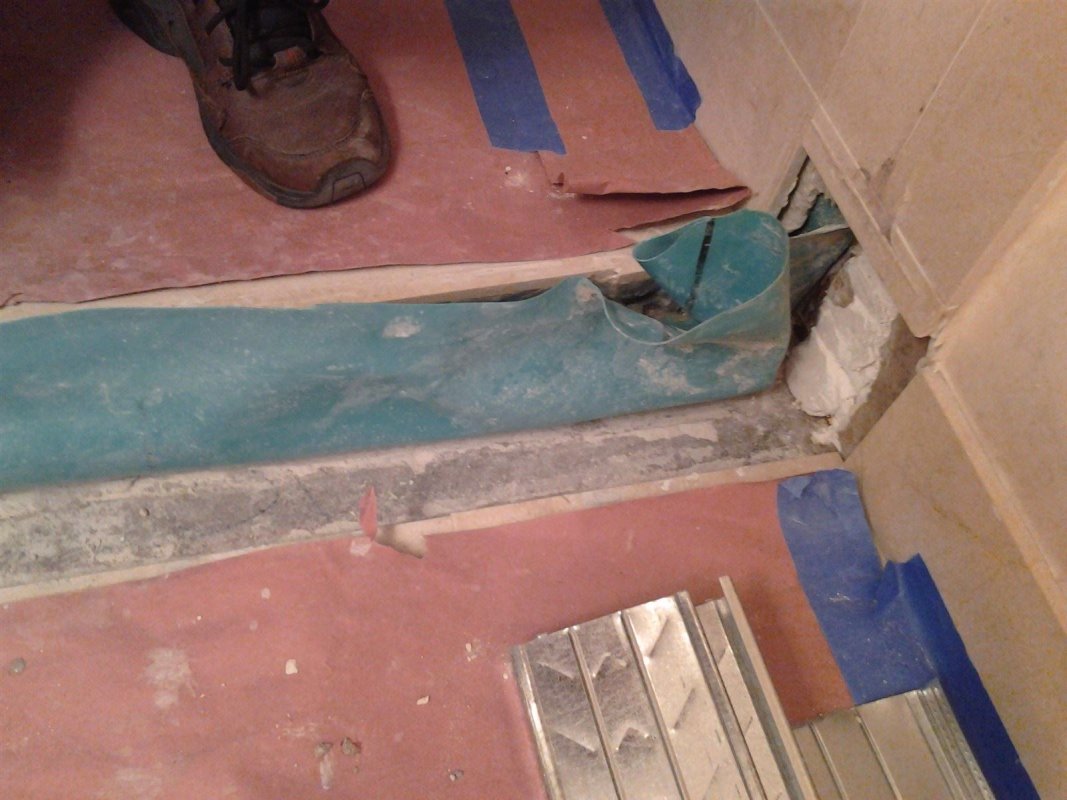 2. A built in shower seat extending across the back of the shower was built to eliminate need for a free standing shower chair.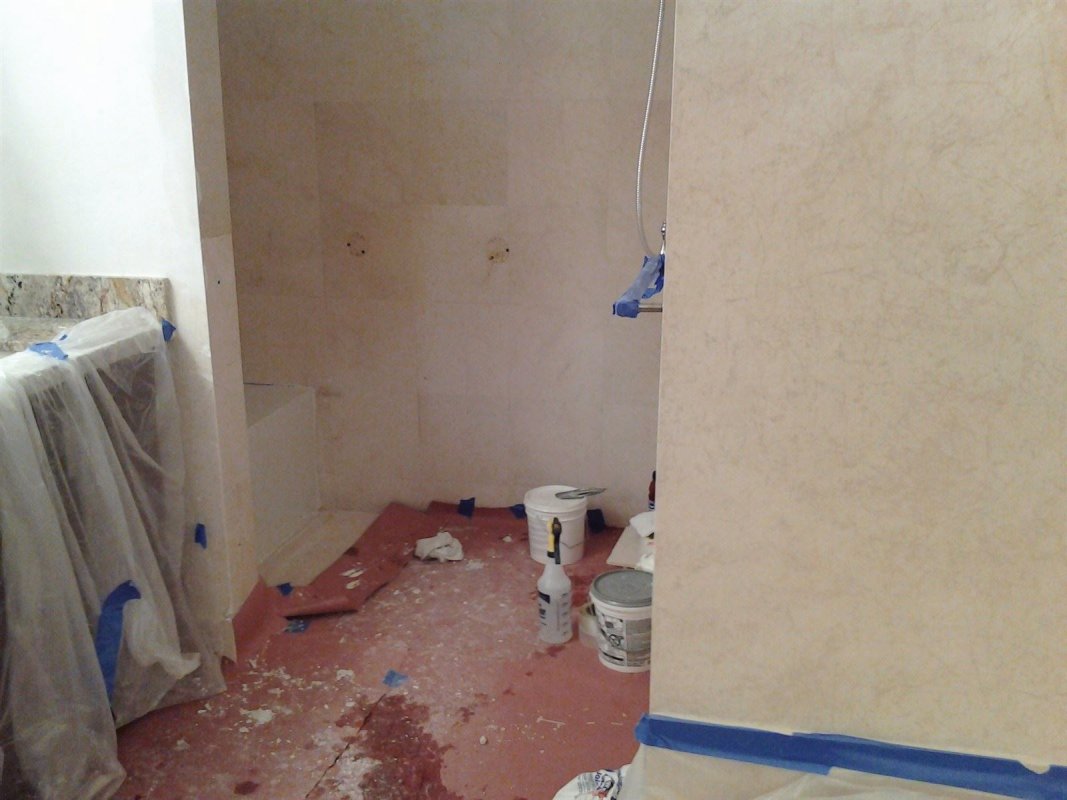 3. All the glass, doors and panels were removed.  The ½ wall between the vanity and shower was built up so that we could install a grab bar at an appropriate height for the client's use on the interior shower wall.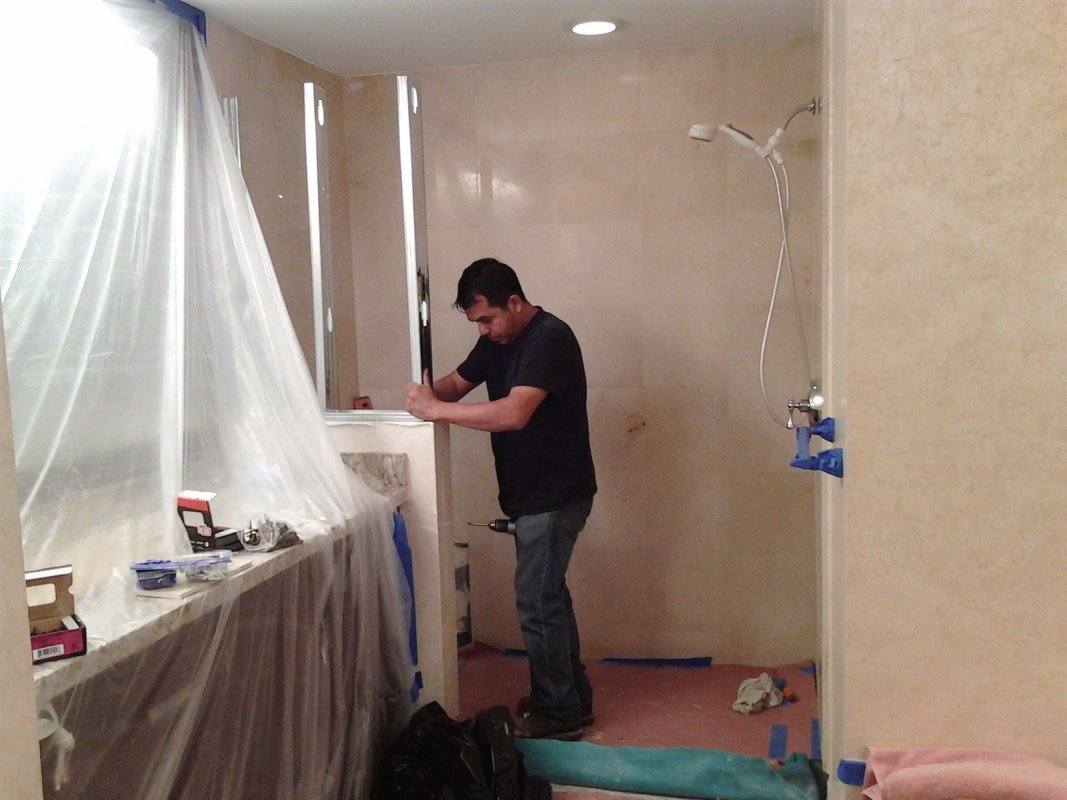 AFTER – RENOVATED BATHROOM
Curb-less entry shower, 36" frameless shower door,

built in granite shower seat, additional grab bars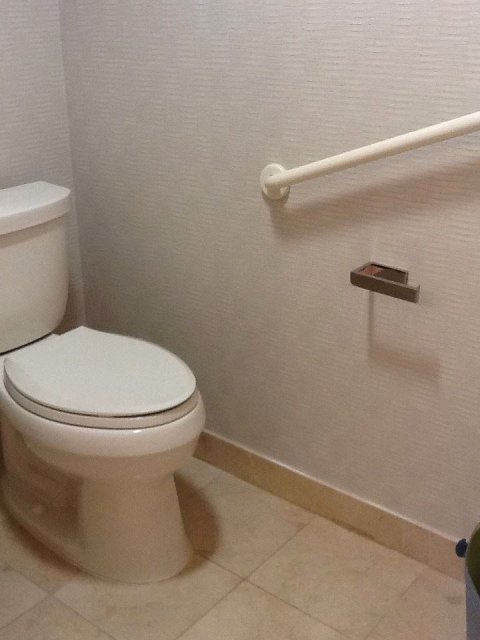 The old toilet, commode and grab bars were removed and replaced with a Kohler Cimarron series, comfort height toilet and new grab bars on either side of the toilet better located for the client.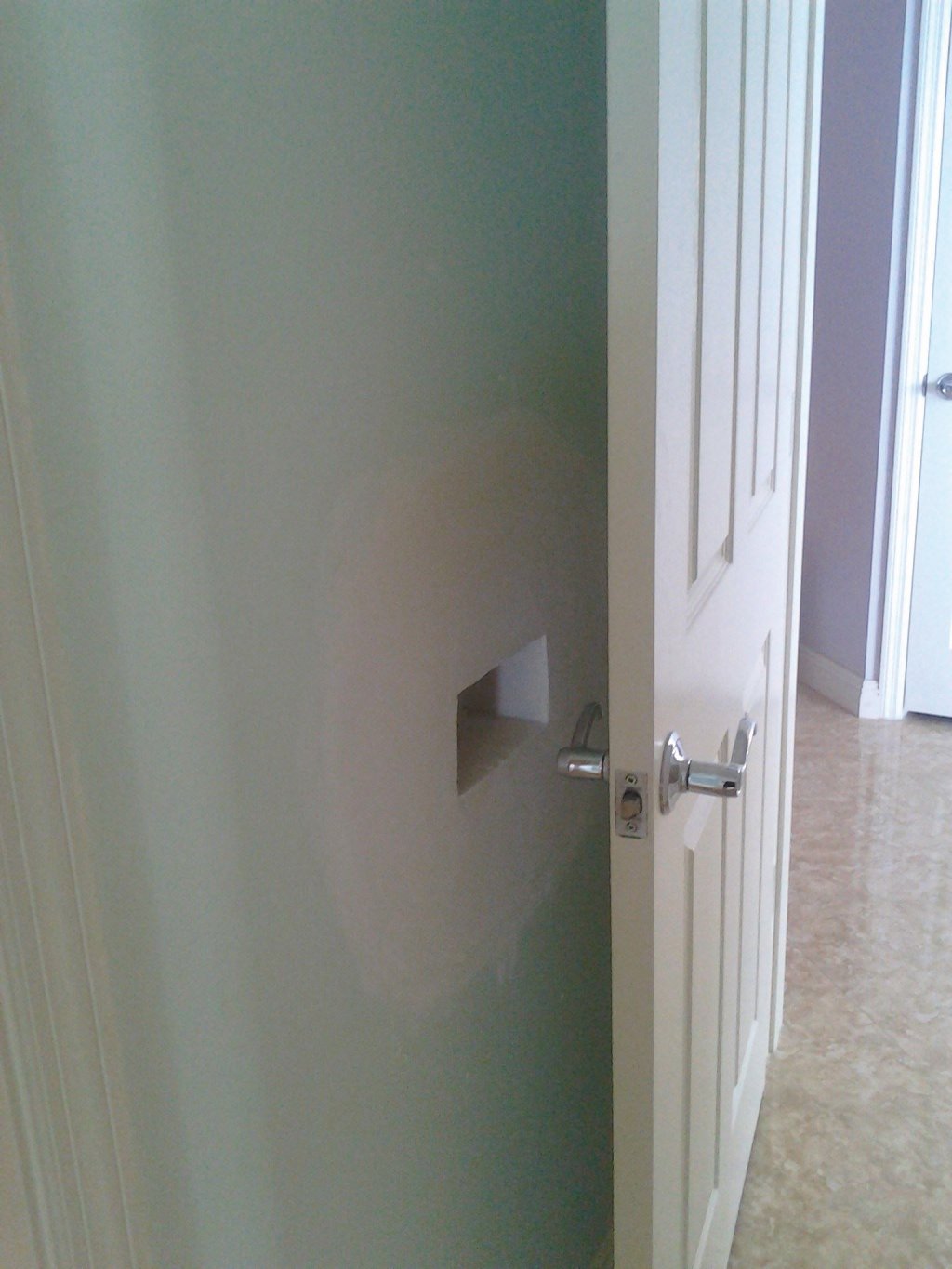 There was no room to open up the doorway given the configuration of the rest of the condo.  We were able however, to gain an  additional 2" in  the doorway by installing swing away hinges and cutting a pocket in the wall for the door handle so that the door would lie flat against the hallway wall.
Susan Luxenberg, Pres.
HomeSmart LLC

/