| | |
| --- | --- |
| Posted on September 11, 2011 at 4:38 PM | |
Question: My Dad is now having difficulty bending to sit and stand up from his bathroom toilet.  He refuses to use the full toilet commode that goes over the toilet, claiming it's uncomfortable.  We've looked at comfort height toilets but they are still not high enough for him to easily maneuver.  We've also looked at the high toilet seats that fit on top of the toilet but we're afraid those will not be very steady.  How do we solve this problem?  
Answer: You can use a toilet riser to raise the height of the toilet. Typically by installing a riser, you can raise the height of the toilet up to 4".  A toilet riser is bolted permanently to the floor to create a solid and sturdy base for the toilet.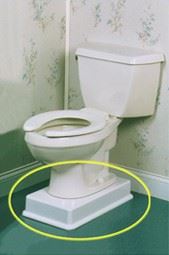 There are many benefits to choosing this approach over the toilet commode or a high toilet seat (aka toilet seat riser): 
A riser is aesthetically more pleasing than either a free standing toilet commode or booster toilet seat that attaches onto the toilet.  Because the riser is placed underneath the toilet, it doesn't draw attention to itself.  It blends in to the bathroom and doesn't look like medical device.  
A riser is permanent, doesn't need to be taken on and off the toilet, and is much easier to clean than either of the other choices.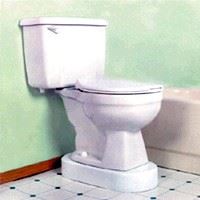 You do not sacrifice comfort when you lift your toilet from the bottom. You can re-use your existing toilet and toilet seat. 
For those who want a more customized look or height, you can also build a platform/riser under your toilet.  Just remember to keep the size of the riser minimal so that it does not extend beyond the toilet seat edge and cause a tripping hazard. 
Susan Luxenberg
  President
  HomeSmart LLC
Categories: Questions & Answers
/