| | |
| --- | --- |
| Posted on September 20, 2011 at 6:15 PM | |
According to the Home Safety Council, falls are the leading cause of injury among seniors, and safety experts all agree that badly lit hallways and staircases are potential accident areas within the home.  PathLights™, an inexpensive, automatic lighting system, is designed to help people avoid falls during low-light conditions in the home. 
The PathLights™ system
 includes three battery-operated individual units -- two "A" units and one "B" unit -- that are calibrated to work together.   When the "A" unit sense motion, the "B" light turns on, lighting the path before a person gets there.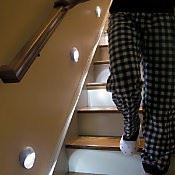 Installation is a very simple DIY project that requires just a ruler, and the entire system takes less than five minutes to install. You can install the 3 motion sensor stair lights, 8-10" off the floor, up to 20 feet apart on your stairs or in your hallway, using screws or mounting tape  which are both included. When you get within 6 feet of the first unit, the light comes on which then triggers the next unit to light as well. The PathLights™  Wireless LED Stair Lights stay on for about a minute, so you can safely make your way down dark staircases or halls. And since these motion sensor stair lights are battery operated, you can add them anywhere you need extra lights. Each wireless LED stair light requires 3 AA batteries (not included) that should last for approximately 16 months.
The cost of the complete system ranges from $35-$40.
 Susan Luxenberg
  President
  HomeSmart LLC
.
Categories: Product Spotlight
/