| | |
| --- | --- |
| Posted on January 4, 2012 at 6:04 PM | |
  With so many people downsizing as they age and their lifestyles change, I'm  interested in finding new products designed for smaller spaces, particularly kitchens.  The last time I built a really small kitchen was for a studio apartment and the configuration wound up being nothing more than a few cabinets lined up against a short wall with a stove on one end and refrigerator on the other - definitely pretty standard and boring. The updated version of a studio kitchen or kitchenette, the compact  kitchen, has opened the door to more interesting small space design. The compact kitchen is a space saving combination appliance/cooking center that is specifically designed for the home, but for a far more casual lifestyle. Take a look at some of the new compact kitchens being offered on the market today. 
Kitchoo
, a French company, has designed compact kitchens that provide all the functionality expected from a kitchen in the least space possible. Most models incorporate an integrated fridge-freezer, an induction hob with 2 rings, and a telescopic mixer tap, while optional extras include integrated dishwasher, microwave oven, washing machine, recycling bin and cutlery rack, depending on the model.   Kitchoo compact kitchens are sophisticated, well-equipped and extremely practical. The five designs, including the award-winning K1 kitchen, can be hidden away behind closed doors when not in use and look like any other cupboard or dresser that you might find at home.  Right now Kitchoo is only sold in the UK, Switzerland and throughout Europe with future plans to distribute in the United States.  Current pricing is about 5390 euros ($ 6,978) for the K1 kitchen to about 6800 euros ($8,805) for the larger K2 kitchen version.  Keep in mind installation is extra.
Kitchoo K1  Compact Kitchen
Kitchoo K2 Compact Kitchen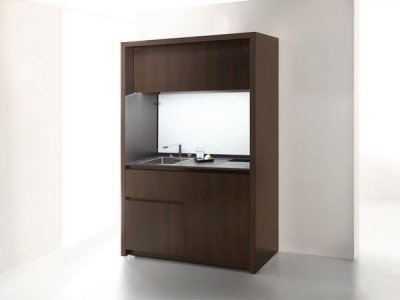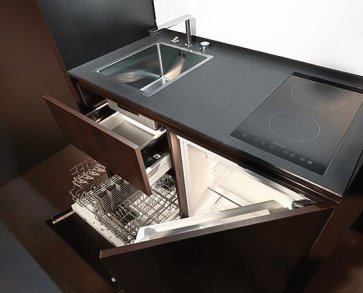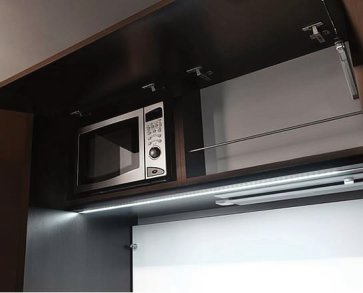 If you're looking for something that makes a strong style statement, how about the 
CircleKitchen ? Designed by 
Compact Concepts
, this kitchen furniture manages to handle space problems in a highly functional and stylish manner, although the unit only measures about 6 sq ft.  It features all the characteristics of a usual kitchen.  Integrated with the ability to rotate as much as 180 degrees, the Circle Kitchen provides  everything from a regular sink, to dishes, a microwave and even a dishwasher. Pricing is between $6,500 and $15,000 plus installation costs.
Styles range from the sleek and modern basic circle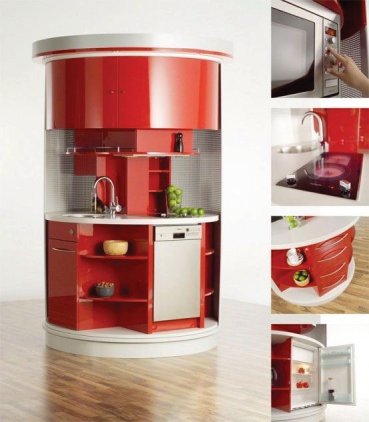 To a more subdued look with additional cabinetry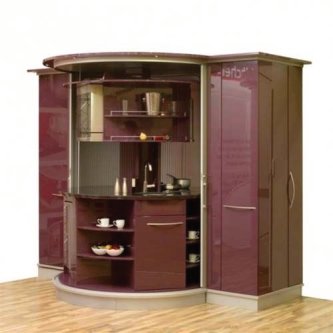 There are also more traditional (and less costly) compact kitchens being offered.
Acme
Kitchens
 specializes  in a full line of custom made all-in-one built ins designed around your specifications.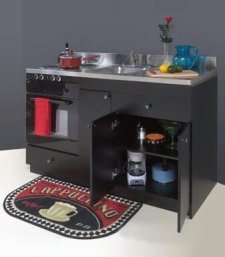 Here is a 60" electric compact kitchen with built-in oven. This model provides additional base storage space and allows for use of a separate upright refrigerator.  It includes a 20 gauge stainless steel counter top, sink bowl, single lever faucet, sink strainer, four (4) electric burner elements and a 24" wide electric oven with black glass door and convection bake feature. Many options are possible; you may substitute a gas burner cooktop, include a dishwasher and alter the appearance by choosing a custom color, counter top and door finish.
And another Acme kitchenette design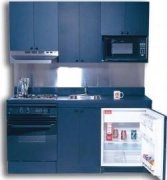 Compact Kitchens
offers units ranging in 4 sizes: 30", 39", 48", and 60" which are priced from $899 to $1,499 plus shipping and installation.  Their 60" wide (c-60) model features the sink on the right, two 110 volt electric sealed burners, and two generous storage com-apartments. Refrigerator freezer is off center in middle. Dimensions are 59.5" Wide X 38" Tall X 24" Deep.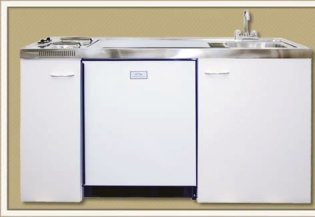 With the current trend towards downsizing, innovative space-saving designs for the home are more important than ever. And as added bonus, installation of these kitchen units is much easier and less costly than installing the components of a more traditional kitchen.   Are these units going to be suitable for everyone?  Certainly not, but when looking to conserve space while at the same time enhancing design, the new compact kitchens are worth a second look. 
  Susan Luxenberg
  President
  HomeSmart LLC
Categories: Product Spotlight
/