| | |
| --- | --- |
| Posted on January 26, 2013 at 2:24 PM | |
Question:  My husband and I are planning to completely remodel our master bathroom.  We recognize that at this point in our lives it might be smart if we incorporated features that would allow us to comfortably use our bathroom as we age.  What do you recommend for those of us baby boomers looking to upgrade our bathrooms?
Answer:  You might be surprised to learn that I'd recommend the same bathroom renovations to a baby boomer as I'd suggest to a younger family or an older couple. Today's trend is towards universal design – that design which allows everyone, regardless of age or physical ability, ease of use.  One benefit of universal design is that as we get older and our lifestyle changes, we can still comfortably use our home without need for additional adaptations or equipment. As an added bonus, planning renovations from a universal design perspective ensures an increase in the resale value of your home and opens to door to many more potential buyers.   
So here are universal design elements to consider: 
   Try to create a bathroom large enough to allow for a 5' circle in front of the plumbing fixtures.  When space is at a premium, do not create a separate room for the toilet or shower but instead keep the space open. 
   Make sure the bathroom doorway is minimally 32" wide, preferably 36".  Doors should swing out rather than in or you could install a pocket door. The doorway threshold should be flush with the adjacent flooring.
   All flooring materials must be non-slip. Look for matte finished tiles and natural stone, instead of glazed tiles or polished stones. 
   Select a comfort height (16 – 18" height vs. 14-15") toilet or wall hung toilet which are space saving and can be mounted at an individualized height. These toilets are becoming more and more popular for people of all ages.

   Install a curb-less shower which has no lip or threshold at the entry. The floor slopes towards the drain and away from the rest of the bathroom floor.  A swing out, frame-less door or shower rod and curtain also help keep water within the shower area. 
   Build in a shower bench which can be sized as large as you'd like or purchase a folding shower seat that can be mounted to the shower wall.  
   Use a handheld shower head mounted on a slide bar. These versatile shower heads are easy to use when standing or sitting and are an aid when younger children are using the shower. All come with multiple settings that allow you to control the flow of water. 
   Install grab bars in the shower and tub.  A typical placement is one vertical bar to be used as a hand hold when entering a shower/tub and one horizontal bar placed along the long wall. With the advent of special mounting brackets that allow grab bars to be installed securely into drywall faced studs, installation is no longer dependent on having special backing behind the walls.  If you find in the future that for example, you require grab bars in the toilet area, you'll be able to have them installed them as needed. Grab bars now come in so many different styles and colors that they no longer have to look institutional.  If your local hardware stores carry nothing other than the chunky standard stainless steel bar, check online. You'll be surprised at the range of choices you have. 
   Consider a wall mounted sink or floating vanity that would allow for a mobility device or wheelchair to easily roll up under. If you want to maintain a vanity cabinet, you can still use a wall mounted vanity –just set it at least 9" off the floor to allow for a wheelchair footrest underneath. 
   Choose accessible faucets that do not require a strong grip to operate.  Between single handled or double handled lever style faucets, sensor, and touch faucets there are many designs and styles to choose from.
Now with these elements in mind, take a look at these bathrooms to see how universal design was applied in each.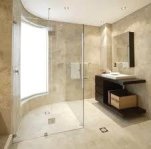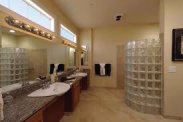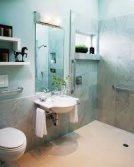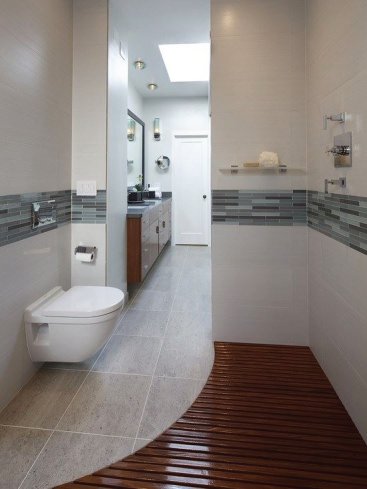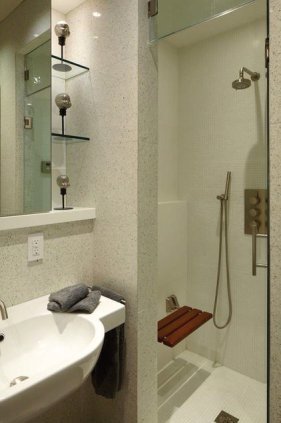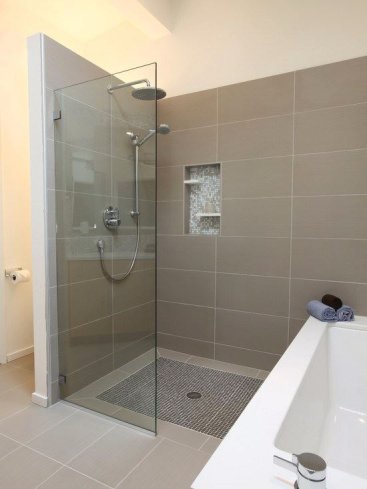 In every one of these bathrooms you'll find features that not only will adapt to your physical needs as you age, but will also be appreciated by people of any age. We've come a long way in understanding how our traditional design approach to bathrooms has not really been suitable for people throughout their lives. Just remember as you make your selections to think through not just your present lifestyle but what might be in the future.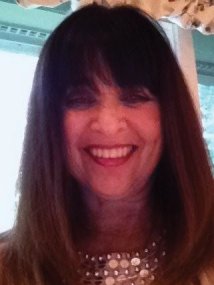 Susan Luxenberg
 President
 HomeSmart LLC 
Categories: Questions & Answers
/