| | |
| --- | --- |
| Posted on June 11, 2014 at 7:38 PM | |
Here's a look at another bathroom project recently completed.  We were asked by adult children of an elderly couple to modify this bathroom to suit their parents. One of the parents used a walker at all times, the other a cane.  This existing bath off the master bedroom had a small step down shower adjacent to a garden style bathtub.  Neither bath nor shower was functional or safe for these clients and the couple never used the garden tub.    
EXISTING LAYOUT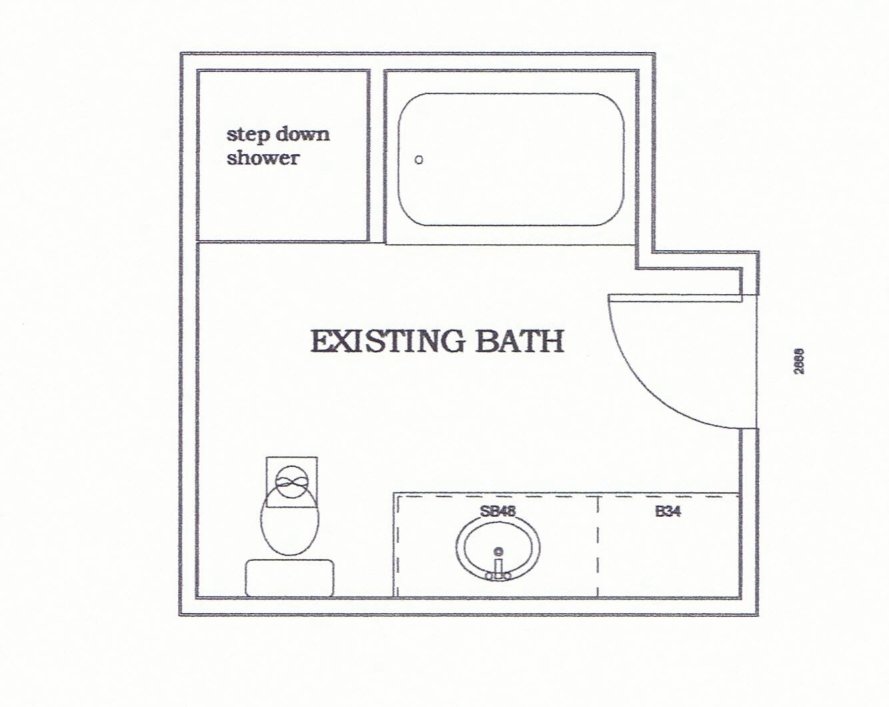 The clients' wish list for their redone bath included more storage and a second sink.  The existing 9 1/2' x 12' bathroom while fairly large, did not have a linen closet and while there was a 60" vanity, part of it was wasted with an extended counter without either a sink or storage cabinets underneath. In addition,the toilet was standard height which was becoming increasingly difficult for both parents to use and there were no grab bars anywhere in the bathroom. 
Our plan then was to remove the shower stall and bathtub in order to reconfigure that area and build a walk-in shower with adjacent linen closet.  We also pulled out the old single sink vanity in order to install a double vanity with a sink for each user.

NEW LAYOUT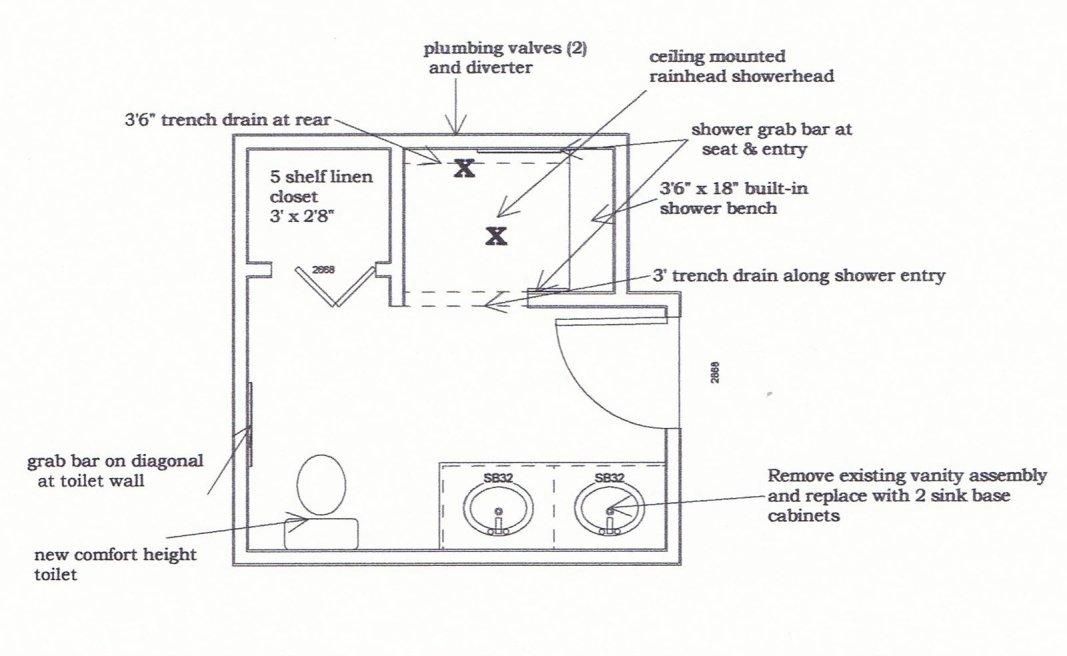 Our Work Plan
DEMOLITION: 
remove existing tub, toilet and 5' vanity 
remove existing step down shower to include glass shower enclosure & wall tile     
cap and reroute plumbing lines and close floor drain
remove all bathroom floor tile
CONSTRUCTION:
fill in shower floor (4") and bring to same height as bathroom floor 
frame linen closet:  3' wide x 2'8" deep
frame shower:  60" wide by 42" deep with entrance opening at 32"
build shower bench 3'6" wide x 18" deep x 18" hi    
build 9" x 12" shower niche; bottom of niche at 46" A.F.F. 
install blocking at (2) grab bar locations in shower
PLUMBING:
reroute plumbing as per plan
install shower valve and two-way diverter, rain head and handheld shower rheads      
install 2 trench drains: 1 in opening to shower and 1 along rear wall as shown on plan v
vanity:  install plumbing for additional sink 
install new sinks (2) and lav faucets (2)
toilet: replace existing toilet with new Kohler comfort height toilet
FINISHES:
tile bath floor and shower floor, walls and shower seat; top of seat to be granite
Install 1 row of 4" tile as baseboard as required
install (1) 24" horizontal grab bar in shower at 34" A.F.F. and (1) 18" vertical grab bar with bottom of bar at    
   48" A.F.F 
install (1) 24" diagonal grab bar adjacent to toilet; bottom of bar at 30" A.F.F.
install 3 new vanity cabinets:  2 sink bases, 1 drawer base
install granite vanity top
replace existing exhaust fan with new fan in same location
paint bathroom walls and closet door & trim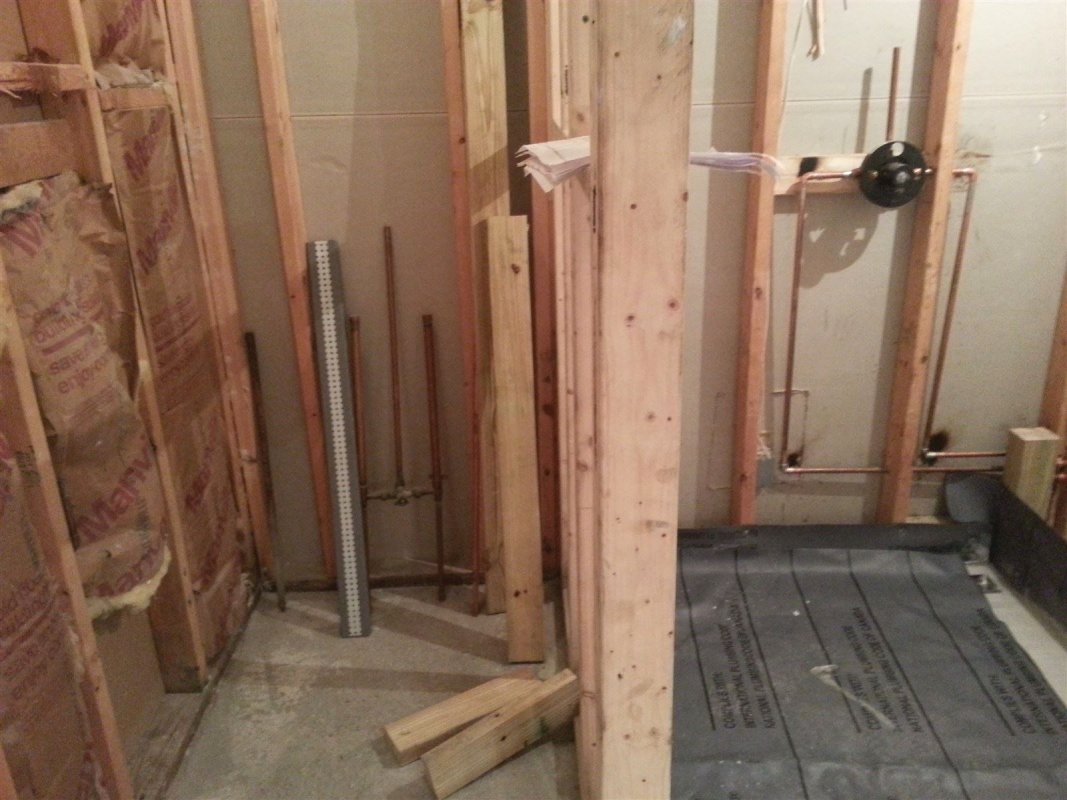 Framing for linen closet on the left and walk-in shower 
  on the right
  You can see the new plumbing in place in the shower and the
  old shower plumbing still needing to be removed in the back
  wall of the linen closet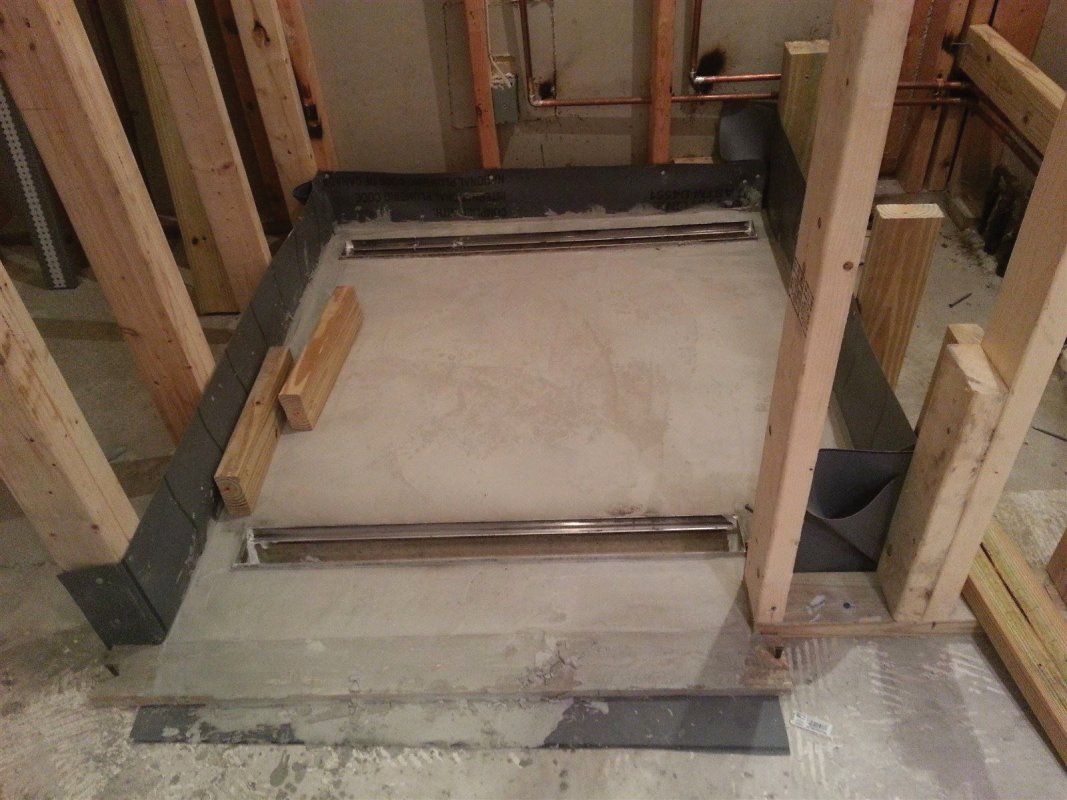 The locations for the two linear shower drains. The shower
floor is sloped to the rear drain and catches all the floor water 
while the front drain is an extra measure to catch water that
might spray off a body while showering.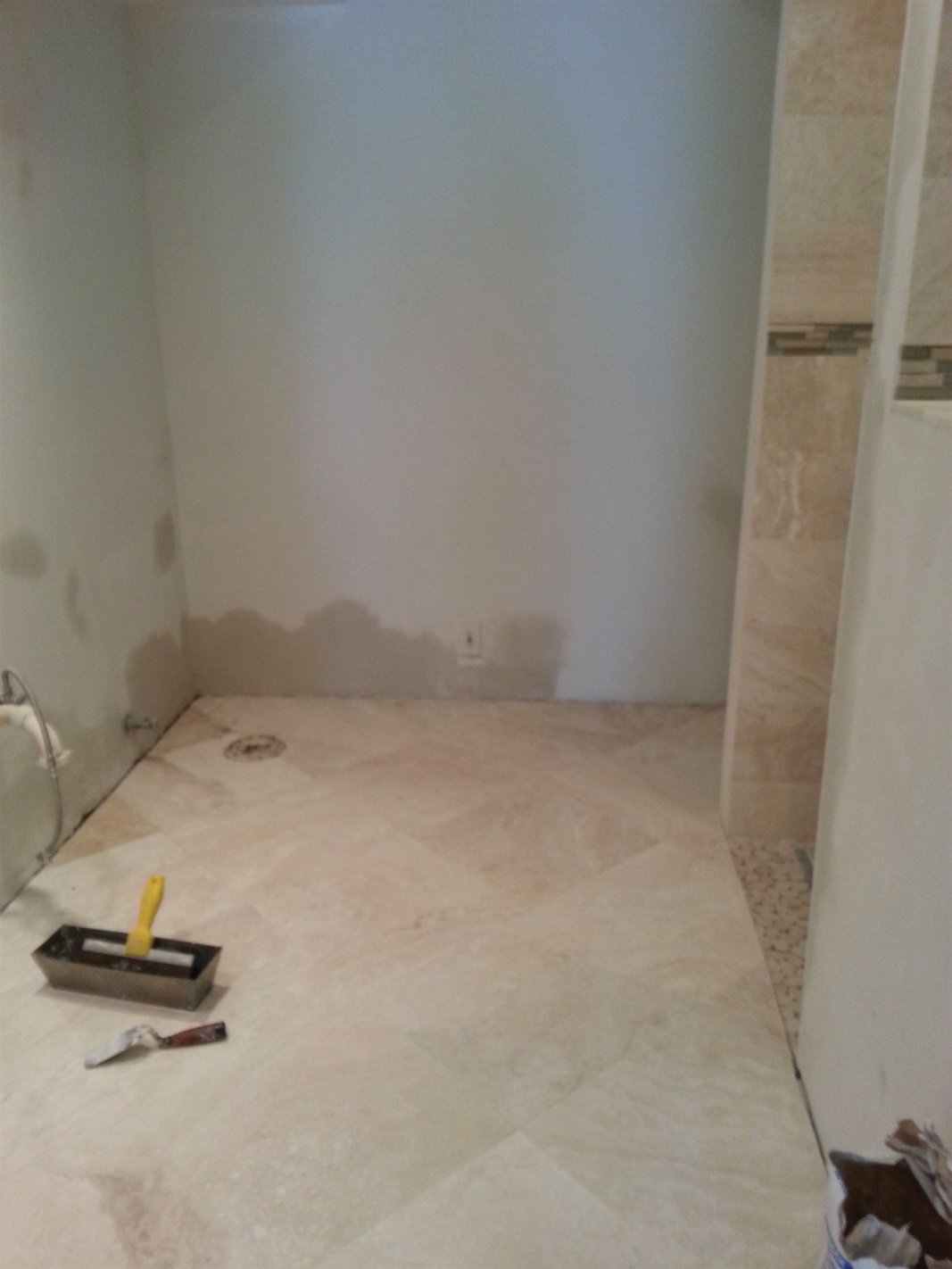 A view from the doorway through the newly tiled bathroom. 
Shower to the right, vanity and toilet to be placed to the left.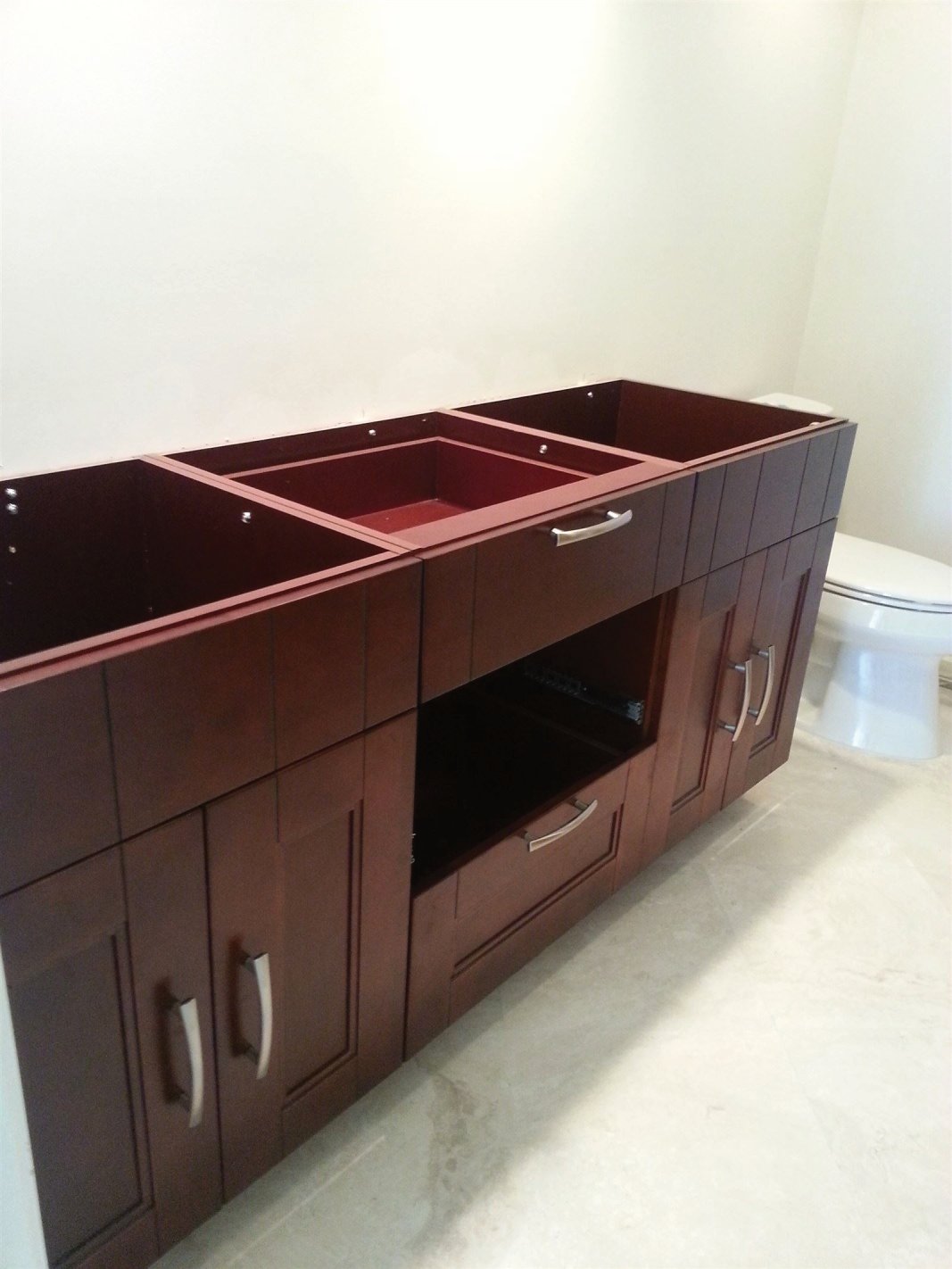 New double vanity in place waiting for granite top and plumbing
  finishes.
The completed bath - a more functional, updated bathroom for aging-in-place!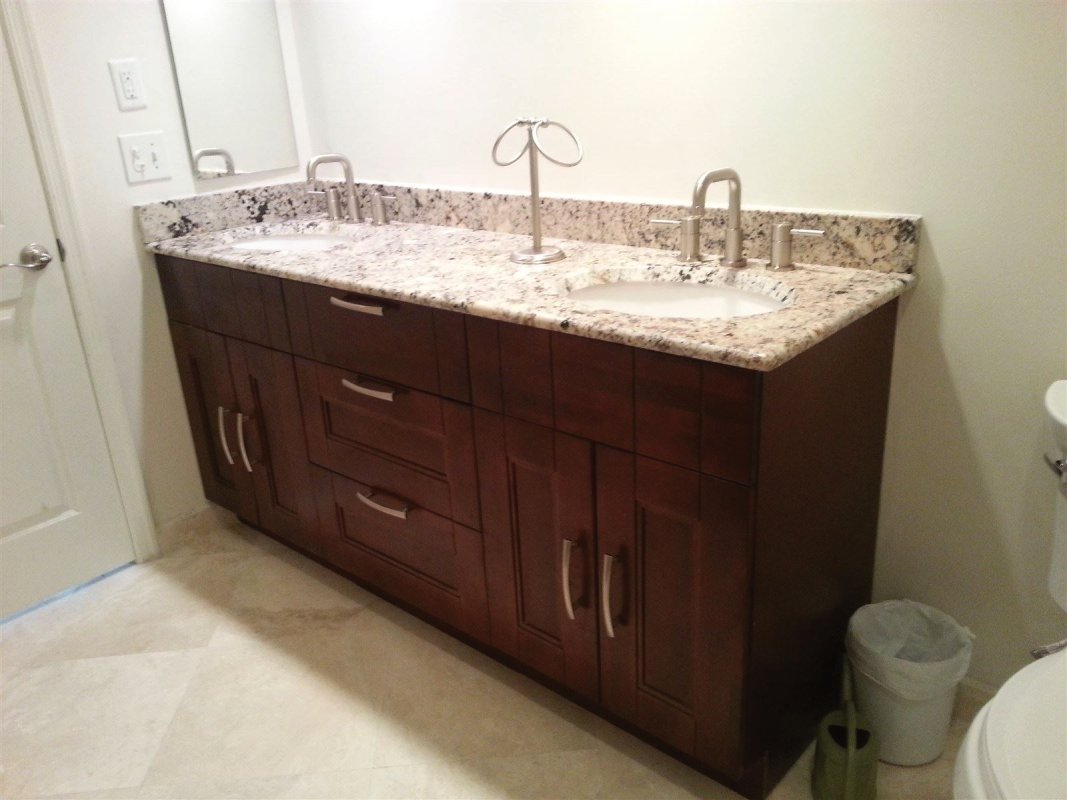 Double sink vanity with drawer space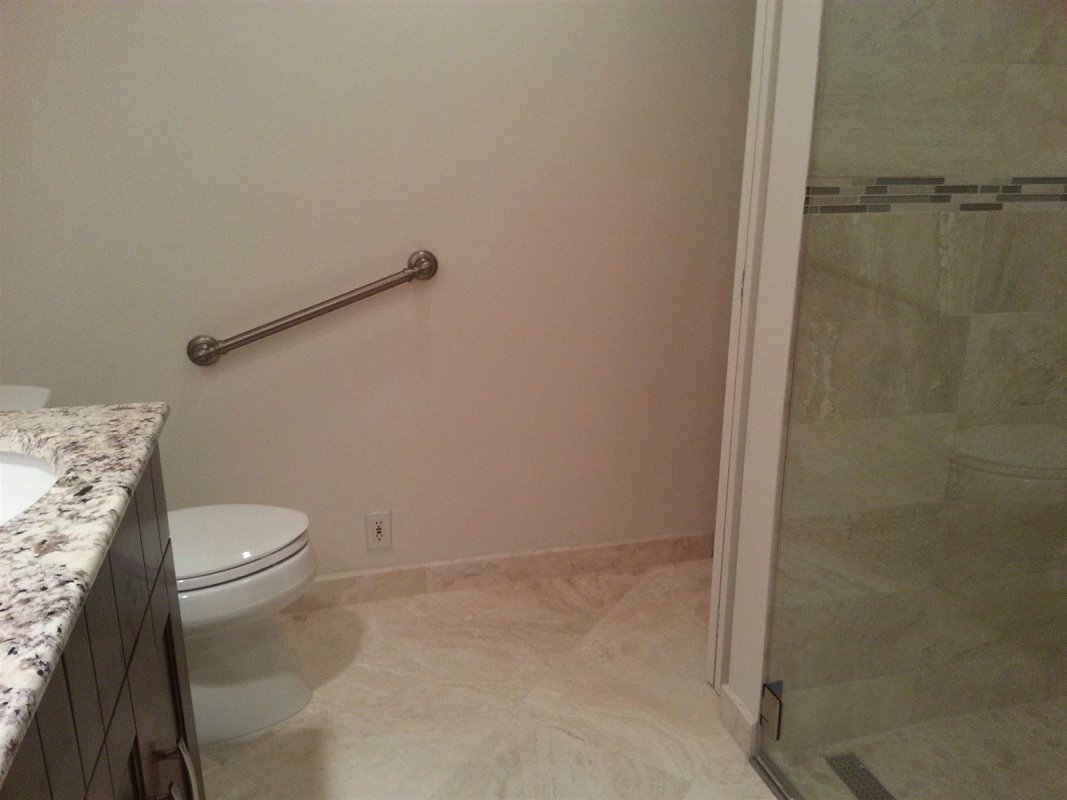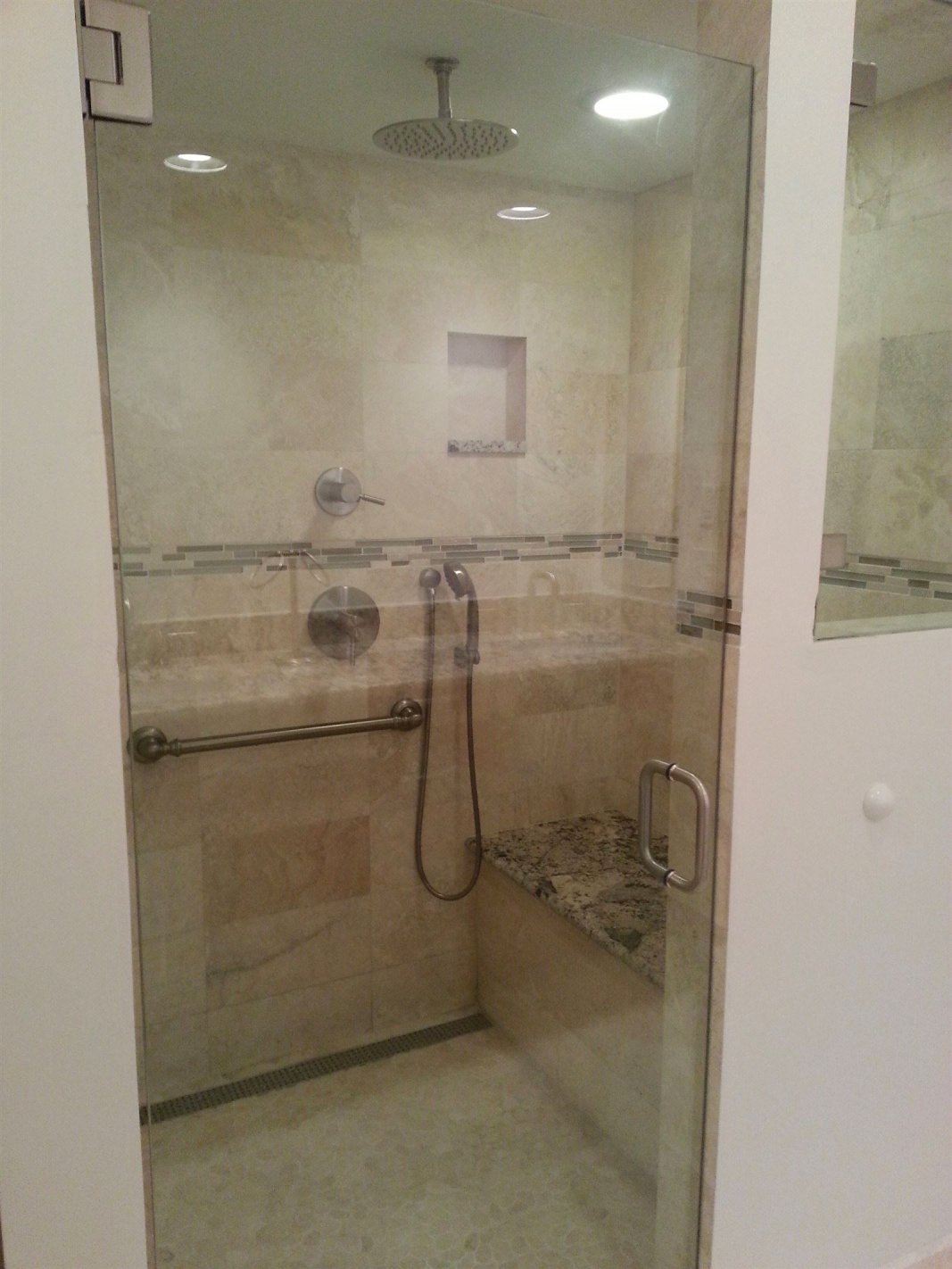 Ceiling mounted rainhead shower head plus handheld shower head
  situated near built-in seat.  Non slip floor tile, levered
  handled faucets, and grab bars complete this safe
  and functional yet stylish shower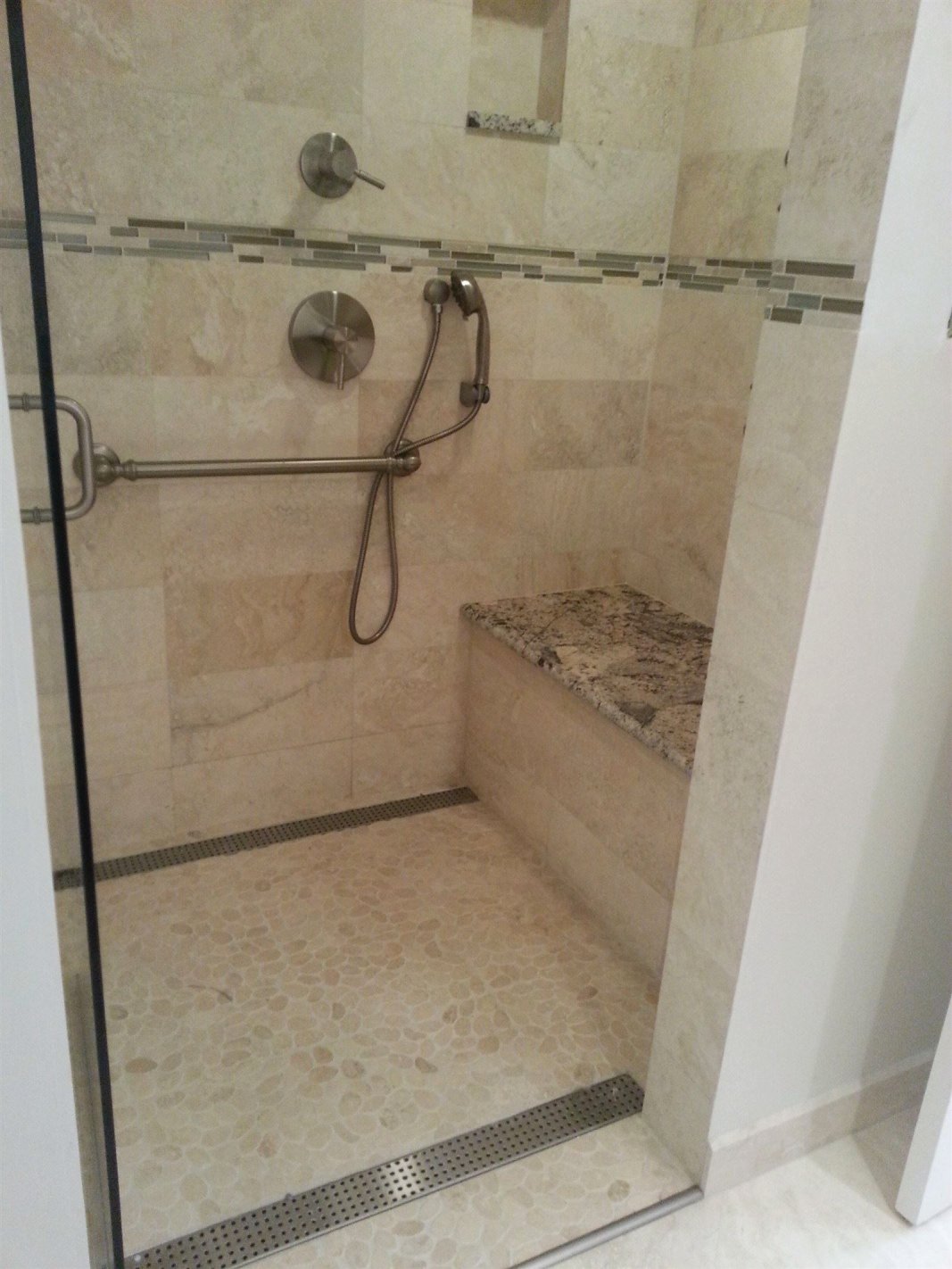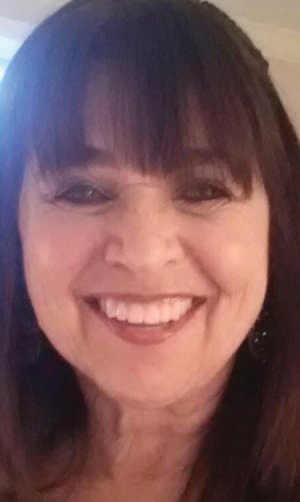 Susan Luxenberg, Pres.
HomeSmart LLC
Categories: Project Files
/