| | |
| --- | --- |
| Posted on April 15, 2015 at 6:18 PM | |
The longer I am involved in helping people remain in their homes as they age, the clearer the repeating issues become.  I have found that there are 10 barriers within a home that consistently challenge everyone as they get older.  These barriers wind up causing safety issues because as we age our ability to maneuver safely around them diminishes.  
In the next few blogs I am going to address all 10 issues.  This, Part 1, will tackle the top three:

1.  STEPS AND STAIRS - This refers to both exterior and interior steps. In a perfectly designed home for aging- in-place there would be no stairs or steps anywhere. In Florida many single story homes, while designed for retirees, were designed with changes in floor level. Consequently,there might be a step or two from dining to living room or steps down leading from an entrance hall to the rest of the house.  With aging comes deterioration of our vision and depth perception making these areas particularly unsafe.
The solution for both singular steps and flights of stairs are railings, stair treads that delineate stair edges, and upgraded lighting.  You'll see in the pictures below some examples of these solutions that include battery operated lighting particularly useful for stairs, and colored stair treads which work well on exterior stairs - both inexpensive solutions to major issues.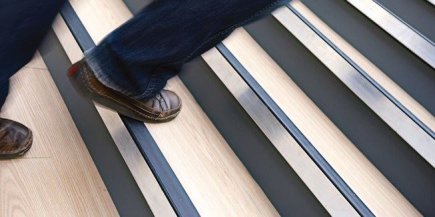 STAIR TREADS
BATTERY OPERATED LIGHTING
For those who can no longer manage stairs at all, in addition to standard portable sutcase ramps there are numerous threshold ramps that are lightweight, some of which adjustable so they can adapt to 1 - 4 steps, and can be easily moved from front to side or back doorways.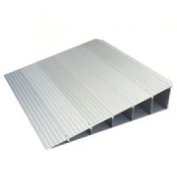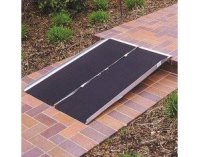 FREE STANDING THRESHOLD RAMP               LIGHTWEIGHT SUITCASE RAMP
2. NARROW DOORWAYS - For a doorway to be accessible and comfortable to get through while in a wheelchair or using a walker or when helped by a companion, it needs to be at least 32" wide.  Many interior doorways would fail that test!  In Florida we face a common issue of 24" bathroom doors.  Once one can no longer walk through a doorway unaided, a 24" doorway is extremely uncomfortable if not impossible to maneuver.  
 
The obvious fix is to enlarge the doorway by cutting the wall so as to widen the door opening then install a new door, preferably a pocket door which allows for complete access.   Keep in mind that to do so may also require shifting the vanity location which is often located adjacent to the bathroom door, so while this may be the only option available it is also a costly one.  An inexpensive option which may prove helpful is to swap the existing door hinges with swing away ones. These will allow for an additional 4" of clearance when getting through a doorway since these hinges allow the door to swing clear of the jamb and set it tight to the wall.  The pictures below show both options.
SWING AWAY HINGES TO REPLACE EXISTING DOOR HINGES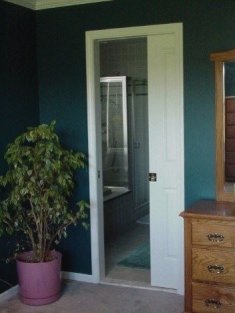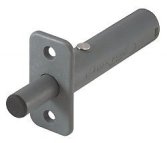 SPRING ACTION POCKET OPENER/CLOSER
POCKET DOOR
3. TOILETING- Why oh why were standard toilets designed at the height they are?  One does not have to be old to have difficulty standing up or sitting down on them.  Just ask anyone with a bad back or a knee injury how comfortable those efforts are. The CDC has released a study showing that 75% of falls in adults over the age of 85 occur in the home and of those falls 52% occur in the bathroom around toileting.  
The solution is to replace your older standard or lowboy height toilet with a comfort height one.  Comfort height toilets are 17" high compared to 14-15" height of a standard one and those 2-3" really make a difference.   Are these toilets expensive?  Not really.  Both Kohler and American Standard offer comfort height toilets starting at about $200.  Just make sure when shopping you use the term "comfort height" and not ADA.  As soon as the salespeople hear ADA they search for an unnecessarily expensive and specifically designated toilet.
If a 17" height is still not enough, a toilet riser (basically a little platform) can be built under the toilet to bring it to a more comfortable height.  You will see pictures below of varied toilet configurations.


COMFORT HEIGHT TOILET           TOILET PLACED ON FLOOR RISER
Another options to install a wall hung toilet, a more popular choice in Europe than in the U.S. The benefits of a wall hung toilet are that one can set the height to individual preference and cleaning under it is easy.  These toilets also take up little room in a bathroom as opposed to a floor mounted toilet which usually has a much larger footprint than the toilet bowl warrants.

Note: for those who require additional help when maneuvering on and off a toilet, wall mounted grab bars can be set on either side of the toilet on the wall behind it.  These bars function like the arms of a chair and offer great security for those with either balance issues or when transferring from wheelchair or walker to toilet seat. There are a couple different styles differing widely in price.  
MODERN FOLD DOWN BARS               TRADITIONAL FOLD DOWN BARS
                                                      TOILET ON CUSTOM BUILT FLOOR RISER
Next:  Part 2, Commonly found barriers within a home #4-6  
  HomeSmart LLC

Categories: Fixing To Stay, Homes for a Lifetime
/