| | |
| --- | --- |
| Posted on January 26, 2012 at 12:30 PM | |
Handi-Treads ™
non slip stair strips are an outdoor aluminum non slip surface designed to ensure safety and protection against stairway accidents and injuries.  They can be used on any material including wood, concrete, masonry or ramps.  They are inexpensive, easy to install, and are a good solution for areas where water, ice, snow and sand can make walking slippery and dangerous.  The anti slip strip not only improves traction but also provides a visual and tactile cue to be careful and slow down. 

   Handi-Treads™ feature a lifetime residential warranty and start at $7.95 each, depending on size.  Standard sizes are as follows, although custom sizes are available: 
 1.    1.875" X 30"    strips          
 2.    3.75" x 30"     stair treads
 3.    3.75" x 48"     stair treads   
 4.    2.75" x 12"     stair nosings
 5.    6" x 30"        stair nosings
 6.    9" x 30"        stair nosings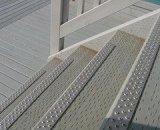 Treads come standard in a plain aluminum, anodized clear coat, powder coated black, powder coated safety yellow, and powder coated brown.  Custom colors are also available (additional charges will apply).   
   These non slip treads are 100% aluminum, manufactured from an OSHA approved material and have been used on ADA compliant ramp surfaces for many years.  The aluminum never rusts and requires little maintenance.  
   Susan Luxenberg

    President

   HomeSmart LLC

Categories: Product Spotlight

0

/